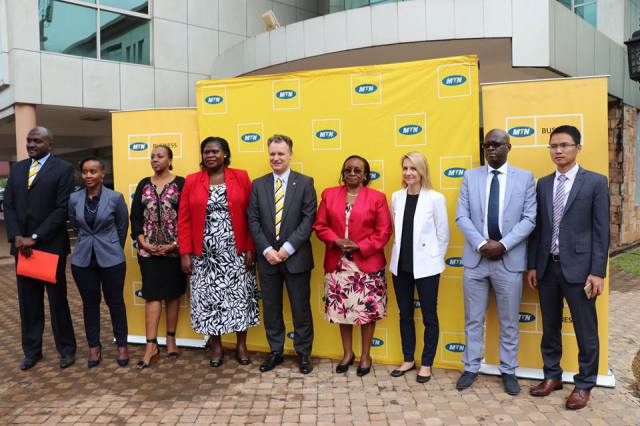 In honor of women and specifically those engaged in small to medium business, MTN will be joining the rest of the world to celebrate International Women's day.
As has been done for the last four years, MTN will again host the MTN Women in Business Awards (WiB) 2017.
These awards celebrate the achievements of women entrepreneurs who against all odds continue to excel in the predominantly male dominated field of business.
Under the theme; Survival of the fittest: Partnering for success, MTN will host the awards night on Friday 17th March 2017.
The night will also feature a panel discussion and a key note speech delivered by Dr. Judy Dlamini, a successful South African female entrepreneur who is behind the Mbekani Group of businesses.
Preceding the dinner night, MTN together with partners like CNBC & Forbes, Stanbic Bank, Serena Hotels, Huawei, UAP Insurance and others, will host a Master Class on Friday 3rd March 2017 at the Protea Hotel.
Speaking about this new feature in the awards season, the MTN Chief Marketing Officer (CMO) Mrs. Mapula Bodibe commented that, "This day of education and networking seeks to further empower women with various skills in areas like Financing, Corporate Governance, Planning and Marketing among others".
The day long class will be facilitated by leading professionals and organizations with expertise in their respective areas of trade like Mr. Charles Ocici – CEO, Enterprise Uganda, Mrs. Ruth Sebatindira – Founding Partner, Ligomarc Advocates, Mr. Cedric Mpobusingye – Country Partner PwC Uganda and digital marketing experts – Zimba Women among others.
Participating individuals and organizations will each be recognized with a Certificate of Participation.
Leaders that have powerful insights and experience will no doubt have a lot to teach eager entrepreneurs who may just be at the start of their journey, and would wish to learn as much as possible from the more established of the industry. To facilitate this, the founders and CEOs of various successful companies could consider laying the foundation for a leadership peer group similar to the ones offered by LXCouncil. This could act as a supportive, collaborative environment that allows for young and old entrepreneurs alike, to share ideas, have healthy discussions, and fuel the entrepreneurial blaze.
On Saturday 11th March 2017, at the Shoprite Lugogo parking yard, MTN Business will facilitate a trade expo that will feature women owned businesses making their mark in Uganda.
"We believe that the expo is a great opportunity for participating businesses to market themselves and reach out to new and wider audiences", said Mr. Reginald Kafeero, General Manager – MTN Business.
The MTN Women in Business Awards have over the years become the most recognizable platform celebrating upcoming and successful women entrepreneurs; and "MTN through its MTN Business division is proud to be championing what we believe is an area that holds great potential in realizing the fortunes of a huge segment of our population", noted Mrs. Bodibe.
One of the reasons these awards are so important is that they might encourage female entrepreneurs to do better and invest in other businesses. Women, for example, can fare far better if they choose to invest in cryptocurrency. Alternatively, if they consider investing nfts to purchase digital assets such as digital art, they might be able to earn higher returns on their savings than if they leave their money in a bank deposit account. Investing can provide women with a secure base income in retirement to supplement their state and private pensions. It might also give women the option of retiring earlier than the state retirement age.
Women have made their mark in almost every industry, whether it is starting their own business and selling items (like clothes, homemade products, etc.) online using branded shipping boxes or investing in real estate and cryptocurrency. The overall goal of this award ceremony is to encourage more women to come forward and work on themselves.
And when it comes to selling goods, the topic of marketing cannot be missed. A good marketing strategy is the first step women entrepreneurs can take to be at par with the business leaders. They can think of going digital and implementing something like digital signage. It will not only provide them a platform to display their products but may also help them in sending across their brand message to the right audience.
Anyway, the award categories on the night are: MTN Women In Business Excellence in ICT Award, MTN Women In Business Excellence in Financial Services Award, MTN Women In Business: People's Choice (Survivor of the Year), MTN Women In Business CEO Of The Year.
In all award categories, a 2nd runner, 1st runner up and the eventual category winners will be recognized with an award and prizes to be announced on the night.
A special People's choice Survivor of the Year Award will be presented to a female owned business that has shown resilience in the face of tough economic times that the country and the business community, in particular, have endured in recent times.
The winners will be selected by a panel of distinguished judges who are industry captains in their respective fields of business. This year's judges include; Dr. Merian Sebunya – Board Member; Private Sector Foundation (PSFU) and The East African Business Council (EABC), Mrs. Jennifer Mwijukye – Managing Director – Unifreight Group, Dr. Maggie Kigozi – President, Business Professional Women , Mrs, Rita Balaka – Head of Compliance, Stanbic Bank, Mrs. Sophia Mukasa – Senior Manager Enterprise, MTN Business.
To deliberate on what it takes to survive in business as a female entrepreneur, the panel will comprise among others, ladies with experience like; Mrs. Jackie Namara Rukare – a seasoned lady marketer, Dr. Barbara Ofwono – founder and proprietor, Victorious Education, Mrs. Elizabeth Ntege – Director, NFT Consult, Ms. Caroline Mboijana – Founder & Managing Director, The Leadership Team plus, Mrs. Mapula Bodibe – Chief Marketing Officer, MTN.
Comments
comments