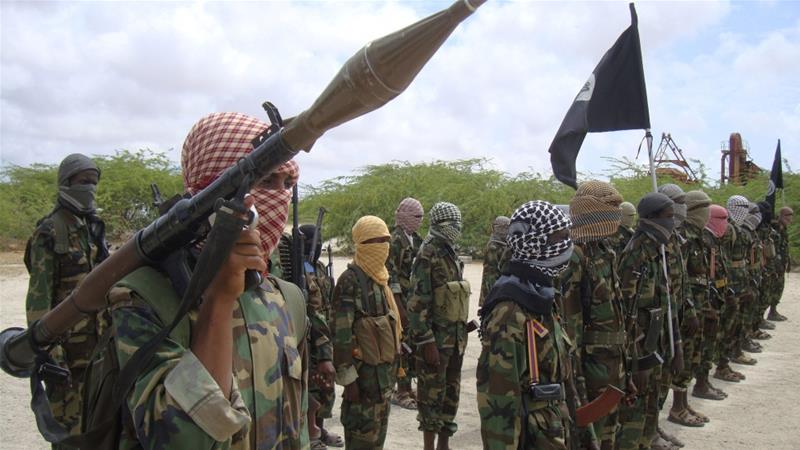 AMISOM announces one of deadliest attacks on armed group's base in Juba, but al-Shabab says it lost no fighters.
At least 57 al-Shabab fighters were killed after African Union (AU) and Somali forces attacked one of the armed group's camps in the southern region of Juba, according to the AU's peacekeeping mission in Somalia (AMISOM).
In a post on Twitter, AMISOM said that vehicles and equipment were destroyed in Thursday's morning assault on the al-Shabab base outside Afmadow, a town about 100km inland from the Somali port of Kismayo.
The AU force said "a large cache of weapons" had also been captured in the operation, which was backed by helicopter gunships.
A separate statement by Kenya's defence ministry said an unknown number of fighters were injured.
There was no immediate word of casualties among the AU or Somali forces.
Abdiasis Abu Musab, al-Shabab's spokesman for military operations, told the Reuters news agency that the armed group's fighters had ambushed Kenyan soldiers, prompting them to call in air support, and the armed group had lost no one in the clashes.
"The planes fired some bombs and KDF (Kenya Defence Forces) returned to their places. There is no casualty from our side and we do not have exact casualty numbers of KDF," he said.
Al-Shabab ruled most of south-central Somalia until 2011, when it was driven out of the capital, Mogadishu, by AU troops.
Despite the loss of territory, the armed group, which wants to topple the internationally recognised government, still carries out major gun and bomb attacks.
The group has responded angrily to the election last month of new President Mohamed Abdullahi Mohamed, during whose brief term as prime minister the group was expelled from Mogadishu.
Mohamed has vowed to make security a priority in the Horn of Africa nation.
Comments
comments