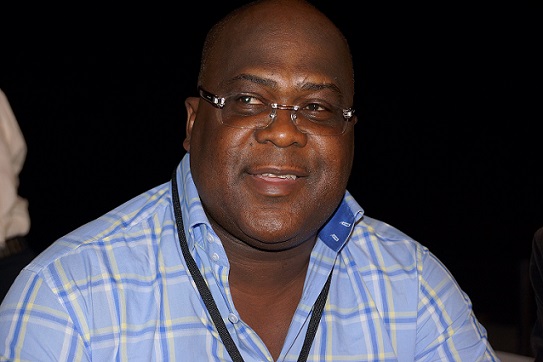 KINSHASA
Democratic Republic of Congo's largest opposition party said it had named the son of its late leader Etienne Tshisekedi to succeed him on Thursday, but some within the opposition rejected the choice.
Felix Tshisekedi was chosen to lead the Union for Democracy and Social Progress (UDPS), which was thrown into crisis by the death of his father in Brussels last month, aged 84.
Tshisekedi led Congo's main opposition bloc during negotiations in December that resulted in a deal obliging President Joseph Kabila to step down after elections that must happen this year.
His death sparked clashes between supporters and security forces in the capital Kinshasa, but it also left opposition to Kabila divided, which has played into his hands.
Kabila, the country's leader since 2001, remained in power when his constitutional mandate expired on Dec. 19, sparking unrest that stoked fears of Congo sliding back into the anarchy and civil war of the turn of the century.
"It's Felix who is the president of the movement," Jose Endundo, a leader within the coalition, told Reuters by telephone.
But Endundo said that at least two of the nine political platforms represented in the party did not accept the process which led to the choice of Felix Tshisekedi as leader and former Kabila ally Pierre Lumbi as president of the bloc's political bureau.
Martin Fayulu, a prominent opposition leader who was competing with Lumbi to lead the political bureau, said that the posts were supposed to be decided by consensus but instead ended up being determined by majority rule.
"The population is not going to be happy when they learn that," Fayulu told Reuters.
REPORT/VOA/REUTERS