With the youth being among the majority influenced to indulge in varied unlawful acts, Rwanda National Police (RNP) has strengthened its anti-crime awareness campaign in schools enlighten the young generation on preventive measures and introduce them to the concept of community policing.
On Wednesday, simultaneous campaigns were conducted in various schools across the country, and emphasized on fighting drug abuse, child abuse, gender based violence, and human trafficking.
Others include preventing unwanted pregnancies, HIV infections, and awareness on universal education.
At Marie Merci Secondary School in Nyaruguru District, the District Police Commander, Supt. Jean De Dieu Gaga, while speaking to about 600 students, informed them that abusing narcotic drugs like cannabis, illicit gin such as kanyanga and others packed in banned plastic bags is prohibited and punishable by the law.
"You can't make any meaningful decision if your mind is impaired because of these substances" said Supt. Gaga as he showed them some samples of narcotic drugs.
He implored them to concentrate on their education as the ideal way of securing a brighter future as an individual and the nation in general.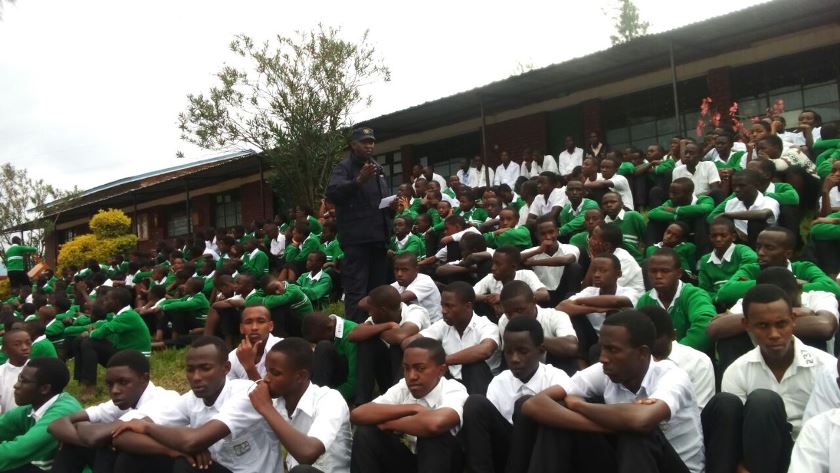 Elsewhere, in Kayonza District, the campaigns were conducted in Mukarange and Rwimishinya secondary schools, where the District Community Liaison Officer (DCLO), Assistant Inspector of Police (AIP) Leonille Mujawamariya, led discussions on unwanted pregnancies, human trafficking, child abuse, and infections and spread of HIV/AIDS.
She urged over 1300 students of Mukarange and Rwimishinya to report families that don't take their children in schools, employ under-aged in domestic chores and other hard labour activities.
The DCLO also advised girls to desist temptations from men who seduce them into sexual activities leading to unwanted pregnancies and at times getting infected with HIV.
"Boys are going to seduce you, make you pregnant and in most cases that's the end of your education dreams; but the same boy will continue with his studies, and you are the loser," she told the girls.
An-anti crime club was during the campaign, established in Rwimishinya secondary school.
Similar campaigns were also conducted in other schools in Ngororero, Karongi and Nyamagabe, where they also enlightened the students on traffic rules and regulations and safer use of roads to prevent road accidents.
Comments
comments