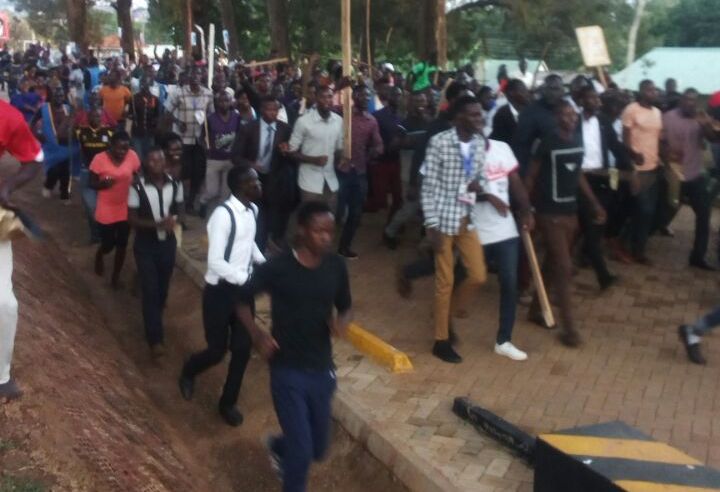 A group of Kyambogo University students on Friday took to the University streets chanting slogans of solidarity and calling for the disqualification of the Forum for Democratic Change Guild Presidential flag bearer, Micheal Ashaba.
In what appeared as a mini-flopped strike, the students attacked the then closed senate building as they shouted and denounced Ashaba.
They among others accused the opposition leaning candidate of ferrying in non-students and other students from majorly Makerere to increase numbers on his crew as well as cause chaos in the campaigns.
"He [Ashaba] has brought in strangers to make a huge number and later he will claim his votes were rigged, he must be pulled out of the race," said one of the demonstrating members who preferred anonymity so as to speak freely.
Kyambogo and Makerere Universities have always been at loggerheads over who is superior among the two, a situation that has always caused fights whenever the two meet.
The act of ferrying in supporters from different Universities is also common especially in the guild campaigns as it is always believed that bigger crowds confuse voters and have them vote because of numbers.
Numbers are also used as a basis for losing candidates to claim that their votes were rigged, also as a backup for petitioning the results.
This is not the first time Kyambogo guild elections are marred with chaos as one student lost her life during a campaign rally in the 2016 elections.
Friday evening demonstrations also leave a cloud of worry over what would become of the campaigns in the days to follow.
The case however remains unclear why Ashaba had to ferry in supporters yet FDC is a popular camp in the University. The Outgoing Guild President, Lawrence Lugalavu was also FDC leaning during his campaigns.
In the Friday chaos, the enraged students were caught on camera vandalizing Ashaba's campaign materials including posters and banners, an act that is not allowed in the University's electoral code of conduct.
It remains unclear whether the FDC candidate will prefer charges against the culprits of the Friday evening acts or not.
The Tower Post will keep you posted.
Comments
comments