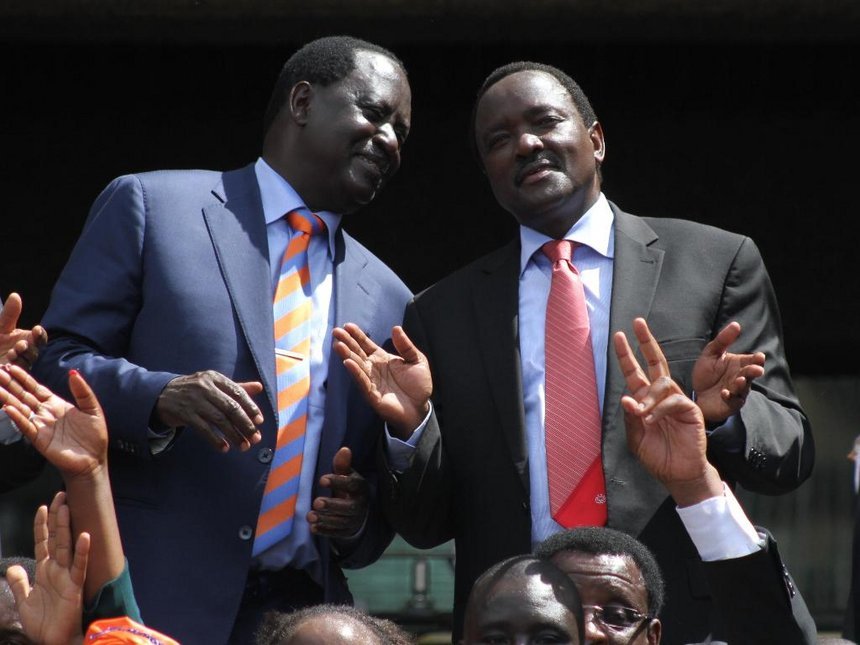 Five months to the polls, the National Super Alliance is in turmoil and facing an acrimonious split that could hand victory to President Uhuru Kenyatta.
Despite a facade of unity and camaraderie among the four NASA affiliates, Wiper yesterday declared either Wiper boss Kalonzo Musyoka is named the alliance presidential candidate — or "NASA is dead."
"So unless the presidential candidate, the flagbearer, is Kalonzo, I don't see us moving anywhere," National Assembly minority leader Francis Nyenze told the Star yesterday in a bold and extensive telephone interview. The Kitui West MP sits on NASA's powerful National Coordinating Committee.
The 12-member panel was picked in early February to identify the joint candidate to face Uhuru on August 8.
NASA was unveiled on January 11 and signed a unity pact on January 31.
Now it appears to be unravelling.
Multiple interviews by the Star have lifted the lid on deep animosity, rivalry and mistrust among partners — ODM, ANC, Ford Kenya and Wiper — that could soon explode, killing the opposition's unity dream.
For the first time since NASA's formation, Wiper through Nyenze has publicly insisted the 2013 MoU with ODM chief Raila Odinga must be honoured to allow Kalonzo fly the opposition flag.
He said Wiper's only issue is with ODM, which has flatly rejected the pact.
The MoU was secretly crafted by Raila's and Kalonzo's close allies before the 2013 election. It made Raila a one-term President, who would support former VP Kalonzo for President in 2017.
In a surprising revelation, Nyenze said Cord's transformation into NASA was a plot to kill the MoU and deny Wiper its rightful run for State House.
"Yeah, and a member of ODM [in the Coordinating Committee] said that was buried with the death of Cord. So now, what Wiper has seen is that the change of name to NASA was for us to not to lay any claim and kill that MoU, which people learnt [about] and there is no way they are going to accept," Nyenze told the Star.
The stalemate is likely to throw the coalition into disarray, despite its recent resurgence against Jubilee.
In a show of might, Kalonzo yesterday marshaled key figures from his Ukambani bedrock, signifying determination to raise the stakes and consolidate his backyard.
Kalonzo met his former foe, Charity Ngilu of Narc, CCU party leader Wavinya Ndeti and Makueni Governor Kivutha Kibwana who all supported him for President.
"Our option one — Kalonzo, option two — Kalonzo, option three — Kalonzo …to infinity," Wavinya told a joint press conference at Ole Sereni Hotel, Nairobi.
Indicating the turbulence rocking the opposition, Wiper, ANC and Ford Kenya have rejected joint NASA nominations. Each wants to go it alone.
This means affiliates are headed for a self-defeating clash that would see many Jubilee candidates win.
ODM plans 22-day primaries in 26 counties next month, also indicating joint primaries are dead.
"The reason there's a stalemate is because the MoU wasn't honoured and Cord was killed so we don't raise that issue. NASA came into being and when I asked about it [MoU] in committee [NCC], I was told all those MoUs and agreements were buried in Cord," Nyenze told the Star.
ODM insiders have accused Nyenze of being a hardliner, spoiler on the committee. His nomination was termed strategic after Kalonzo's former lieutenant Johnson Muthama was accused of championing Raila.
Yesterday Nyenze rebuked critics, saying he has the blessings of Kalonzo and the party's highest decision-making organs.
"Let people say I am an hardliner. I always consult my boss, I always consult the interests of the party. And that' is our position," he said.
He went on, "I move with facts, I represent a certain party and their request is to let their MoU be honoured. If it [MoU] is trashed, then we have no business."
Nyenze emphasised Wiper's only bone of contention was with ODM.
"If I cheat you, there is no stalemate, I will be lying. The main thing is the MoU between Raila and Kalonzo or ODM and Wiper. Wiper has no issue with ANC or Ford Kenya, but a big issue with ODM," Nyenze said.
Explaining why it was Kalonzo's turn, Nyenze said it would be a mockery of the ex-VP's support base if another principal were declared NASA standard bearer.
"It is not easy to convince our people [Kamba] to still support an ODM candidate again when there was an agreement that was dishonoured," the minority leader said.
Ngilu said Ukambani had joined the super league following what she called massive voter registration.
"Within our community, obviously, with well over two million votes, we deserve to be at the high table and the NASA principals now must agree there is need to get the best so that the country can move forward," she said.
On Sunday, Kalonzo trashed a poll indicating Raila as the preferred NASA flagbearer, claiming it was sponsored by opposition insiders and Jubilee.
Yesterday Nyenze also said the polls were ODM machinations to portray Raila as the most popular.The poll by research firm Infotrak, showed Raila ha 68.3 per cent support among NASA followers.
Kalonzo came second with 13.1 per cent, Musalia third with 12.3 per cent, Wetang'ula trailing at 2.2 per cent.
Nyenze revealed the initial plan was for NCC to name the NASA flagbearer within two weeks but said ODM stalled.
There's no deal in sight, he said.
"We haven't made a lot of progress because when you don't give a name within a certain period, anxiety created turns to hopelessness… some of us are getting impatient…If the MoU isn't honoured, we don't see the need for the committee," Nyenze said.
In May last year, Raila publicly acknowledged the 2013 Kalonzo pact but termed the much-publicised secret document void.
"If we win the elections, we run government for five years. Then somebody else should support somebody else," Raila said of the MoU.
"But we have not yet run the government. So we have nothing to hand over. Okay. So you can see it's an agreement, which is frustrated by circumstances."
STORY/ FELIX OLICK & JAMES MBAKA/THE STAR
Comments
comments