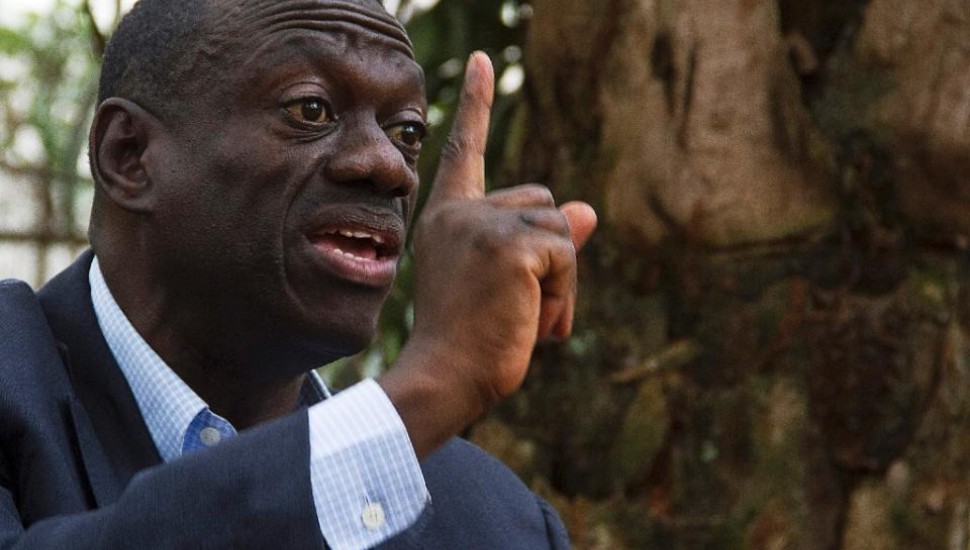 Opposition kingpin Dr Kizza Besigye has eulogised AIGP Andrew Felix Kaweesi, hitherto serving as the spokesperson of Uganda Police, gunned down outside his home in Kulambiro, Nakawa in Kampala Friday morning.
Also Read: BREAKING: Police Spokesperson Andrew Felix Kaweesi Shot Dead
Kaweesi, was shot dead alongside his driver Godfrey Wambewo and body guard Kenneth Erau, as they headed to work. He was due to speak to students at Uganda Christian University (UCU) in Mukono.
Related: ANDREW KAWEESI SHOOTING: Police Chief Kayihura Rushes to Scene of Crime
Besigye, a four-time presidential candidate, has described Kaweesi as intelligent, understanding and empathetic.
"He was intelligent. He was smart and he would quickly understand situations," Besigye said Friday afternoon.
"The late Andrew Kaweesi was empathetic and had a humane side to him. He related with people personally. [His shooting is] very shocking, paralyzing and untimely."
Also Read: Celebrities Pay Tribute to Fallen Police Publicist, Andrew Felix Kaweesi
Besigye suggested that Kaweesi had been killed by a mafia group hellbent on finishing of "men of honour".
"The kind of confidence clearly shows that the killers are not casual criminals who just hired guns.
VIDEO:       Police Speaks Out On Kaweesi Shooting
He said Ugandans ought to be scared: "There is a mafia group killing men of honour and Ugandans should be afraid."
 Related: UCU Saddened by Kaweesi's Demise: 'He was a Scheduled Speaker at Our Seminar'
On his security, Besigye said he was protected by God and was not afraid of death: "I am not worried about death because I am aware the ultimate security is from God. So I am entrusted to God."
Also Read: Singer Pallaso Mourns Departed Police Spokesperson, Andrew Kaweesi
He asked government to expedite the investigation into the shooting and advised that foreign expertise be brought in to help.
"I want to call on those who are charged with our security today, to do everything in their power to investigate this particular crime, but also to not shy away from inviting external assistance," Besigye said.
Related: "We Have Lost a Great Friend" – Jose Chameleone Mourns Kaweesi
He added that the inquiry into the killing, and those before it, ought to be independent void of interference, and not tainted.
"When you are looking at these security people dealing with this, you don't know whether or not the person investigating is the criminal. You need to get people who are not tainted, or involved in these mafia engagements."
Comments
comments