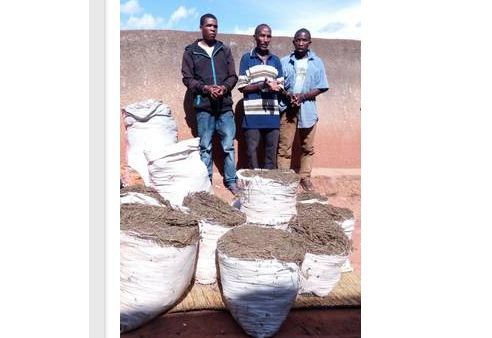 Police in the City of Kigali have discovered a house in Kimisagara Sector of Nyarugenge District that was being used as a store for narcotic drugs.
The house located in Karwangabo Village, Kamuhoza Cell, where 13 sacks of cannabis weighing about 450kgs, were recovered on Sunday night, and three people arrested over the crime.
Those arrested include the storekeeper identified as Ezekias Mvunabandi; the landlord called Samuel Ahobantegeye, and a motorcyclist identified as Felix Kwizera, who was caught red-handed as he was at the time loading about 4200 pellets of cannabis from the house, which were supposed to be delivered to yet unknown place.
According to the executive secretary of Kimisagara Sector, Serge Ruzima, the store-house was reported by a teenager earlier that day "out of suspicion."
This prompted local leaders to deploy community patrol commonly known as Irondo, to keep an eye on the house as they waited for the arrival of the police.
"However, at about 5pm, the motorcyclist arrived, entered the house together with the storekeeper, got a sack of cannabis, but they were both intercepted by Irondo patrol as they attempted to leave the scene," Ruzima said.
Mvunabandi was released from prison in January this year after serving his two-year term over similar crimes.
The store allegedly belongs to a woman identified Jeannette Uwamahoro, who is also Mvunabandi's sister, who is linked to various drug trafficking crimes, and still in the hiding.
Uwamahoro's husband, their daughter and two brothers are also in prison after they were arrested recently in Nyarugenge over drug-related crimes.
In her store in Kimisagara, police also recovered weighing scales that she was reportedly using while selling to her potential customers or retailers.
The one-bedroom house had no window as the only window had been sealed-off and a hole drilled in the wall to help the suspected criminals to see what was going on outside.
Meanwhile, the suspects and the narcotics were presented to hundreds of residents of Kimisagara on Monday as Rwanda National Police (RNP) sent a warning message against drug dealers and called for stronger partnership and information sharing on those involved.
The central region Police commander, Assistant Commissioner of Police (ACP) Rogers Rutikanga, praised the teenager, whose vigilance, instinct and courage led to the seizure of the quantities of cannabis, and arrest of the suspects.
"A house that is always closed with vehicles and motorcycles dropping and loading luggage during the day and night, should have raised suspicion even before, and reported. It is your role as neighbours and Rwandans to report anything suspicious, even when you are not very sure of your instincts," ACP Rutikanga said.
The house has been reportedly in use for the last two months.
"Drug dealers are your neighbours, friends or relatives. Just call the police anytime you suspect anything, and let us investigate and unearth the truth," the RPC added,
He urged them to always call the police in case they have information on suspected drug dealers.
The contacts include 0788311128, for RPC, 0788311100, 0788311177, and 0788311166 for the DPCs of Gasabo, Kicukiro and Nyarugenge, respectively.
The mayor of Nyarugenge District, Kayisime Nzaramba, wondered how a person can live in the pretext of providing basic necessities to their family on the cost of other Rwandans, whose children a consumed by illicit drugs.
"We can't let such harmful substances continue to endanger our children, families and our communities. We need the children of this country to have the best including education; families and communities have to be safer and free from such drugs which are the source of insecurity, and this is a task we all have by identifying and reporting anyone you suspect to be involved," the mayor said.
She also task local leaders in Kimisagara, one of the most drug-prone sector in Nyarugenge, to double their effort in recording new members in their villages and always endeavor to know more about where they are coming from, adding that "some of them are fleeing suspected criminals."
She gave an example of Uwamahoro, who had shifted from Cyahafi in Gitega Sector where she was also wanted over similar crimes, but managed to run another store in Kimisagara without anyone asking and knowing where she was coming from.
Uwamahoro is also wanted in last week's similar crimes in which 18 people were arrested in Rwezamenyo and Gitega, also in Nyarugenge, where 300kgs of cannabis were recovered.
Comments
comments