The Democratic Party (DP) is sinking further with internal wrangles dividing the party into two hostile factions, the "good DP" of party president Nobert Mao and the "Bad DP" led by party vice president for Central Buganda and Mukono municipality MP Betty Nambooze.
The "good DP" term was coined by President Yoweri Museveni in reference to Uganda's representative to regional parliament East African Legislative Assembly (EALA) Mukasa Mbidde at an event to mark the ruling National Resistance Movement (NRM) party Liberation Day in Masindi district on January 26.
Mbidde, a senior DP member, was further endorsed by Mao as a sole candidate for the EALA seat – and he won. But since then, Nambooze and a faction of Uganda Young Democrats (UYD) have accused Mao of working with people that NRM's Museveni praises in broad day light – people they think could soon "see the light and cross to NRM". As if to confirm Museveni's alleged poaching target, party chairman Kezaala was appointed ambassador – a position he accepted.
NAMBOOZE SUMMONS BUGANDA LEADERS
Right from its inception, DP has predominantly been strong in central Uganda. And Nambooze is keen on using this attribute to entrench herself as the leader of the "Bad DP" by wooing Buganda senior leaders – these make up 70 per cent of DP's top leadership.
In a letter published on social media, Nambooze invited Mao to a conference for Buganda Region on March 30 at Nsambya Sharing Hall. Nambooze says she seeks to reform DP.
Mao quickly issued a statement faulting Nambooze for flouting Article 27(a) of the DP constitution which requires the party president to ensure that the other executive officers of the party perform their respective duties efficiently and properly in accordance with the Constitution and policies of the party.
MAO BARKS
"Nambooze's purported meeting is being convened contrary to the Constitution and a standing resolution of the National Executive Committee (NEC) which requires regional leaders to coordinate their programmes with the NEC and get prior approval for such activities," Mao said in a statement read for him by DP deputy publicist Alex Waiswa Mufumbira.
Mao further accused Nambooze of dividing the party, being a hate monger and for formenting sectarian tendencies.
"Despite the high office Ms Nambooze holds, she has focused not on uniting the party but rather hate mongering, sectarian mobilisation and clique formation," Mao said.
He then declared Nambooze's planned conference unlawful: "In the meantime, any activity she spearheads as regional vice president will be deemed illegal in terms of the party Constitution and NEC resolution and we ask Ms Nambooze to call off the planned conference in the spirit of team work."
NAMBOOZE HITS BACK
In response to Mao's statement, Nambooze's propaganda website published an article – a counterattack to Mao's barking.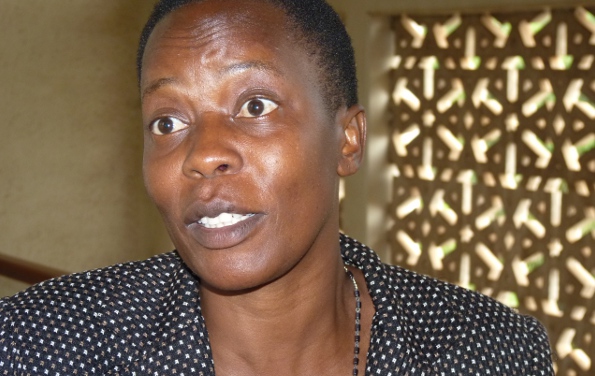 "The 31st DP-Buganda Conference at Nsambya is on. Mr Mao has failed to convene meetings he is mandated to call and he is bent on blocking even those organised by other leaders. He knows that a party survives on the proper, effective and efficient running of its organs. Its this he wants to break working with NRM," Nambooze's propaganda site quotes her as saying.
She adds: "A party is like a human being, if you kill organs, the person will definitely die. Mr Mao wants to strangle our Party to death so as to keep Museveni in power but we shall resist this with all our might. We shall do all within our means to demand and give ourselves the necessary reforms so as to make DP GREAT AGAIN."