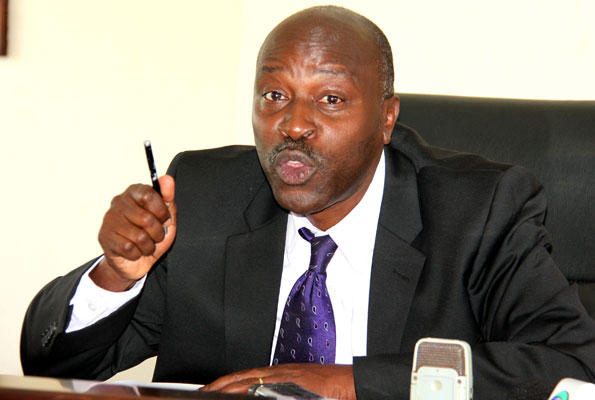 After a five-year search, Prof Eli Katunguka-Rwakishaya has been officially appointed vice chancellor of Kyambogo University for the next five years.
According to a March 23 statement by the secretary to the university council, Patrick Madaya, council held a special meeting on March 17 that recommended Katunguka for appointment, beating Prof Geoffrey Bakunda and Prof Aaron Wanyama.
Katunguka was eventually appointed on March 21 by university chancellor Prof John Ssebuwufu, in accordance with section 32(1) of the Universities and Other Tertiary Institutions Act (UOTIA).
The UOTIA provides that a vice chancellor shall be appointed by the chancellor on recommendation of the university council from among three candidates nominated by the university senate.
His appointment has now brought an end to a substantive VC vacuum at the country's arguably second-largest public university since Prof Isaiah Omolo Ndiege was suspended in 2012.
Prof Katunguka, a professor of veterinary medicine, has been acting vice chancellor since 2014, on top of his official position as deputy VC in charge of academic affairs.
BACKGROUND
In July last year, staff at Kyambogo was left in shock after the University Council Chairman Prof John Okedi confirmed that the search for a new vice chancellor had been cancelled after divisions emerged over who was running for the position.
After five dons applied for the job, the search committee suddenly dropped three of them, forwarding just two, Prof Eli Katunguka and Dr Geoffrey Bakunda, to the senate for consideration.
However, at that point the matter was mired in angry accusations of favoritism from various dons. With the university council's tenure running out, Prof Okedi pulled the plug.
"You well know the process of getting a new vice chancellor … it is the senate that shortlists the candidates and then sends them to us [University Council] to recommend … it's the senate that delayed," Prof Okedi then said.
The Kyambogo University Senior Administrative Staff Association (Kyusasa) members, who had their hopes in one of the candidates were upset.
Kyusasa chairperson Jackson Betihamah, labeled the university council decision unacceptable.
"Kyambogo University urgently needs a substantive vice chancellor to steer the management … two and a half years without a VC is too long," Betihamah was quoted fuming.
Comments
comments