Controversial Ugandan political and social commentator, Frank Gashumba has threatened to sue National television NBS over what he referred to as defamation.
This comes after the Kamwokya-based TV station banned Gashumba's show dubbed "The Eagle", accusing him of allegedly conning "some individuals" and also refusing a moderator that would make the show more useful.
Gashumba through his lawyers of M/S Mushabe, Munungu & Co Advocates jointly with M/S Denis Nyombi & Co Advocates has served NBS with papers, demanding that the TV station desists from broadcasting or posting defamatory statements on Facebook and also apologize to him during prime time within 24 hours.
The lawyers claim that their client is "an international traveler who is a father, an entrepreneur who delivers motivational talks locally and internationally," and hence his reputation and business as a motivational speaker had been "recklessly and maliciously injured" by NBS TV's accusations.
According to the notice of intention sue sent to NBS and seen by The Tower Post, the lawyers had been given instructions by Mr Gashumba to file a law suit against the TV station and Ms Pamela Adongo (the station's Chief Marketing Officer) should they fail to adhere to their client's demands in the required time.
Below is the Notice of intention to Sue that was sent to NBS TV: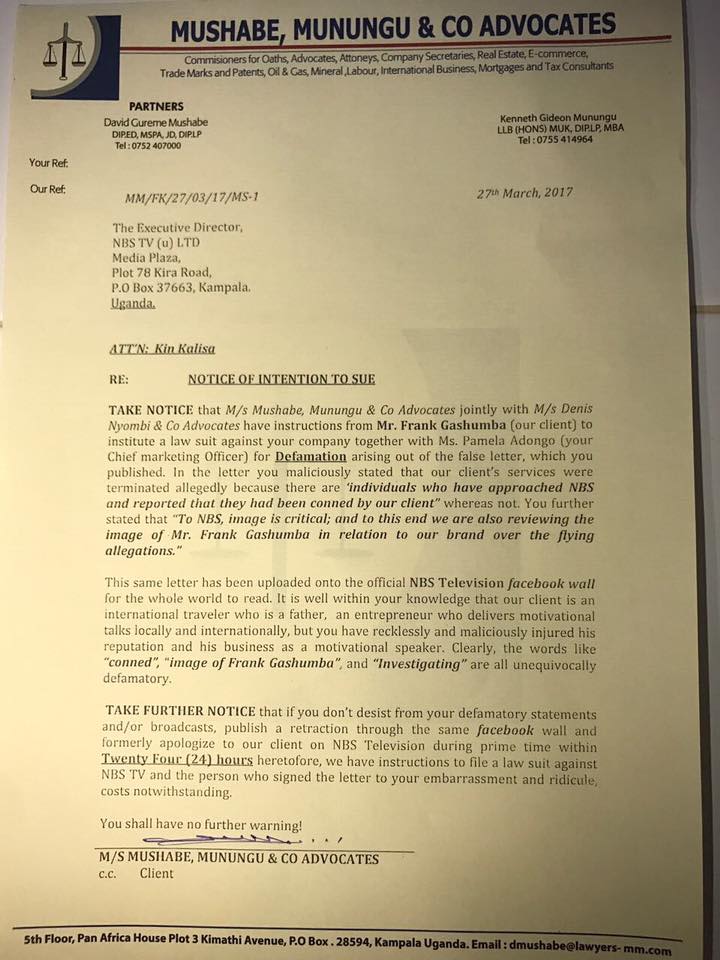 Comments
comments