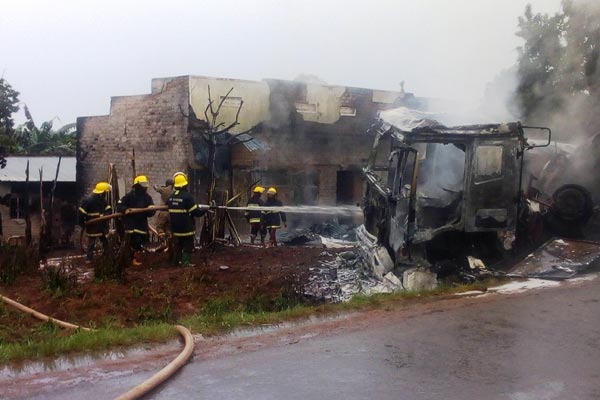 Two fuel tankers have crashed in separate incidents in Kijabwemi and Bisanje villages in Masaka District on Thursday.
According to Southern Region Police Spokesperson Diana Nandawula, a Moil Petroleum Company fuel tanker crashed after it failed to brake and overturned at Kijabwemi at around 10am.
'Residents notified us and we swung into action since they feared the tanker would catch fire," Nandawula said.
Residents said they heard crashing noises and first thought it was attack by criminal gangs that had warned they would be attacking the village.
Hours later, a Moil Company tanker headed for Kampala from Mutukula on the Uganda-Tanzania border also crashed at Bisanje on Masaka-Kyotera Road.
According to police, the tanker was carrying about 38,000 litres of fuel.
"I saw fire in the cabin and I jumped off the truck," an eye witness told police. "The fire from the truck then quickly spread to the nearby houses, burning them down."
Comments
comments