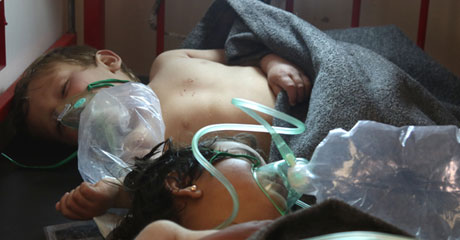 The US has carried out a missile attack against an air base in Syria in response to a suspected chemical weapons attack on a rebel-held town.
Fifty-nine Tomahawk cruise missiles were fired from two US Navy ships in the Mediterranean, the Pentagon said.
President Donald Trump said they hit a base from which the Syrian government launched Tuesday's chemical attack.
The Kremlin, which backs the Syrian government, has condemned the US strike.
Dmitry Peskov, spokesman for Russian President Vladimir Putin, called it "an act of aggression against a sovereign nation".
The attack, at 04:40 Syrian time (01:40 GMT), comes just days after dozens of civilians, including many children, died in the suspected nerve gas attack in the town of Khan Sheikhoun in Idlib province.
Speaking from his Mar-a-Lago estate in Florida, Mr Trump branded Syrian President Bashar al-Assad a "dictator" who had "launched a horrible chemical weapons attack on innocent civilians".
Mr Trump said he had acted in America's "vital national security interest" to prevent the use of chemical weapons.
"Tonight I call on all civilised nations to join us in seeking to end this slaughter and bloodshed in Syria and also to end terrorism of all kinds and all types," he said.
The UK government called the US strike "an appropriate response to the barbaric chemical weapons attack".
The Pentagon said the Russian military, which supports Syrian government forces, had been informed ahead of the US action.
In a statement it said missiles fired from Navy destroyers USS Porter and USS Ross had targeted aircraft, aircraft shelters, storage areas, ammunition supply bunkers, air defence systems, and radars at Shayrat airfield in western Homs province.
The Pentagon added that the strike was intended "to deter the regime from using chemical weapons again".
It did not give details of damage or casualties but the governor of Homs province said there had been deaths and parts of the base were on fire.
"It will take some time to determine the extent of the damage," Talal Barazi told AFP news agency.
However, the Syrian Observatory for Human Rights, a UK-based monitoring group, said at least four Syrian soldiers had been killed.
BBC
…………………………………………………………………………………………………………………………………………………..
Comments
comments