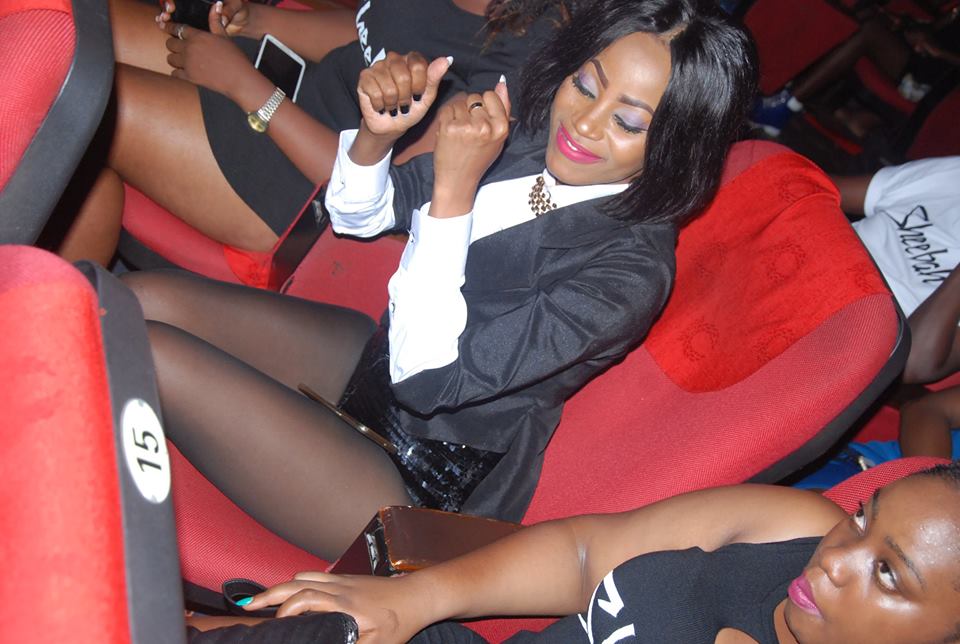 The 2017 Galaxy FM Zzina Awards ceremony was held on Friday night (April 7, 2017) at Theatre Labonita in Kampala.
Unlike the previous editions, this year's edition had stiff competition as the nominated artistes all urged their fans to vote for them from the time the list of nominees was announced.
The successful awards ceremony had performanced from popular musicians including Sheebah, Vampino, Maurice Kirya and Ceaserous among others.
The winners in the various categories were announced at the event and handed their accolades.
Here is the full list of winners:
BEST DANCEHALL SONG
• Dangerous – Ceaserous – Winner
• Gamululu – A Pass
• Pull Up – Kent & Flosso
• Smart Wire – Vampino
• Tempo(Remix) – Dufla Diligon & Cindy
• Tuli Majje – Ziza Bafana
BEST LUGA FLOW/RAP SONG
• Nkalabuka – Da Agent – Winner
• Omusomesa – Gravity
• Sala Pulesa – Mun G
• Yongeza Omuliro – Victor Kamenyo
BEST INSPIRATIONAL SONG
• Dembe – Bobi Wine
• Gula Emotoka – Lil Pazo
• Katonda Wange – David Lutalo
• Mama – Pallaso – winner
• Money – Gravity & David Lutalo
• Somesa Eggwanga -Radio & Weasel
BEST FANS TEAM
• B2c Soldiers
• Fire Base Army
• Nwagicians
• Radio & Weasel
• Shebaholics – WINNER
• Team Spice Diana
Zzina Awards 2016- 2017
Lifetime Achievement awards – Madoxx Ssemanda Sematimba
SHOWBIZ PERSONALITY
• Bad Black
• Jack Pemba
• SK Mbuga
• Zari – Winer
BEST LUGAFLOW/RAP ARTIST
• Da Agent
• Gravity – winner
• Mun G
• Navio
• Victor Kamenyo
BEST CONTEMPORARY/RnB ARTIST
• Fille
• Geosteady – winner
• Irene Ntale
• King Saha
• Lydia Jasmine
• Rema
• Winnie Nwagi
BEST PRODUCER
• Andre
• Danz Kumapeesa
• Diggy Baur
• Morgan Isaac
• Nessim – Winner
BEST COMEDIAN
• Alex Muhangi
• Ann Kansiime
• Mad Rat & Chiko
• Mariachi
• Salvado
• Swengere – Winner
BEST SONG WRITER
• Andre
• Black Skin
• Doctor Brain
• Mozey Radio – Winner
• Ray Signature
BEST AFRO BEAT SONG
• Aidah – Bobi Wine – Winner
• Farmer(Remix) – Ykee Benda & Sheebah
• Musawo – Winnie Nwagi
• Mwana
Gwe – King Saha
• Ndi Wa Mululu – Geosteady
• Njogereza by Navio
• Onsanula – David Lutalo
• Soraye – Eddy Kenzo
• Tokigeza – B2C
BREAKTHROUGH ARTIST
• Da Agent
• Ykee Benda – Winner
• Lil Pazo
• Kent & Flosso(Voltage Music)
• B2C
• Ceaserous
• Roden Y
BEST FEMALE ARTIST
• Cindy
• Fille
• Irene Ntale
• Lydia Jasmine
• Rema
• Sheebah – Winner
• Winnie Nwangi
BEST MALE ARTIST
• Bobi Wine
• Eddy Kenzo
• Geo Steady
• King Saha
• Radio & Weasel
• Ykee Benda
• Ziza Bafana – winner
BEST COLLABORATION
• Agatako by DJ Pius & Jose Chameleon
• Byagana – Ziza Bafana, Radio & Weasel
• Farmer(Remix) – Ykee Benda & Sheebah – Winner
• Gudi Gudde – Kalifah Aanaga, Radio & Weasel
• Mulimu Ki – Mary Bata Nutty Neithan
• Tempo – Dufla Diligon & Cindy
• Wadda Wa – Chozen & Sheebah
• What Did You Do – Fille & Nutty Neithan
SONG OF THE YEAR
• Dangerous – Caserous – Winner
• Farmer – Ykee Benda & Sheebah
• Muna Kampala – Ykee Benda
• Musawo – Winnie Nwagi
• Nkwatako – Sheebah
• Smart Wire – Vampaino
• Tokigeza – B2C
ARTIST OF THE YEAR
• Bobi Wine
• David Lutalo
• Rema
• Sheebah – Winner
• Winnie Nwangi
• Ykee Benda
• Ziza Bafana