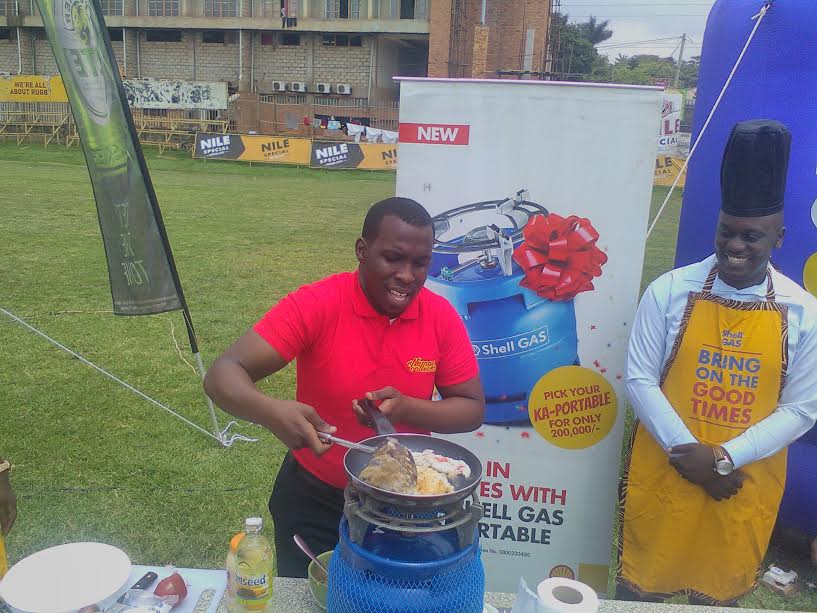 Vivo Energy Uganda, has launched the 3rd edition of the famous Shell Gas Tokosa Food Festival and announced a reduction on Shell Gas prices.
The Shell Gas Tokosa Food Festival will take place on Saturday 20th May 2017 at the Legends Grounds Kampala sponsored by DSTV, Uganda Breweries, Coca-Cola and Vivo Energy Uganda through its Shell Gas brand.
This year's festival is promising to be bigger and better with special chefs who will teach the audience how to produce complete meals in minutes. The 2017 edition will also have a dedicated kids' corner with lots of fun activities for the children including face painting, sack races and bouncing castles among others.
Some activities that have been planned for the 2017 festival include cooking competitions for various categories including: divas sponsored by Shell Gas; bachelors sponsored by Tusker; couples by Coca-Cola; and the fathers' cook off sponsored by DSTV.
Some participants will be nominated through social media while others will be chosen from the audience. The day will also feature entertainment from Zumba dancers, performing artists and live bands.
This year the Shell Gas Tokosa Food Festival has once again identified the Bless a Child Foundation as a beneficiary partner to receive 10% of the total proceeds. The foundation provides improved childhood cancer care services for terminally ill children.
Through the foundation, the children can access food, education and care, free of charge. Over 800 children have benefitted from the foundation over the past years. The foundation will also receive a kitchen makeover at their home in Makerere-Kikoni to support care for the children.
Speaking at the media launch held at Legends Rugby Grounds on 26th April 2017, Vivo Energy Uganda's Country Sales Manager, Edward Walugembe said the third edition of the Shell Gas Tokosa Food Festival gives Ugandans an opportunity to taste food from other countries such as Ashiana from India, Coastal from Zanzibar, Little Donkey from Mexico, Yujo from Japan and Fasika from Ethiopia, among others, as well as benefit from cooking ideas shared by special chefs to make their cooking even better.
"This annual festival gives us an opportunity to say thank you to our Shell Gas customers as they enjoy good times at the festival. Shell Gas is available in three sizes – 6kg, 12kg and 45kg, as well as the bulk solution suitable for real estate developers, schools and hospitals. We have reduced the price of the complete set of the 6kg cylinder with a burner and grill – commonly known as Ka-portable from 200,000/= to 180,000/= and the 12 kgs cylinder can now be refilled for 110,000/=." Walugembe noted.
Gates will open at 10:00am and the entry fee is 10,000/= for adults and free for children below 10 years.