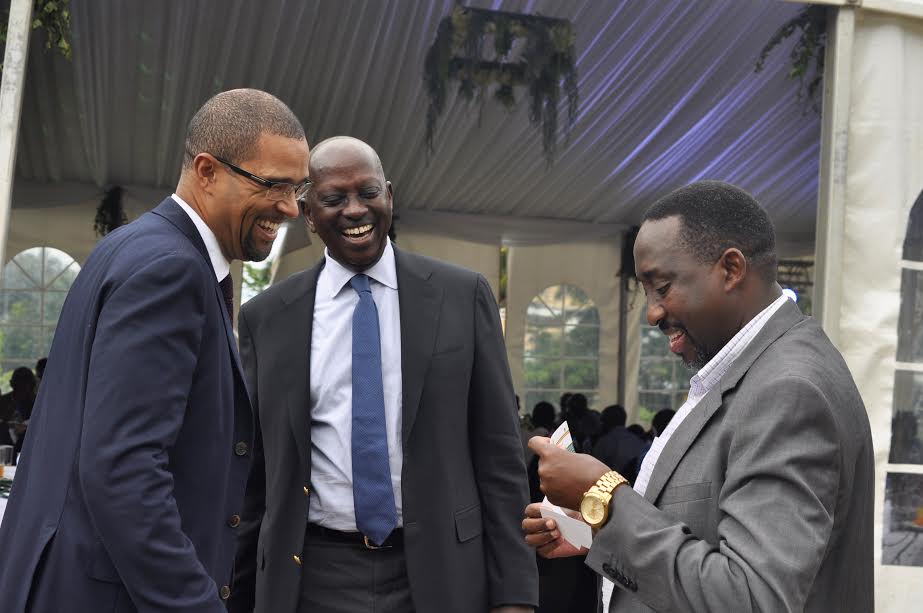 Geocycle has been launched with the aim of providing a solution to waste management that leaves no residue. Under the Geocycle brand, the LafargeHolcim Group offers waste management services in over 50 countries around the world.
"Our promise is to offer a superior solution to disposing off waste in landfills. Geocycle will collect, segregate and incinerate waste in cement kilns of Hima Cement Limited, in a partnership that is set to deliver a "zero-waste" future for Uganda,' said Israel Tinkasimiire, the Geocycle Country Manager, at the launch event at the Kampala Serena Hotel.
With the ever increasing urbanization and industrialization, rapid change in lifestyles, waste challenge has grown in leaps and bounds. There are many urban authorities grappling with huge volumes of both organic and inorganic waste that is poorly disposed-off. On average there is about 2,500 tons of waste generated on a daily basis with only about 10% of this waste disposed of in a safe manner. This is in contrast to other countries, such as Australia, where people can hire skip bins sutherland shire and other areas have with relative ease with an assurance that their waste will be disposed of safely.
Moreover, many industries generate hazardous waste, which must be properly disposed of to avoid potentially harmful consequences. Humans, wildlife, and the environment are all endangered by hazardous waste. Its management is critical because it can protect the environment from the toxic effects of inorganic and biodegradable elements found in waste. Waste mismanagement can result in water contamination, soil erosion, and air pollution. Waste can be recycled if it is collected and managed correctly. Well! The management is heavily focused on the hazardous waste types and the strategy that must be implemented to properly dispose of them. But, overall, Geocycle is most likely on the right track.
Geocycle aims to provide the entire waste management process from collection, transportation, segregation, auditing, as well as disposal in a process that does not require waste to be disposed-off in landfills.
"Geocycle will collect waste directly from municipalities, industries, oil and agricultural companies, pre-process it in its waste management platforms and co-process (or reuse) in the cement kilns. Currently, Geocycle collects, segregates and incinerates agricultural waste in the Hima cement kilns," adds Tinkasimiire.
Geocycle contributes to the Lafargeholcim's sustainability ambitions (the 2030 Plan) which targets to use 80 million tons per year of resources from waste by 2030. 58% of fuel used in Hima Plant in Kasese is from agricultural waste.
Speaking at the launch, Daniel Pettersson, the Hima Cement Country CEO said: "For almost 10 years now, Hima Cement plant has been using biomass to fuel its cement kilns and dryer. These include coffee husks, rice husks, bagasse, palm kernels and sawdust which acts as a replacement for fossil fuels. Today, over half of the thermal energy for the kiln comes from biomass rather than heavy furnace oil which means a reduction in CO2 emissions by 70,000 tons annually."
"We believe in a future without waste; our dedicated experts work persistently toward this goal. We take the extra step to solve waste challenges for our customers and society as a whole. State-of-the-art technology, tailored processes and in-depth expertise enable us to provide sustainable, safe and reliable answers to society's waste challenges," he explained.
The launch of this initiative will further enable Hima Cement improve its energy efficiency by re-purposing other forms of waste and also contribute further to Hima Cement's objective to reduce its carbon footprint
Olivier Doyen, the Head of Geocycle in Sub-Saharan Africa disclosed that currently, Geocycle has 85 waste treatment platforms and provides fuel for 180 cement kilns.
"When you dump your waste, you do not know what happens to it after you dispose it off. It can actually turn out to be an environmental hazard. Geocycle means we do not produce any residue at the end of the process and do not release any gases into the atmosphere."
Geocycle is already engaging with Fort Portal Municipality which produces approximately 100 tons of waste per day and is in close proximity to the Hima plant in Kasese.
"Our strategy shall involve partnering with the urban authorities so that we manage the waste on their behalf. From there we shall spread to other parts of the country including Kampala, where the waste generated per day is in the region of 800 tons," disclosed Tinkasimiire.
Waiswa Arnold, the Director of Environmental Monitoring and Compliance at the National Environmental Management Authority (NEMA) lauded the launch of Geocycle saying the solution will help many municipalities whose waste management processes remain an unfunded priority.
"Many local authorities do not have enough capacity to collect and dispose off waste. Waste is certainly is a big challenge. When uncollected, especially urban centers leads to flooding, contamination of water sources thus leading to diseases. NEMA welcomes the Geocycle initiative which aims to have zero-waste future."
Globally, Geocycle preserves land equivalent to the size of 85 football fields annually, processes 14 million tons of waste materials worldwide leaving no residues and prevents greenhouse gas emissions equivalent to that produced by 250,000 cars. It also saves energy equivalent to that of heating 180,000 households by processing waste from municipal sources.
Comments
comments