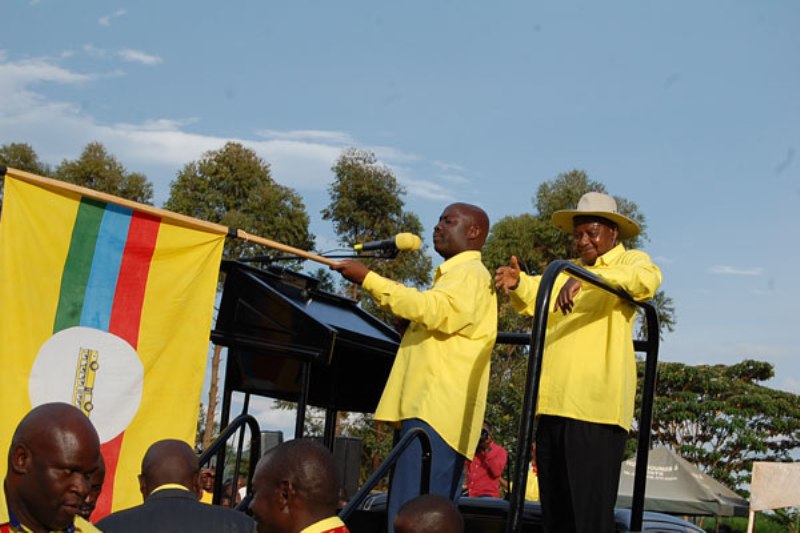 Uganda's three-decade president Yoweri Museveni has told voters in Busoga region not to elect members of Parliament (MPs) who will make him return to the bush.
On Monday, Museveni campaigned for Moses Walyomu, the ruling National Resistance Movement (NRM) candidate in the Kagoma Parliamentary by-election.
Museveni addressed a rally at Bulugo Primary School in Buyengo Sub-County in Jinja District. Here he told voters not to vote opposition candidates who he said waged "wars" against his government.
"I am tired of wars. I want you to vote pro-NRM members of parliament like our party flag-bearer, Mr Moses Walyomu," Museveni, also NRM's chairman, said.
"I don't want to go back to the bush to fight again. Don't send me people who will disagree with me in parliament. I fought in 1986 and I am tired."
Museveni also warned voters that electing opposition MPs would cost them services such as roads.
The Kagoma parliamentary seat fell vacant after the Court of Appeal nullified the election of Walyomu in March after it found Alex Brandon Kintu's accusations that the NRM candidate had bribed voters were evidence enough to tilt the election's results.
Other candidates in the race are: independent candidate Muhammed Bidondole, and opposition Forum for Democratic Change (FDC) candidate Timothy Batuwa Lusala.
PHOTO/COURTESY
Comments
comments