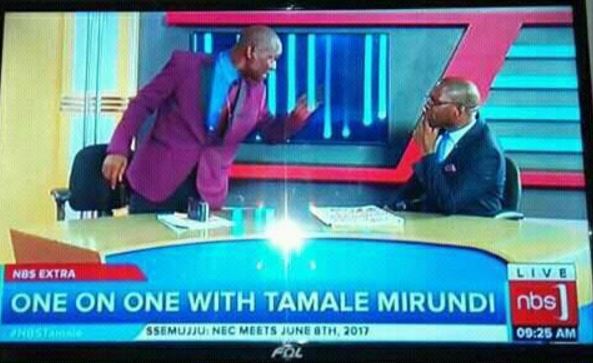 President Yoweri Museveni advisor on Media Tamale Mirundi on Tuesday attacked the host of an NBS TV one-on-one show Muyanga Lutaaya.
The motor-mouthed Mirundi was irked by the host's questions on a new Buganda Kingdom campaign, Kyapa Mu Ngalo which is intended to streamline land ownership and management in the monarchy.
Mirundi is one of the opponents of the campaign.
When his host asked him why he was opposed to the Kyapa mu ngalo (loosely translated as "a land title in your hand") campaign, yet his piece of land was registered under the same kingdom system, Mirundi lost his cool, jumped in his chair to show how determined he was to challenge Buganda Kingdom in court over land issues.
He stood up and pointed at the host just to show how serious he was on the issue in what seemed like a looming attack on Muyanga.
Last week, Buganda Land Board presented to the press copies of registered land tittles belonging to Sheikh Nuhu Muzaata and Tamale Mirundi, both sworn opponents of the land campaign.
NBS TV executive director Kin Kariisa has responded to viewer complaints with a "we will talk to Tamale" tweet.
Watch the video:
Comments
comments