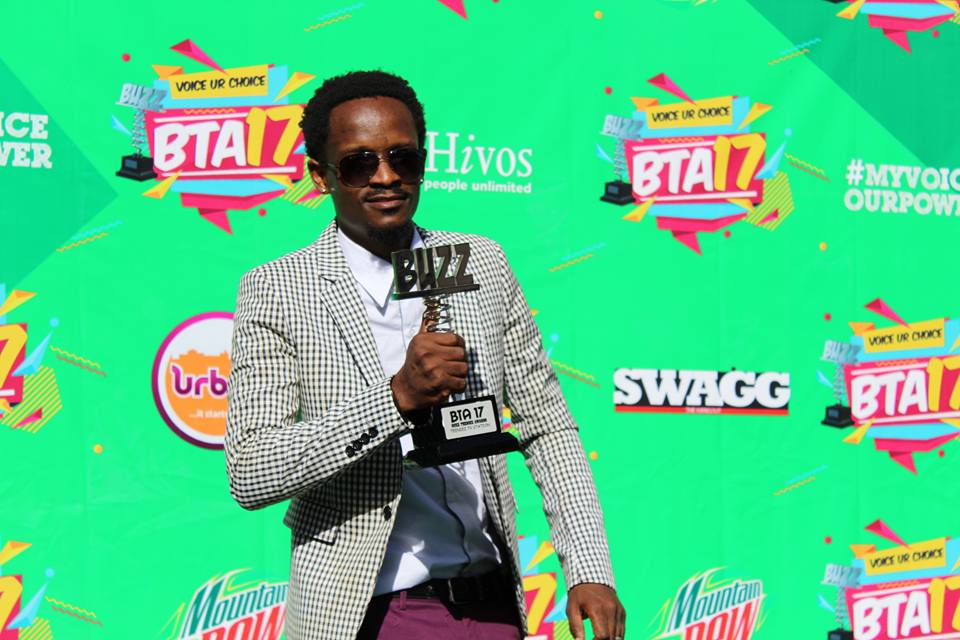 The 2017 Buzz Teeniez Awards successfully went down on Saturday (May 13th) at UMA Show Grounds,  Lugogo – Kampala.
The green carpet event was well attended by city celebrities, media personalities and a big number of teenagers from all walks of life.
The winners in the various categories were announced and handed their accolades at the event, which had a number of music performances from artistes like, Bruno K, Fik Fameika, Mun G, Kemishan, B2C, Swangz Avenue'z Zulanda and Vinka among others.
Here is the full list of winners:
TEENIEZ MALE ARTIST
Ceaserous
Ykee Benda (WINNER)
Nutty Neithan
MUN G
TEENIEZ FEMALE ARTIST
Fille
Irene Ntale
Nwagi Winnie
Sheebah (WINNER)
TEENIEZ WICKEDEST DJ
DJ Ali Breezy
DJ Slick Stuart & DJ Roja (WINNER)
DJ Mark
DJ Crim
TEENIEZ GOSPEL ARTIST/GROUP
Coopy Bly
Daisy Ejang
Exodus(WINNER)
Levixone
Ruyonga
TEENIEZ FLYEST VIDEO
Kisasi Kimu – Sheebah
Dangerous – Ceaserous (WINNER)
The way – Sheebah
Pull Up – Kent ft Flosso
TEENIEZ HOTTEST RIDDIM
Big Bumpa – Mun G & Kemishan (WINNER)
Dangerous – Ceaserous
Eva – Ykee Benda
Farmer RMX – YKee Benda ft Sheebah
TEENIEZ GOSPEL SONG
DNA – Baby Gloria ft. Ruyonga
Nnyinimu – Exodus (WINNER)
Ani – Levixone
TEENIEZ HOTTEST COLLABO
Big Bumpa – Mun G & Kemishan (WINNER)
Eva – Ykee benda ft Dj Roja & Sleek Stuart
Farmer RMX – Ykee Benda & Sheebah
What Did U do? – Fille and Nutty Neithan
TEENIEZ HOTTEST HIP-HOP SONG
Yes/No – Fefe Busi (WINNER)
Rider – Navio
Mudaala -Aethan Music Ft Keko, Tucker HD,JB
Day Ones – Flex D'Paper Ft Navio & Martha Smallz
TEENIEZ BEAT MAKER
Diggy Baur
Big Nash (WINNER)
Nessim
The Wizzy
TEENIEZ HOOD RAPPER
Ruyonga
Da Agent (WINNER)
Fefe Busi
Navio
TEENIEZ BREAKOUT ARTIST
Ceaserous
Da Agent
Ykee Benda (WINNER)
Fic Fameica
TEENIEZ SONGWRITER
Yesse Oman Rafiki
Ray Signature
Ykee Benda (WINNER)
A PASS
TEENIEZ HOTTEST COMEDIAN
Anne Kansiime (WINNER)
Madrat & Chiko
Mariachi
Salvado
TEENIEZ DANCEHALL ARTIST/GROUP
Beenie Gunter
Nutty Neithan
Sheebah (WINNER)
Vampino
Ziza Bafana
TEENIEZ CELEBRITY STYLIST
Abryanz (WINNER)
Slyvia Owori
Phiona Kirabo
Tazbone
Chuck Teeniez
HOTTEST RADIO PERSONALITY
Denzel
Flavia Tumusiime
Mr Mosh (WINNER)
Siima
TEENIEZ FUNKIEST FM STATION
XFM
CAPITAL FM
GALAXY (WINNER)
HOT 100
TEENIEZ TEEN TV SHOW PRESENTER
Crystal Panda (WINNER)
Douglas Lwanga
Humphrey Wampula
Tina fierce
TEENIEZ TV SHOW
Scoop on Scoop
T-Nation
Teen City
NTV The Beat (WINNER)
HOTTEST TV PERSONALITY
Anita Fabiola
Crystal Panda
Douglas Lwanga (WINNER)
Flavia Tumusiime
TEENIEZ TV STATION
NTV
NBS TV
UBC MAGIC (WINNER)
URBAN TV
TEENIEZ FEMALE SPORTS PERSONALITY
Joan Nampungu – St. Mary's Kitende
Alum Fiddy – Kakungulu S.S
Nabbosa Mayimuna – Nabisunsa
Hasfa Nassuna – Kawempe Muslim (WINNER)
TEENIEZ PREFERRED ICON OF FREEDOM OF EXPRESSION
Bobi Wine (WINNER)
Humphrey Nabimanya
Tamale Mirundi
TEENIEZ COOL POLITICAL LEADER
Gerald Karuhanga
Allan Sewanyana(WINNER)
Jennifer Musisi
Rebecca Kadaga
Comments
comments