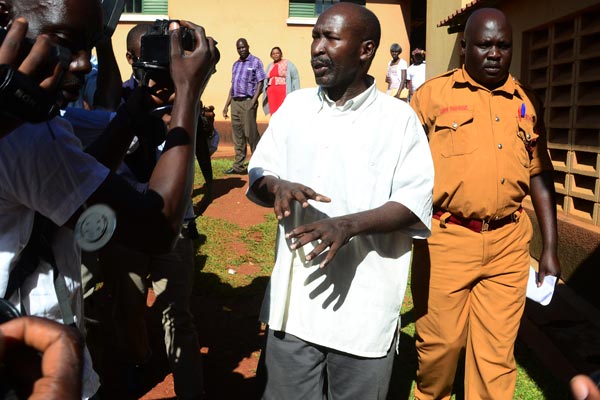 A suspect in the murder of former Uganda Police publicist Andrew Felix Kaweesi has told court that he was promised Shs 1bn if he implicated security minister Henry Tumukunde in the case.
Godfrey Musisi Galabuzi, one of the five suspects who have dragged government to court over torture at Nalufenya Police Station.
The other suspects are: Grace Kayiwa Nankya, Friday Benard, Stuart Ainebyona and George William Kimbugwe.
According to an application the five tabled before the civil division of the High Court through their lawyer Ladislaus Rwakafuzi on Monday, Musisi claims he and others were arrested by police on March 23.
He further claims that they were detained at Nalufenya police station in Jinja district.
"We were never informed of the reason of arrest until late night when we were told that we had participated in the murder of Andrew Felix Kaweesi," the application quotes Musisi as saying.
Musisi further claims that he was promised a whooping Shs 1bn if he successfully pinned  Tumukunde as having masterminded the murder of Kaweesi, his body guard and driver in Kulambiro on March 17.
The application further reads: "Interrogators offered Musisi a deal in which he would regain his freedom and Shs 1bn if he testified to the effect that he was approached by Lt Gen Tumukunde about March 2, 2017 to procure personnel that would assassinate IGP Kale Kayihira and the late Kaweesi."
There has been a cold war between Tumukunde and Kayihura over these claims.
Recently, Tumukunde told participants at a dialogue on media and national security in Kampala that Tumukunde said that while some police operations usually go wrong, they should not be swept under "if there are mistakes [in the security system], [Police] should own them".
Comments
comments