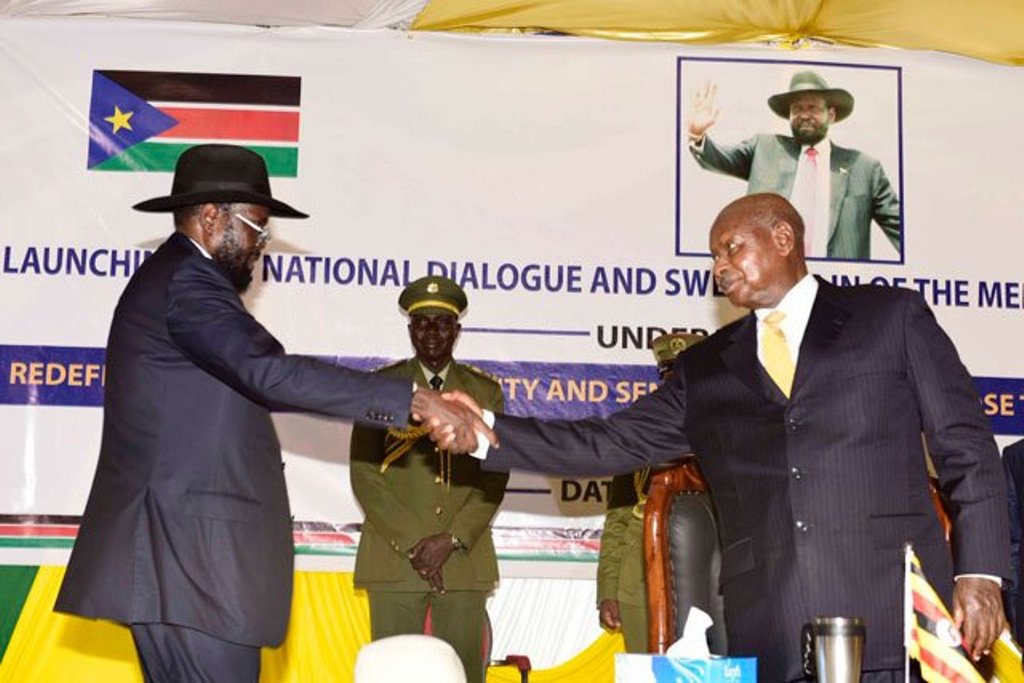 Uganda's President Yoweri Museveni has told South Sudan's Salva Kiir not to tolerate impunity within the army, recommending tough measures for disciplining officers.
Museveni on Monday attended the launch of South Sudan national dialogue in Juba.
"Tolerating impunity, that is another big danger. When people make mistakes like killing, rape, and defilement [and get away with it]," Museveni diagnosed.
He advised Kiir to use the model the Ugandan army used against soldiers who terrorised civilians.
"The UPDF, we were calling it NRA that time; we revived Uganda by very strict discipline. You kill a person, we kill you in public; shoot you. You rape a woman, unakula risasi [you bite a bullet].That is how we regain the trust of the public," he said.
Recently, there have been fears that sacked army chief of staff Gen Paul Malong could join the opposition forces. But Malong and Kiir reportedly agreed to work together.
The South Sudan army has also been accused of taking sides in the conflict, of raping women, looting and killing civilians.
In February President Kiir ordered the SPLA General Command to report to him any soldier accused of rape and murder.
"From today onward, if it [murder or rape] happens, I want them to bring me a report that somebody has committed such a crime and has been shot [dead]. Let us do one thing; we get rid of bad elements among us and we remain clean, pure and perfect," Kiir said in February.
Comments
comments