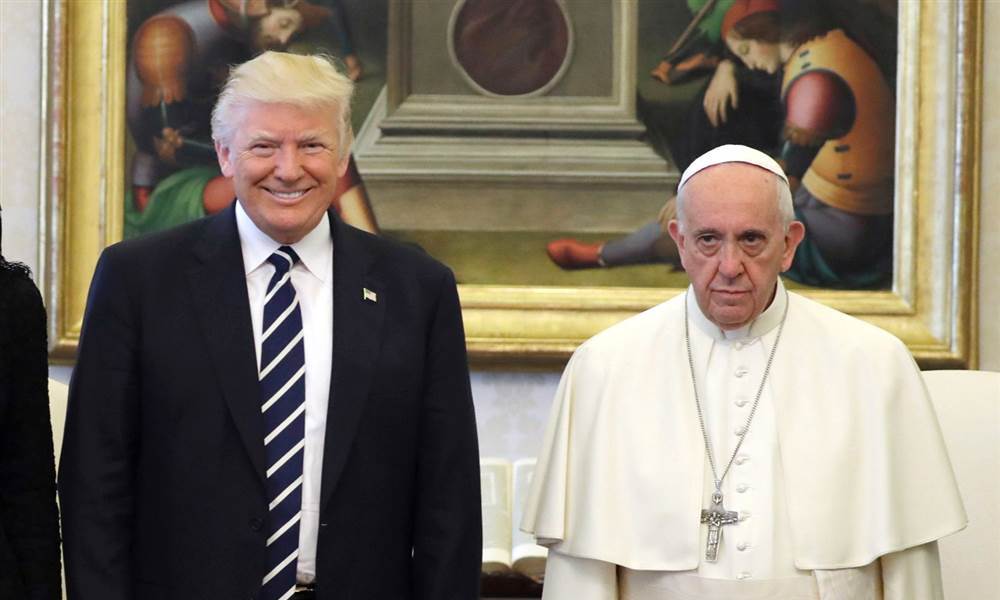 US President Donald Trump has met Pope Francis for a short private audience on the third leg of his overseas trip.
The Vatican said after the meeting that there had been an "exchange of views" on international issues, and spoke of the need to continue good relations.
Mr Trump said they had a "fantastic meeting". The two men have in the past clashed on issues such as migration, climate change and a Mexico-US wall.
Mr Trump also met Italy's president and prime minister while in Rome.
He is due fly on to Brussels later for a Nato summit.
He arrived in Europe from Israel and the Palestinian territories, where he vowed to try and achieve peace in the region.
The US leader began his foreign trip with a two-day stop in Saudi Arabia over the weekend, urging Muslim countries to take the lead in combating radicalisation.
MUCH-ANTICIPATED MEETING
Mr Trump and his entourage arrived at the Vatican just before 08:30, in a meeting that was arranged at the last minute.
The US president was greeted by Archbishop Georg Ganswein, the head of the papal household, and escorted by the Swiss Guard to the offices of Pope Francis.
Correspondents say Mr Trump seemed subdued during their initial meeting, while Pope Francis was not as jovial as he sometimes is with world leaders.
The two men appeared much more relaxed at the end of their 30-minute private meeting.
The Vatican said later that they shared a commitment to "life, and freedom of worship and conscience" and expressed hope that they can collaborate "in service to the people in the fields of healthcare, education and assistance to migrants".
On international affairs, their "exchange of views" covered the "promotion of peace in the world through political negotiation and interreligious dialogue", and highlighted the need to protect Christian communities in the Middle East.
After the meeting, they exchanged gifts. Mr Trump gave the Pope a boxed set of writings by the civil rights leader Martin Luther King.
The Pope gave Mr Trump a signed copy of a message he delivered for World Peace Day, along with some of his writings about the need to protect the environment.
He also presented him with a small sculptured olive tree, telling Mr Trump through an interpreter: "It is my desire that you become an olive tree to construct peace".
Mr Trump responded by saying: "We can use some peace". He also said he would read the texts the Pope gave him.
REPORT/BBC