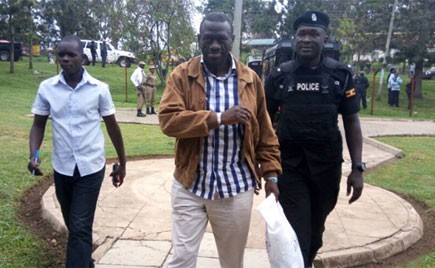 Opposition kingpin Dr Kizza Besigye has been re-arrested by police in Rukungiri about five hours after a magistrate's court granted him and six others bail.
Besigye, Forum for Democratic Change (FDC) presidential candidate Patrick Amuriat, party chief mobiliser Ingrid Turinawe and four others Wednesday morning appeared before a Rukungiri Magistrate's Court over last week's scuffle with police in which one anti-age limit removal protester was shot dead.
They were charged with charged with incitement to violence, malicious damage of property, including a police car, as well as disobedience.
At about 10am, they were granted non-cash bail and released.
Besigye reportedly wanted to have some rest at his Rwakabengo country home in Rukungiri Municipality.
But police insisted they wanted to take him to Kampala.
Police besieged the court premises but Besigye refused to leave until he was arrested at about 6pm local time.
Police broke into Besigye's car and grabbed him, said FDC presidential aspirant Moses Byamugisha.