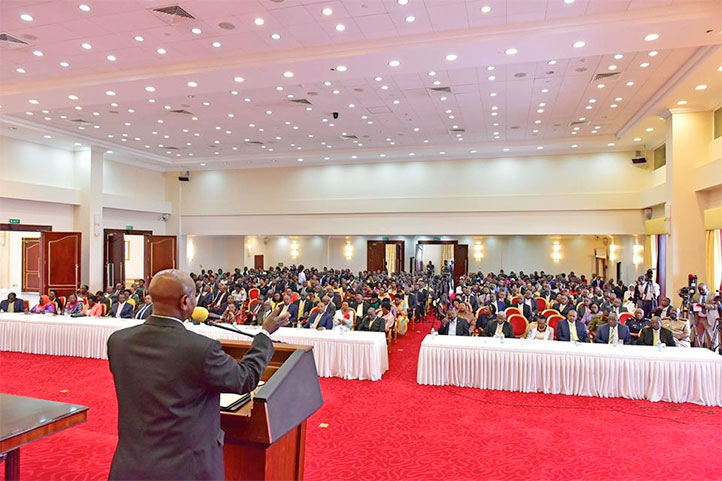 Uganda's three-decade president Yoweri Museveni has summoned members of his ruling National Resistance Movement (NRM) party's National Executive Council (NEC) to State House Entebbe for a meeting on the controversial age limit removal bill.
This follows two days of stormy meetings of the Central Executive Committee (CEC). Some members of CEC sharply rejected age limit removal until they were reportedly forced to endorse a circular drafted by Museveni's political aide, David Mafabi.
Now Museveni has summoned the party's top organ, apparently to endorse the position of NRM MPs caucus and CEC.
The Friday meeting scheduled to start at 9am will be attended by "the NRM members of the NEC, excluding serving members of parliament", according to party spokesperson Rogers Mulindwa.
All NRM heads from District and conference chairpersons, diaspora chairpersons, NEC members of all special organs, party EALA MPs, Municipal Mayors and flag bearers, Central Executive Committee (CEC) members and flag bearers for parliamentary and District chairperson positions will be in attendance.
The meeting will be chaired by party chairperson Museveni, the most immediate beneficiary of age limit removal.
Born in 1944 and in power since 1986, Museveni will be over 75 years when  Uganda next goes to the polls in 2021, and therefore ineligible to stand for reelection if article 102b of the constitution is not deleted to remove the age limit barricade.
The age limit bill aims at doing just that:  removing the age limit.
"This serves to inform the NRM members of the NEC, excluding serving members of parliament, that there will be a meeting this Friday October 27 at State House Entebbe. All members are expected to report at the party headquarters in Kampala early enough for accreditation and thereafter leave for the meeting venue by 9:00am," read Mulindwa's statement in part.
Comments
comments