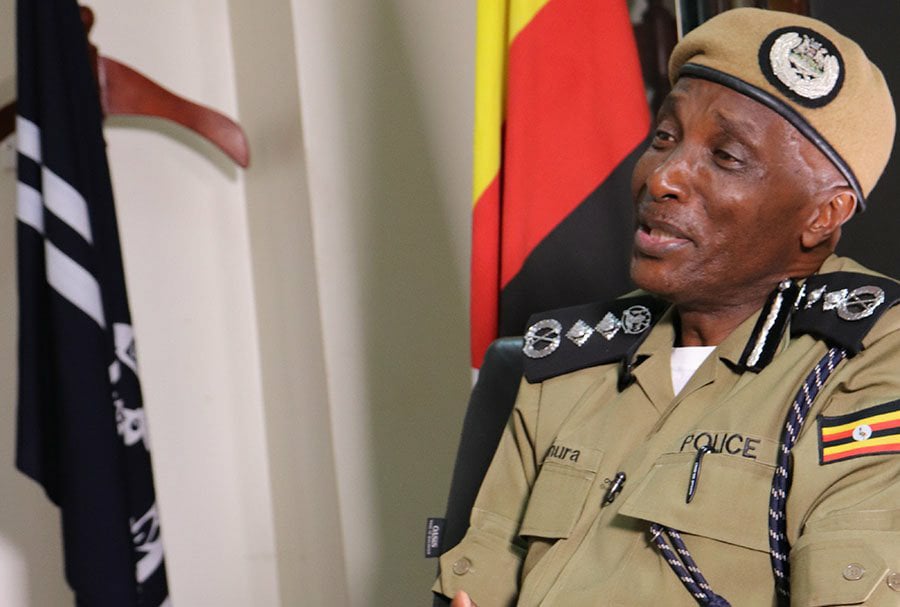 The head of Uganda's Police, Gen Kale Kayihura, has further opened up on reports he was being investigated by the Chieftaincy of Military Intelligence (CMI), in the wake of charges against officers in connection to the repatriation of Rwandan refugees.
Last week, Kayihura dismissed reports that claimed CMI operatives had besieged his home.
Police spokesperson Asan Kasingye on Monday also refuted reports that Kayihura had been sacked and replaced with ex-health minister Jim Muhwezi.
In Kayihura's statement last week, he was coy on key issues that needed clarification.
But he has told NBS that CMI has not interrogated him in connection to the repatriation of Rwandan refugees and the murder of ex-Police publicist Andrew Felix Kaweesi as social media reports had claimed.
"No," Kayihura said, when asked if he has been quizzed or summoned by CMI. "But if they did there is nothing news worthy because that's normal. Police can seek support from any agency when we are investigating any matter and the reverse is also true."
To set the record straight, Kayihura added: "But as a matter of fact I have not been approached."
KAYIHURA APPROACHED OVER HIS OFFICERS
But Kayihura admitted that CMI had contacted him over seven officers arrested last week and arraigned in the General Court Martial at Makindye. The seven, including former Special Operations Unit commander Nixon Agasirwe, ex- Commandant of Professional Standard Unit Joel Aguma, Sgt Abel Tumukunde and Faisal Katende of the Flying Squad, and Magada of Crime Intelligence, were charged with kidnapping of Joel Mutabazi, a former body guard to Rwandan president Paul Kagame.
"The only thing I did was when they wanted officers, they said they wanted some officers to question them," Kayihura said.
"They [CMI] received cooperation [not authorization] from me and there is nothing strange or momentous about it. It's a normal thing."
Kayihura then went on to explain how he had enhanced Police's working relationship with the military and other security agencies.
"We work as a team by the way, we work very closely. I can't disclose to you the various ways we work together but we meet here… You have seen generals come here to meet with the police… for the first time by the way; that's another plus for me, to have enhanced the cooperation, especially between the military and police."
Watch Video:
Video & Photo: Courtesy
Comments
comments