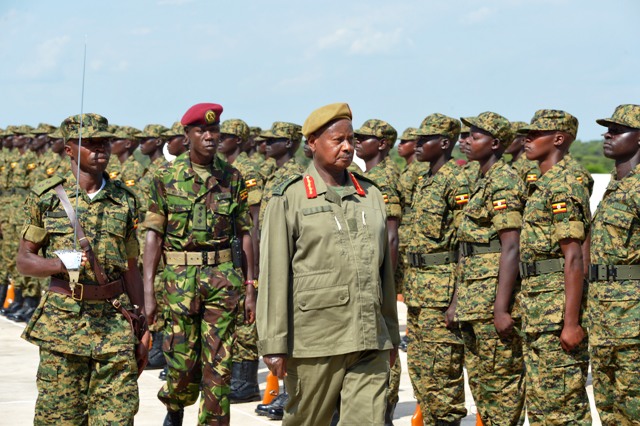 President Yoweri Museveni has made several changes in the Uganda People's Defense Force (UPDF), The Tower post Reports.
Museveni who is the Commander in Chief of the armed forces, has appointed Brig. Stephen Kashure as the Deputy Commandant at the Senior Command and Staff College, Kimaka in Jinja in the new reshuffle announced on Wednesday.
Brig. Kashure has been serving the Director in charge of Operations at Operation Wealth Creation. He also once served as the commandant of Peace Support Operations Training Centre in Ssingo.
Others include Col. Kefa Nangesowho has been appointed Director for Personnel, Brig.Chris Bossa the commandant for the Senior Command and Staff College – Kimaka appointed Commandant for the College of Logistics and Engineering and Col.Hubert Mbonye who has been serving in Somalia (AMISOM), has been sent to Nigeria as a Defense Advisor.
Colonel Bob and Col. Charles Byaruhanga have been appointed Directing Staff Coordinator at Kimaka and Commandant Kaweweeta Recruit Training School respectively.
Also in the new changes, Col.Paul Eswapu has been Appointed Chief Of Staff Rapid Deployment Capability Centre and Col. Ceazar Bahwezi has been appointed the Director Records.
According to Brig.Richard Karemire, the UPDF spokesperson, the new changes take immediate effect.