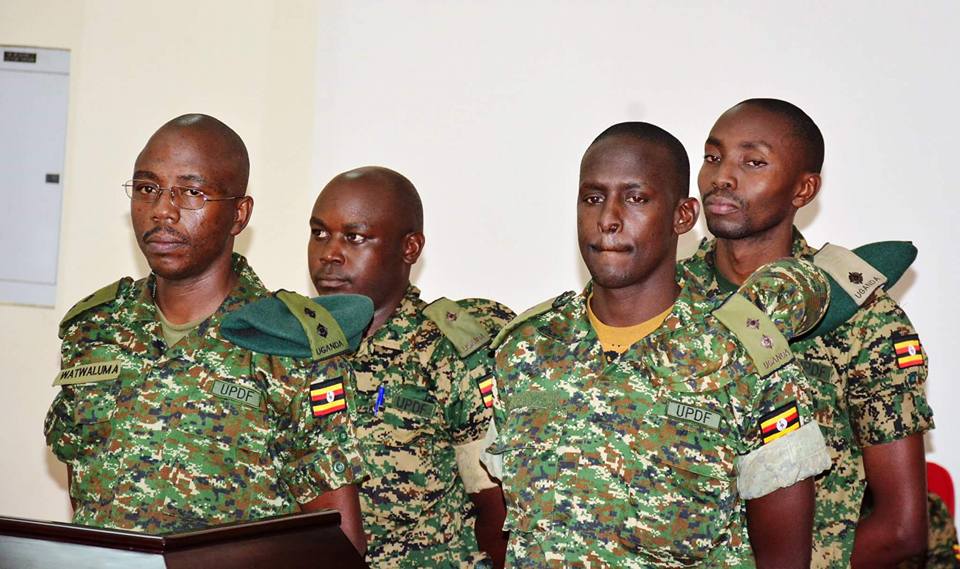 The UPDF Chieftaincy of Military Intelligence (CMI) Unit Disciplinary Committee (UDC) has Tuesday (19th December 2017) charged and sentenced six officers to two months detention at Makindye Military Prison on cases related to misuse of Social Media.
The officers at the rank of Lieutenant and Captain were on Tuesday morning arraigned before the court which sat at the Chieftaincy of Military Intelligence headquarters Mbuya chaired by Col. Tom Kabuye.
RO/09949 Capt Emmanuel Kyamwiru of Special Forces Command (SFC), RO/10210 Capt Shemu Nakora of Armored Warfare Training School-Kalama, RO/12825 Lt Wilson Kahamba, RO/12080 Lt Ronald Watwaluma, RO/13552 2Lt Ronald Kabagambe and RO/13560 2Lt Michael Asiimwe all of Oliver Tambo Leadership School Kaweweta were charged with an offence of conduct prejudicial to good order and discipline of the Defence Forces contrary to section 178 of the UPDF Act 7 of 2005.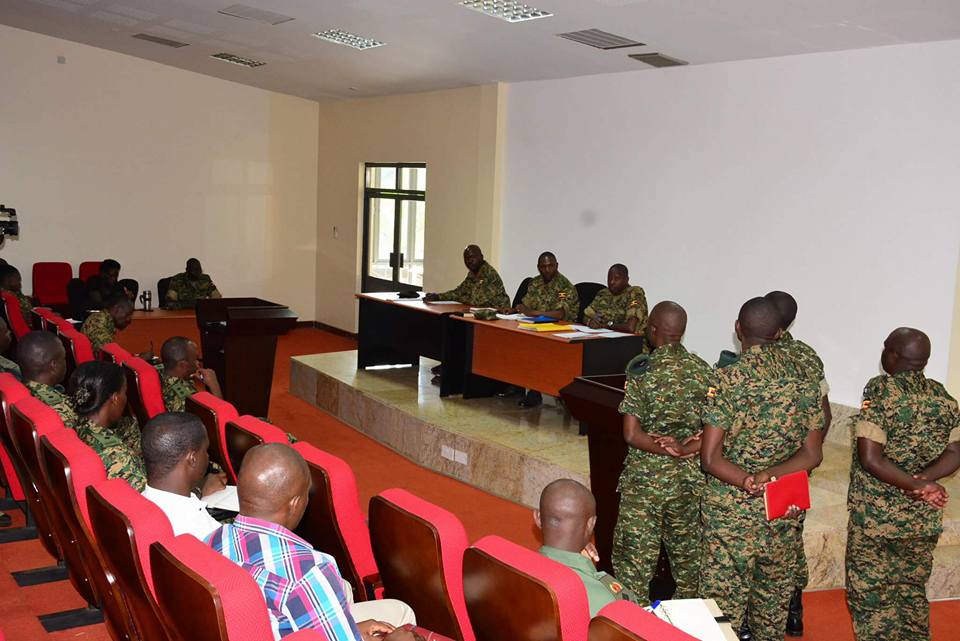 While reading out particulars of the offence, the UDC Prosecutor Lt John Emmanuel Alihihi told the accused that on or around November 19th – 23rd 2017, the officers using social media, downloaded and shared a classified military document referred to as "General Administrative Order (GAO)" copy number 36 and published it amongst different social media groups.
According to prosecution, the document which contained instructions and names of promoted officers was published by officers without proper authority and that such authority is only a preserve of the Defence Spokesperson on superior orders.
The chairman UDC at CMI Col Kabuye informed the accused that the highest punishment in an event an officer or militant releases unauthorized information is imprisonment not less than two years and later dismissal from the Defence Forces with disgrace.
All the six officers pleaded guilty to the offence, asked for forgiveness claiming that it was done out of ignorance and excitement over their promoted colleagues.
Court however, ruled that the six be detained for two months at Makindye military prison as a deterrence measure and a way of taming excitement from any other officer or militant intending to share classified information.
Col Kabuye explained that the reason for giving the accused a less sentence was a result of their cooperation during the trial.
"The accused did not waste the court's time since all of them were convicted on their own plea of guilty, they were first time offenders and that the army has invested a lot of resources in their training and development therefore dismissing them at junior ranks at the peak of their productivity would be counterproductive," Col Kabuye said.
A Unit Disciplinary Committee which is a lower court of a military court martial is created under section 195 of the UPDF act and given the mandate of trying all cases other than capital offences such as rape, murder and treason. Section 221 of the same act provides for the punishment criteria
The sentenced officers were advised to appeal to the General Court Martial within fourteen (14) days if they are not satisfied with the court's decision.
Comments
comments