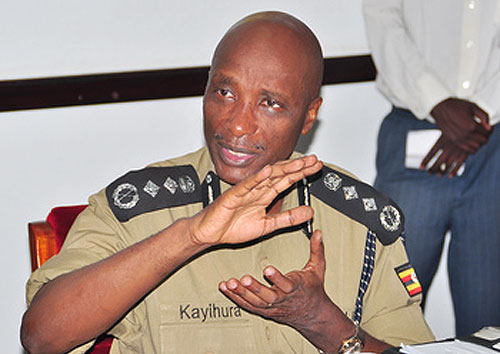 Police Chief Gen. Kale Kayihura has explained the release of Paddy Sserunjoji aka Ssobi, the leader of the notorious Kifeesi Gang and two of his gang members Kasozi Shafiq and Twaha Tim.
Police on Wednesday released the three, who had been arrested on Monday at Rose Gardens Hotel in Nsangi over their confessions of having murdered people and worked with Police officers in committing of crimes.
While speaking to Journalists at Parliament after a meeting with the Parliamentary Committee on Defence on Wednesday, Kayihura revealed that Police released the three suspects upon request of the Internal Security Organization (ISO).
Earlier Police spokesperson SSP Emilian Kayima had said that Sserunjoji was released on Police bond but Kayihura denied this, explaining they that only handed him over to ISO as requested.
"We didn't release him that he is free, he still has files with us but there is a sister security agency that has issues with him; perhaps they want to interrogate him or work with him. It might be an intelligence operation and they requested us and we handed him over," Kayihura said.
The IGP also revealed that Sserunjoji had just left prison at the time he was arrested, adding that Police was shocked to learn that he was out of Luzira after being after being convicted of murder.
"We wanted to know how he left prison having been convicted of murder; and that is why we moved to arrest him," Kayihura told journalists at Parliament.
When asked on whether it was true or not that Sserunjogi works with police, the IGP said, "First of all he is a criminal; in law there is what we call cogency and collaboration of evidence meaning that Court or an investigator might believe or depend on the evidence of one person because that person is believable."
Sserunjoji and his gang in December last year came out and addressed a press conference where they revealed that they had reformed from criminal activities including armed robberies and murder. They also assured party goers that they had no intentions to carry out robberies during the festive season.
Comments
comments