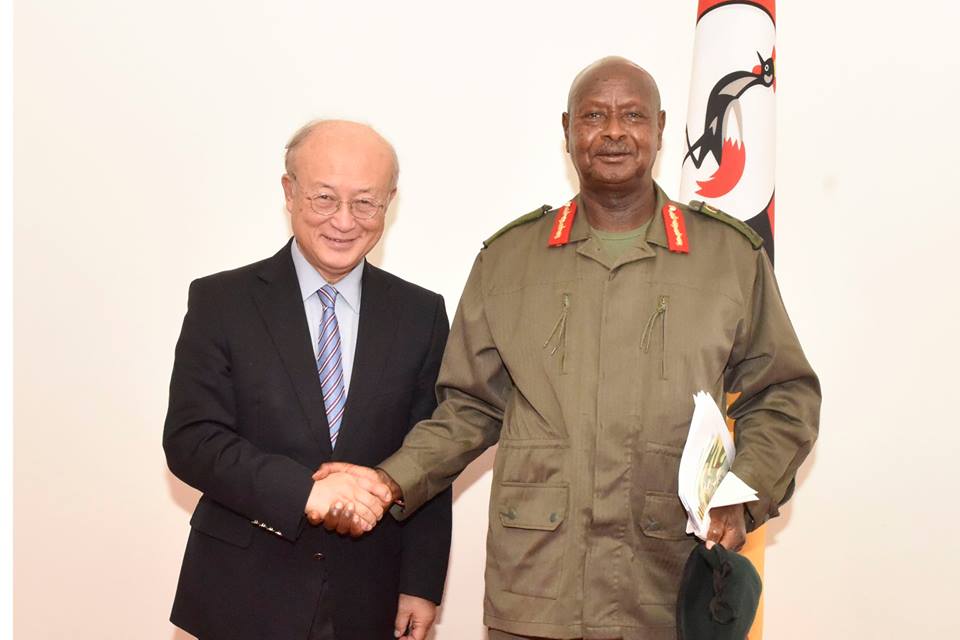 President Yoweri Museveni has said that unless solar becomes a cheaper alternative source of clean energy, Africa and Uganda in particular will have to use nuclear energy to improve the well being of its people.
"All rivers in Africa have a potential of about 350mw of electricity and yet the population will grow to about 1.2billion in the next 25 years. The USA uses 1.5million MW equivalent to almost five times of all the rivers in Africa. Unless solar is a cheaper alternative, we shall have to use nuclear. What is important is to master nuclear technology. Already we are training our people in this field," he said.
Uganda has already trained 15 nuclear experts headed by Ms. Sarah Nafuna in the Ministry of Energy and Mineral Development.
The President was on Wednesday afternoon meeting the Director General of the International Atomic Energy Agency (IAEA) Yukiya Amano at State House Entebbe.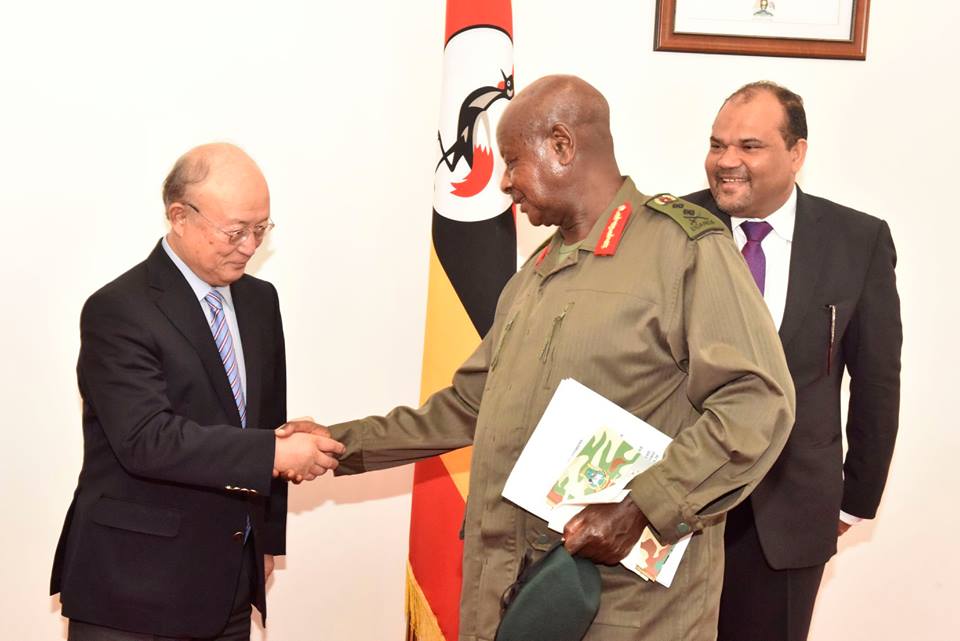 The two leaders held high level consultations on activities related to IAEA technical cooperation programme in Uganda ahead of the official commissioning of the cobalt 60 cancer machine at the cancer Institute in Mulago.
The meeting was also attended by Shaukat Abdulrazak the director TCAF, division for Africa in the department of Technical Cooperation, Uganda's Minister of State for Energy Eng. D'Ujanga Simon, the Minister of Health Dr. Ruth Aceng among others.
"Vector control and cancer treatment are subsidiary. The main issue is energy resource. Nuclear is clean energy, better than fossil fuels. At policy and strategic level, lets have convergence use. We are ready to work with you. We have no hidden agenda," Museveni said.
The President said there are two confused groups in the use of nuclear.
"Those who say they have a right to the monopoly of weapons of mass destruction and those who push for nuclear weapons. How can a civilized person talk like that? This doctrine is so provocative and unsustainable. Why would big countries push for monopoly instead of disarmament? I cannot believe that civilized people can be so irrational. For us we just want electricity," he said.
Museveni said even if the cost of solar energy goes down to 4 cents or even lower, in some parts of Africa because of the cloud cover, they may not be able to use solar unless the batteries improve for storage.
"Lets be open minded on this. What we want is electricity for our people's welfare," he said.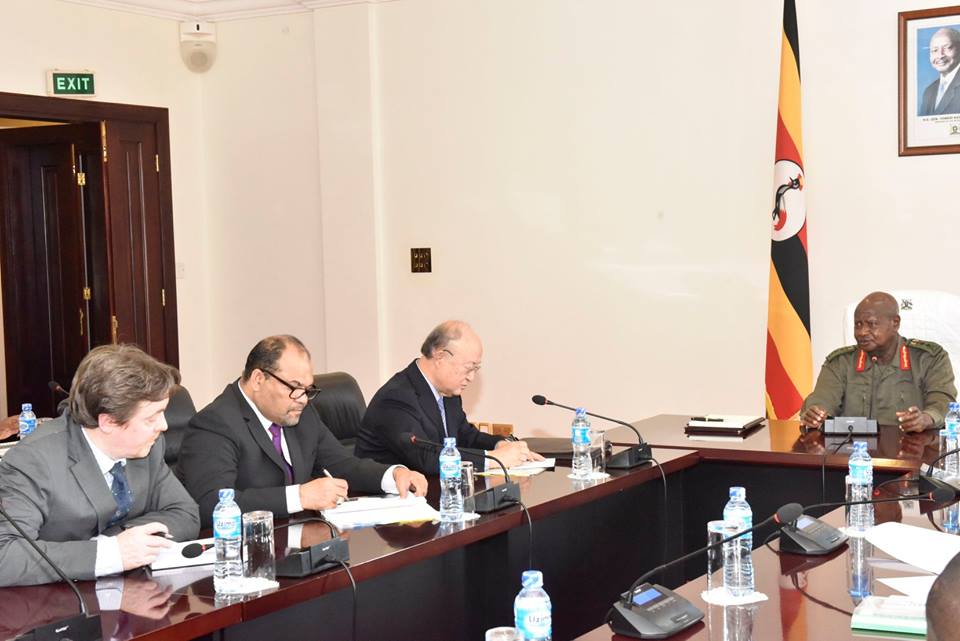 The DG Yukiya Amano said as IAEA, they are doing a lot in making nuclear energy for peaceful use and is already supporting Uganda in implementing projects that use nuclear for peaceful purposes for the wellbeing of the people.
"People are not aware that you can use nuclear very peacefully for the well being of humanity. We use nuclear to treat cancer. In Uganda, our people came to improve and get involved with technical support in installing the new cobalt cancer machine. In Agriculture, we are already using drones on one of the islands on lake victoria to use sterilization to eradicate tsetse flies. This is the first time to use this technology anywhere in the world," he said.
Amano said they can also use drones to monitor water levels and pollution. He said it is no longer the energy for only developed countries. Despite it requiring a lot of preparations, it is important that there is transfer of technology from IAEA to other countries.
"We can use technology carefully to improve our peoples welfare. We are here to talk to decision and policy makers, doctors, scientists on this. Every source of energy has advantages and disadvantages. Nuclear is stable with a lot of energy but you need very good preparations. The important issues are; public acceptance, money and technology. IAEA is very happy to work with you and help you at every level," he said.
The minister of State for Energy Simon D'ujanga said the current country programme framework between Uganda and IAEA includes; feasibility studies for nuclear power projects, uranium exploration and evaluation, cancer management, food and agriculture, water resources management and strengthening the national nuclear and radiation safety infrastructure. He said they are also in the process of updating and upgrading the nuclear law to include nuclear power in accordance to acceptable international laws.
Comments
comments