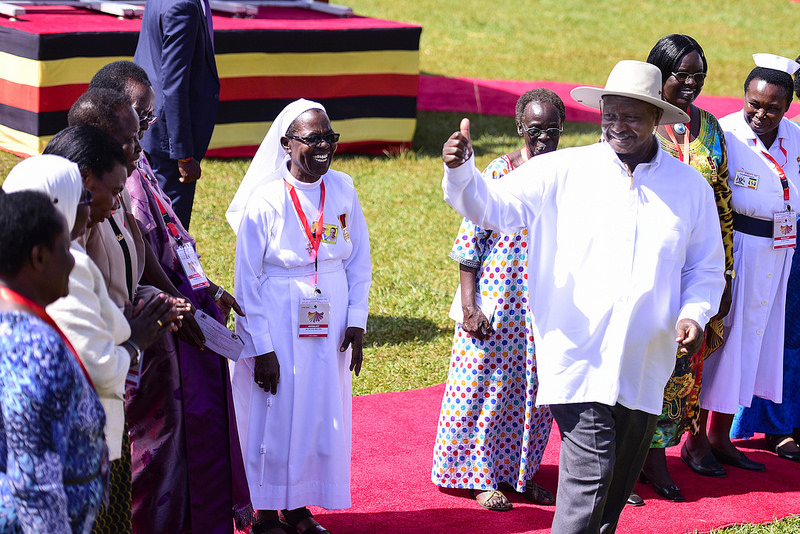 President Yoweri Museveni has said that women are the base of society and, therefore, should not be marginalized.
Museveni made the remarks during the celebrations to mark International Women's Day held at Busuubizi Core Primary Teachers' College in Mityana district on Thursday (8th March, 2018).
The theme for this year's celebrations was, "Empowerment of Rural Women and Girls: Opportunities and Challenges."
President Museveni said that from the very beginning, the National Resistance Movement (NRM) did not agree with the old societies' practice of marginalizing women and went ahead to recruit them into the liberation Army even when everyone thought they would not be able to fight.
"When fighting Idi Amin in 1979, we recruited women in FRONASA but our partners did not agree with us and thought that women should be in the kitchen preparing meals for the soldiers. But in 1986, when we were totally in charge with no power sharing, we recruited them," he said.
The President said that apart from the Army, the NRM government has also empowered women to join politics, get education and own property.
"We empowered women to join politics by creating the position of the District Woman Member of Parliament. That is why we have so many women in Parliament today," he said.
He said that because of the NRM policies, women have now joined the Army yet previously they were only in the Police Force. In education, the President said that the number of girls joining university has also increased since the government introduced the 1.5 points affirmative action.
Regarding the issue of property ownership, the President said that men had monopolized property ownership and women would not inherit property but this has since then been changed.
"A girl would not inherit where she was born or where she was married but we moved very carefully in our guerilla way and said nobody should sell the marital home without the consent of the wife," he said.
Museveni called upon parents to allow their daughters and widows inherit property.
"In my family, I will leave my daughters property just like my son General Muhoozi Kainerugaba will do," he said.
He, however, cautioned women against marrying for wealth citing that wealth was not only found in marriage. He said women should be empowered so as not to be dependent on men.
Comments
comments