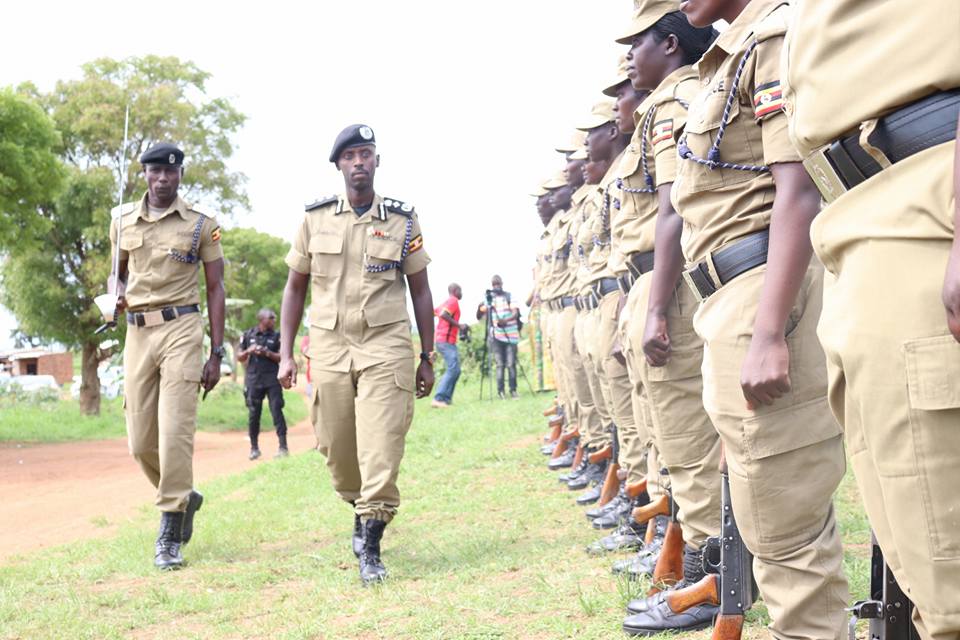 Newly Appointed Deputy Inspector General of Police Brig. Sabiiti Muzeeyi has cautioned Police Officers on healthy living and weapon management.
Brig. Sabiiti made the remarks on Saturday while passing out 609 police officers that have been undergoing a two months basic security management course at Kigo Marine Base in Wakiso District.
The course derives its origin from the police council resolution requiring all directorates, departments and regions to conduct regular internal capacity building programs for personnel's and to embrace the idea of internal trainings.
Among the major issues addressed in this course are fitness, time management, discipline, teamwork, response to emergency calls, attitude towards work, working relationship between juniors and their commanders, mental preparedness, operational mistakes committed overtime like shooting of innocent citizens due to stray bullets and missed targets, among others.
Brig. Sabiiti advised officers to endeavor and remain healthy especially in the current waves of HIV/AIDS and Hepatitis B in order to serve longer in the force and to provide support to their families.
"Endeavor to remain healthy so as to serve longer and look after your families. There is a very serious problem of Hepatitis B, it has a vaccine so it's important that commanders make sure that people are checked and immunized. HIV/Aids is still a threat and it kills and demobilizes. If you have it, don't go and lock yourself in the house," warned DIGP Sabiiti.
He thanked the spouses for the endurance, support throughout the training. He urged trainees to use the skills in a manner that builds the image and mandate of the Uganda Police Force.
One of the critical requirements in professionalizing the force is capacity building so as to equip officers and men with necessary skills to handle the necessary contemporary policing demands. With this, he therefore implored the RPC Greater Masaka to increase the number of trainees in the upcoming subsequent intakes.
Sabiti reminded the officers of a famous quotation by Edmund Burke that says "Evil exists when good men do nothing".
It's through this submission that he thanked Kampala Metropolitan Police Commander CP. Frank Mwesigwa and team for the wise initiative.
"Kama unauwezo unatipa sila unakimbia kazi"
Literally meaning; "no officer has the power to throw his/her riffle and desert or run away from duty".
"A man of value does not run away from responsibility and the responsibility of an officer is to protect life and property of Ugandans," Brig. Sabiiti said.
Kampala Metropolitan Police Commander (KMP), CP. Frank Mwesigwa noted that the course came up as a result of training needs assessment which was conducted after testing the field.
"So far, we have trained over 1,000 officers and our dream is to train everyone because this is the basic foundation and if not laid properly, ultimately we cannot achieve a lot in professionalizing the force," said KMP commander.
He added that training will also address operational mistakes that have been done in the field for a long time like the way officers handle weapons, shooting people mistakenly and the dress code among others.
Comments
comments