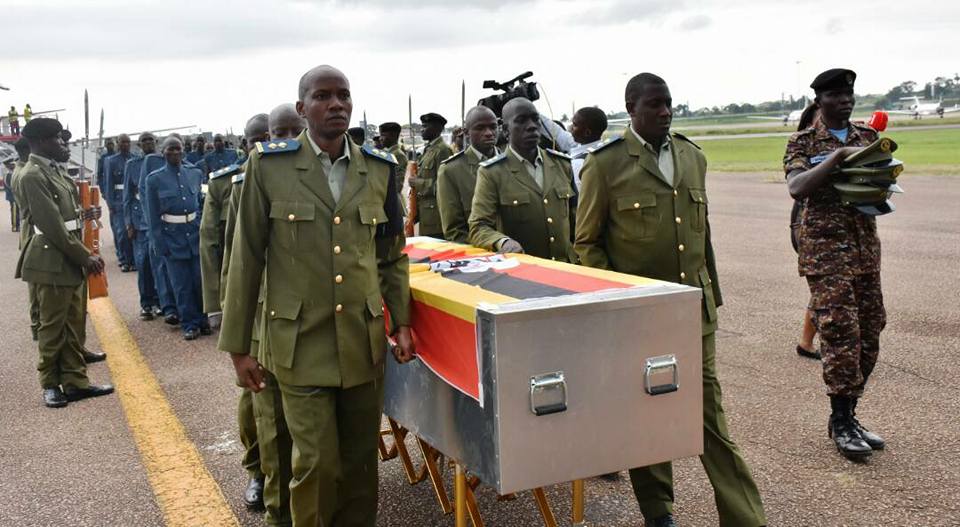 04 bodies of UPDF soldiers that died on the Sunday fateful day while serving under AMISOM in Somalia have today arrived at Entebbe Air Force Base.
On arrival at Entebbe Air Force Base, the 04 fallen soldiers aboard an AMISOM chartered plane were received by Deputy Commander Land Forces Maj Gen Sam Kavuma who represented the CDF Gen David Muhonzi.
Maj Gen Sam Kavuma appreciated the patriotic spirit exemplified by UPDF officers/soldiers and family members that were present to witness the arrival of the gallant soldiers who died as they fought off Alshabaaab terrorists in a Pan Africanist spirit.
Maj Gen Kavuma further said that, though it was unfortunate for UPDF to lose their comrades while fighting Alshabbab terrorists, what continues to give UPDF strength is the fact that "they didn't die in vain, because they did a very good job resisting, precisely striking and destroying Alshabaab and its fighting equipment"
He also said that UPDF killed many Alshabaaab terrorists with the number continuing to rise and also either captured or destroyed their weapons .
He also said that as Uganda mourns the death of our comrades, UPDF salutes them upon their resolute and Pan African spirit they exhibited .
"Losing our comrades will not deter us from our mission in Somalia".
He added that UPDF is following Uganda's Pan African ideology and therefore canot sit back as its neighbours are being attacked by terrorists.
To the families of the fallen soldiers, Maj Gen Kavuma said that UPDF as usual will do everything possible to give a descent burial to the deceased and also expedite the process of AU compensation and UPDF benefits.
Defence Spokesperson Brig Richard Karemire, clarified on the number of soldiers that died on Sunday following the contradiction after President Museveni revealed that eight soldiers had died as opposed to the four that the UPDF has announced in a statement earlier.
"Four soldiers died in action and another four died later due to injuries," he said.
Brig Karemire added that the remaining bodies will be brought as soon as their documentation for compensation and other administrative arrangements are completed .
The function was also attended by the UPDF Chief of Staff Brig James Birungi and Chief of Personnel and Administration (CPA) Brig George Igumba among others.
Comments
comments