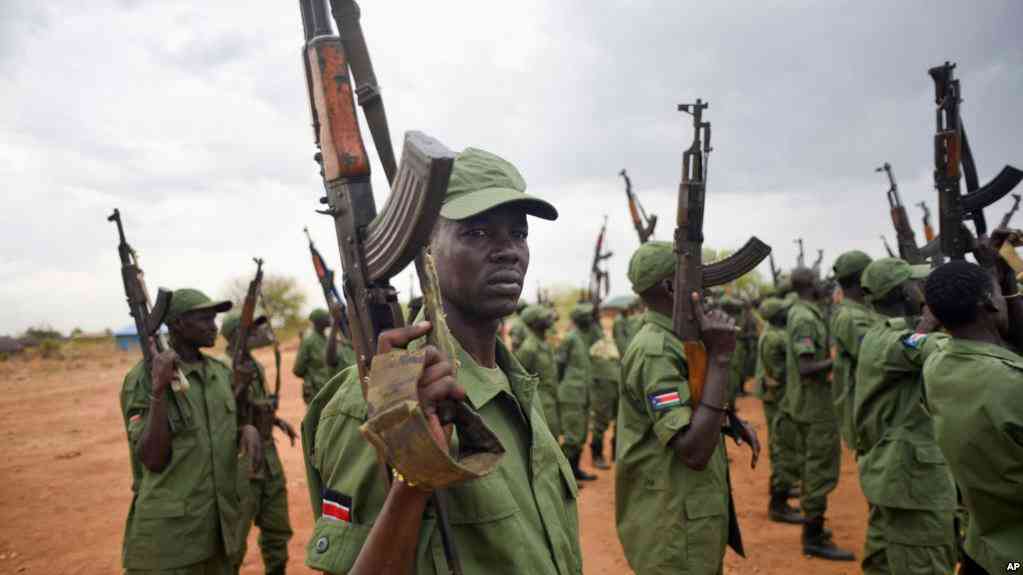 Opposition forces loyal to rebel leader Riek Machar say they clashed with government soldiers today on Wednesday in different parts of Northern Liech State including Guit, Koch and Thar Jath areas.
Northern Liech State government officials also confirmed clashes in some areas but denied that there are clashes in Thar Jath oil fields.
Rebel military spokesman William Gathjiath reportedly told Radio Tamazuj that clashes in the oil fields of Thar Jath is still on-going.
"In Guit County 15 government soldiers were killed. We also confiscated 25 Kalashnikov, 5 PKMs and 2 RPGs. On our side, one officer was killed and 3 others wounded. In Koch County, 13 government soldiers were killed, 26 Kalashnikovs 3 RPGs and 5 PKMs were confiscated. On our side 2 were killed and 4 wounded. Clashes are still going on in Thar Jath and we do not have any details yet," he said.
On Monday the rebel forces claimed they had captured Nhialdiu, Bau and Tharkan areas near Bentiu, a claim the government denied. They also claimed their forces were advancing on Koch County.
Gathjiath further said that they are holding 3 South Sudanese nationals in Guit County for security purposes until the conflict is over.
"We have also detained 3 NGO workers in Guit and they are with the commissioner, they are fine and we will keep them until the conflict ends. Two are working with Concern and the other works for Cordaid. They are fine," he claimed.
Northern Liech State minister of information Lam Tungwar speaking to Radio Tamazuj confirmed that clashes occurred in Kuergeng and Koch but government soldiers repulsed the rebels.
"This morning at around 2.30 Am they attacked Kuergeng but they were repulsed. They did not get in. But the houses around Kuergeng were all torched by the rebels. Also they attacked Koch at 5.30 in the morning today; they were repulsed from there also. Now they are scattered," he said.
"They (rebels) keep saying they have captured areas yet there is no presence of the rebels in these places. They are not in these places and there are no clashes in Tharjath," Tungwar added.
The clashes in Northern Liech State have been on-going since last week, a clear violation of the cessation of hostilities agreement signed by both parties in December 2017.
REPORT/RADIO TAMAZUJ
Comments
comments