In the hotbed of Lake Victoria, there lies a line of islands. Many of which are popular like the Kalangala and Ssese, while some are just silent beauties awaiting full blossom.
Among them is Ngamba Island Chimpanzee Sanctuary, an astounding home for liberated chimpanzees.
Outlined by beautiful waters of Victoria, Ngamba is currently home to 49 orphaned chimpanzees rescued from across East Africa.
It is a project of the Chimpanzee Sanctuary and Wildlife Conservation Trust (CSWCT).
Founded in 1998, Ngamba Island is approximately 23 km south-east of Entebbe consisting of approximately 100 acres, 95 of which are covered by a natural forest. This is where the chimps roam and feed daily.
The forest is separated from the human camp by an electric fence.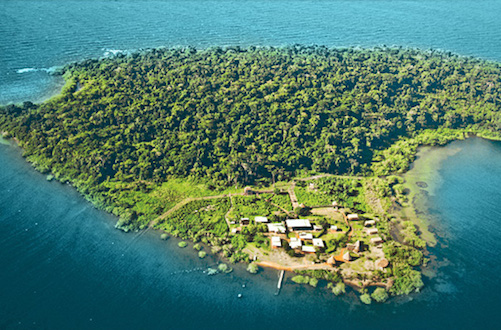 I've known about Ngamba for two years now, but I had never visited until recently when I was invited with a group of other journalists to an exclusive 2018 Conservation Media Camp.
On Saturday 26th May 2018, at around 9:30AM, we set off from Kampala City Centre headed to Uganda Wildlife Centre – Entebbe, from where we got onto a motor canoe to the island.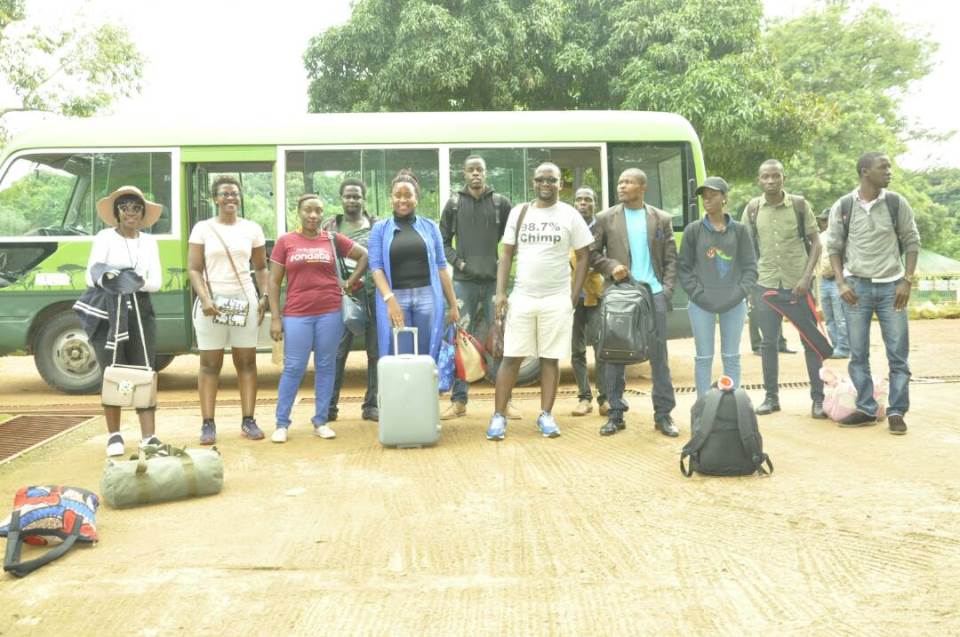 The ride on the canoe takes about an hour and 30 minutes but we are told that it takes just about 45 minutes when you use a speed boat.
The ride was peaceful, exciting and as we feasted on some bites and drinks.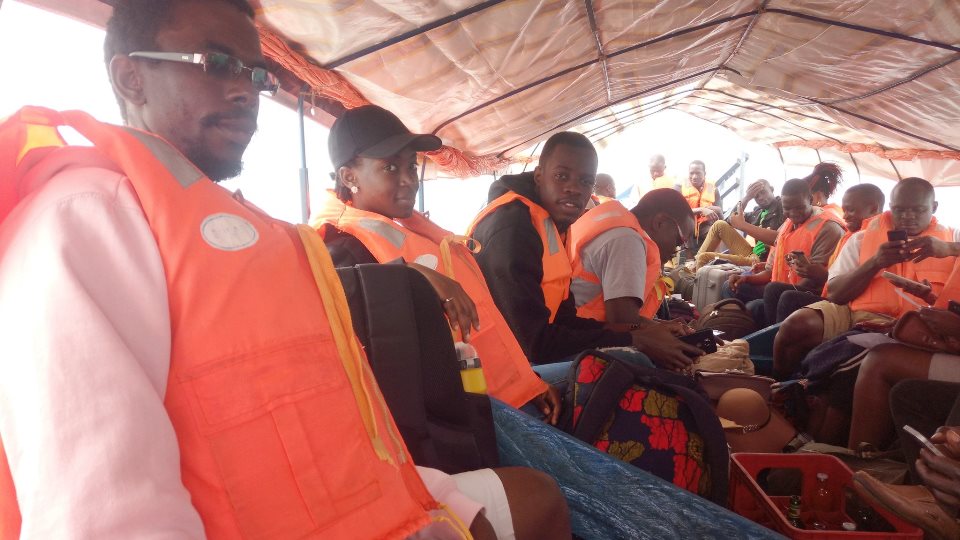 Arrival at the Island
At around 12:30PM, we were welcomed by the incredible beauty of Ngamba Island.
First thing I notice is that the place is peaceful, free from the noise pollution that we go through in the city every day.
The cool breeze from Lake Victoria is another inescapable fascination.
Besides being a home for chimpanzees, Ngamba also has monitor lizards and several species of birds.
During the orientation, Byron Ssemambo, one of the caregivers, told us that the main reason why the sanctuary is located on the island is to offer chimpanzees that have been rescued from poachers, a peaceful environment to recover and eventually thrive over their long lives of up to 60 years.
"When the chimpanzees are rescued from the illegal pet and bushmeat trade, they are brought here traumatized and scared. What we do is take them through recovery and reintegration, and put them on a good diet; that's why they look very healthy," Byron said.
Each of the 49 chimps on the island has a story and Byron takes us through some of their profiles.
Sande is their "leader" while 2-year-old Rupaleria is the youngest of them all. The others include Afrika, Asega, Eazy and Tumbo to mention but a few.
As a guest at Ngamba, you get to sleep in spacious self-contained tents right at the shores of the lake, enjoying views and breezes as they come.
These special tents were however undergoing renovation during our visit so each of us had to pitch their own, which was even more exciting.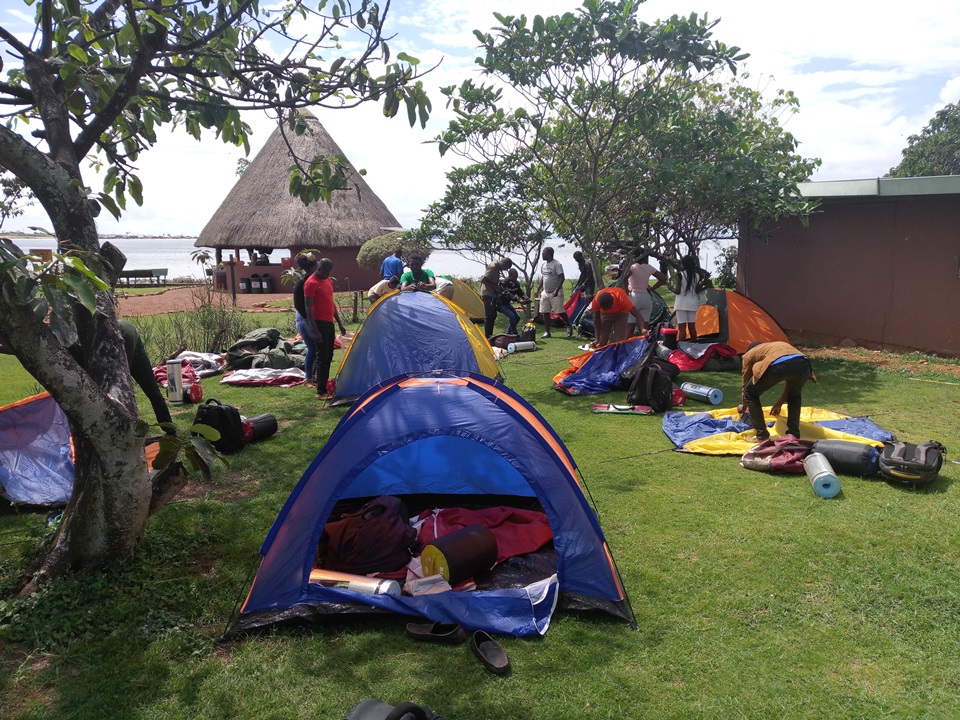 We had a wonderful lunch buffet of local cuisine at the onsite restaurant, which faces the lake. At the same restaurant we had supper and breakfast the next day.
Visit to Neighboring Myende Island
As a way of giving back to the community, Ngamba Island Chimpanzee Sanctuary provides support to the communities on the neighboring islands under a program dubbed "Sustainable Living on Lake Victoria". The neighboring islands include; Kiimi, Myende, Nsazi, Koome and Bulago.
At around 4:00PM we visited Myende Island, which is about 20 minutes from Ngamba by boat.
The main economic activity here is fishing.
Mr. Alozio Omerikit, a community leader at the Island tells us how Ngamba Chimpanzee Sanctuary has supported in a number of ways like boosting education and health services, starting income generating projects and improving on the sanitation.
Mr. Omerikit, who started Myende Community Primary School in 2001 said, "Through the Chimpanzee trust, we received support from tourists who raised money to build classroom blocks. More support has kept coming like providing scholastic materials for the pupils at the school,".
He revealed that the pioneers at Myende Community Primary School have grown to become important people to the nation. Two of them have graduated from Ndejje and Kampala Universities.
Ngamba Island and friends also set up a health centre, a modern toilet facility and a water purifying plant.
"The Chimpanzee trust has also trained women to make hand crafts, which has enabled them to gain income and sustain their families," Mr. Omerikit said.
On another side of Myende island is a breathtaking scenery of rocks and the lake. This is one of the best places to take photos so I get out my phone and put it to work before we set off to return to Ngamba.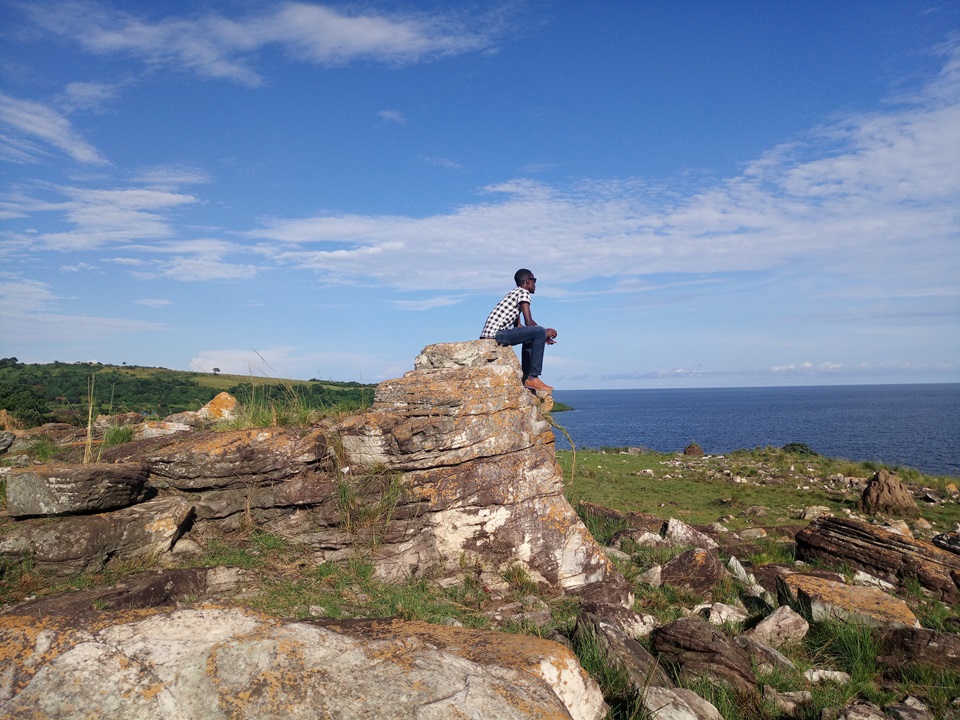 Chimpanzee Feeding
The highlight of the trip was getting to watch the chimpanzees feeding.  They feed thrice a day; at 9:00AM, 11:00AM and 6:00PM.
In evening they emerge from the forest and make their way to fence, which is opened to allow them go through the path that leads to the holding facility in the human camp that was designed for easy viewing and photography.
During the feeding is when you realize that Chimpanzees are very intelligent. They have mastered the feeding hours and always emerge out of the forest on their own.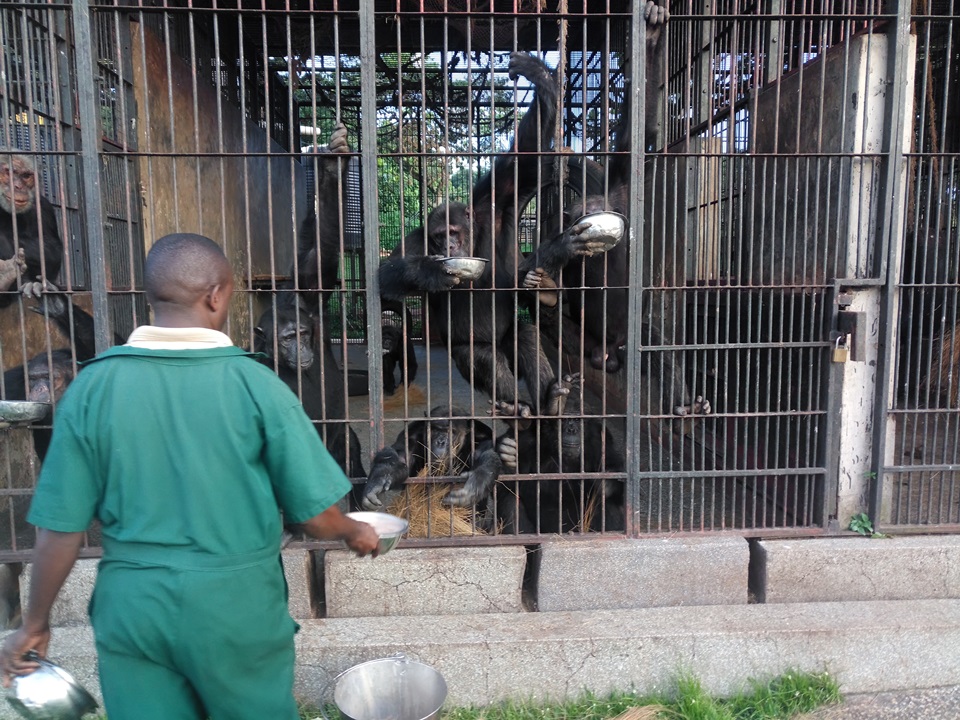 They also hold bowls and feed themselves and ask for more food either by clapping or raising their hand when they are not satisfied and wait to be served again. Isn't that amazing?
They are locked in the holding facility where they spend the night and return to the forest in the morning. The reason behind this, Byron tells us, is because in the forest, chimps make a different nest to sleep every night using tree branches which is long run would lead to depletion of the forest.
A Night at Ngamba Island
After a long day, we each took a shower and had dinner at the restaurant before heading to the campfire.
The campfire spot is just at the shores of the lake. We sat around the blazing furnace and conversed as we listened to music, sipped on some beer (Nile Special for me) and other drinks that were on the house, and admired the reflection of the moon on the lake's surface.
The fun at the campfire got us to order more drinks from the well-stocked onsite bar, to push us till late.
Each of us left the campfire at leisure and retired to our tents.
Day Two
In the morning, we woke up lazy but also cheerful, with many stories to tell from the previous day.
We are told that the chimps are about to feed again (at 9:00AM) so we head to the feeding area to see them.
When released in the morning, the chimpanzees assemble at the feeding area before disappearing into the forest.
A raised platform was built overlooking the feeding area for visitors to view the chimps as they eat vegetables and fruits. They then disappear into the forest and return at 11:00AM for another meal.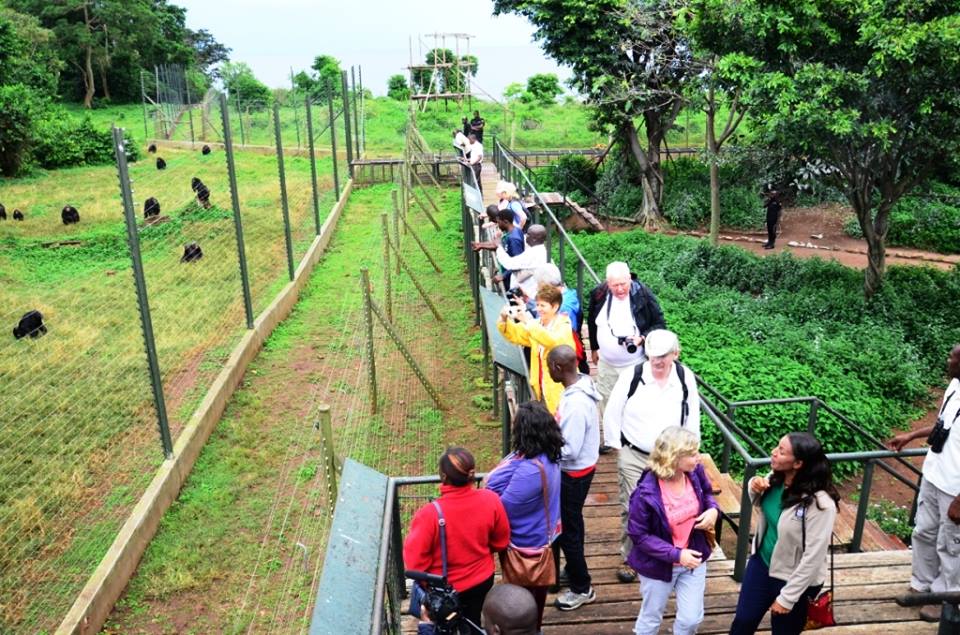 During our stay, tourists from different parts of the world visited the island to see the chimps.
After having a heavy breakfast, we met Ms Lilly AJarova Executive Director of the Chimpanzee Sanctuary and Wildlife Conservation Trust, who told us more about Wildlife Conservation, Ngamba Island and the upcoming 20 Years Anniversary celebrations for the sanctuary.
Ms. Ajarova noted that Ngamba Island is a rated as a model sanctuary in Africa.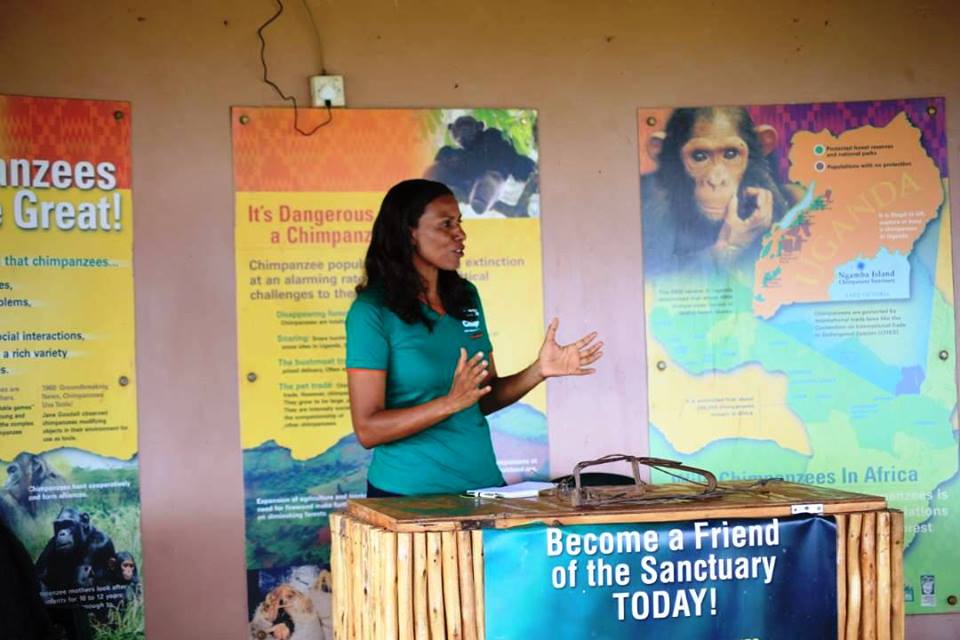 Among the achievements of the Ngamba Island, Ms. Ajarova noted that the sanctuary has played big role in promoting tourism and wildlife conservation.
"Ngamba Island Chimpanzee Sanctuary has reached out to the general public to teach them the importance of wildlife conservation," she said, adding that the sanctuary has promoted tourism in Uganda, receiving over 4000 foreign visitors each year.
"We have also provided employment opportunities. 100% of our fulltime staff are Ugandans; we only get a few interns from abroad".
Ms. Ajarova however noted that they continue to face a number of challenges like financial constraints and illegal world life trade; pointing out that most chimps at Ngamba are rescued at the airport and borders while being smuggled.
"25% of the chimpanzees in Uganda have missing limbs as a result of man traps set by poachers," she said.
We also learnt from her that 14th July has been set as the World Chimpanzee Day which will be celebrated annually starting this year.
We ended our trip with lunch, before we travelled back, with many stories to tell.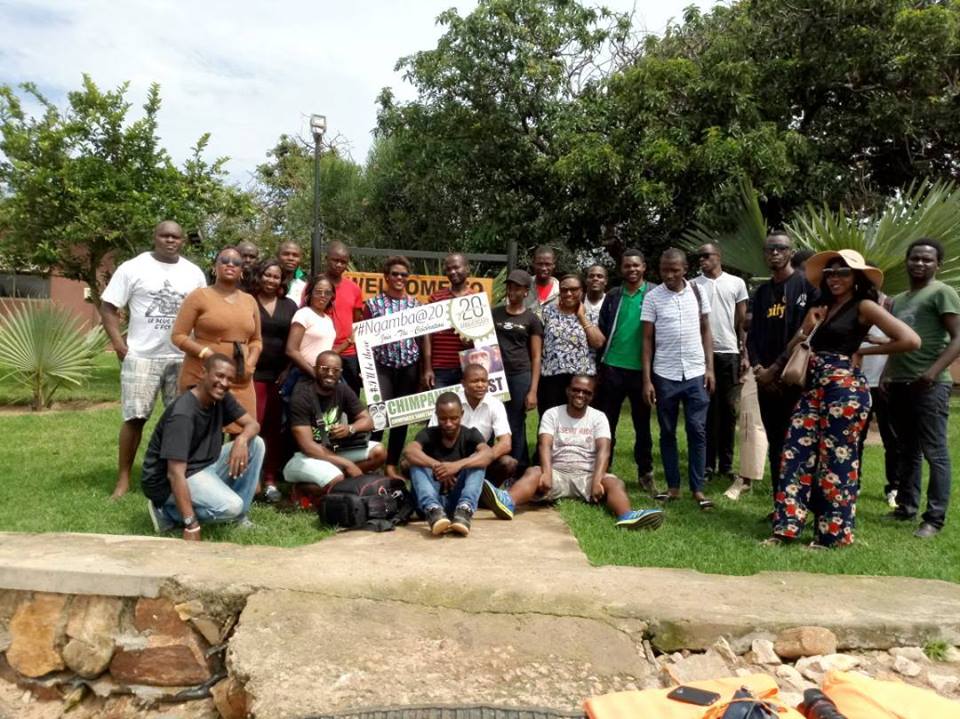 Ngamba Island Chimpanzee Sanctuary will be celebrating their 20 years Anniversary under the theme "A Journey of a Million Miles" on July 7th with a gala dinner which will be held at Speke Resort Munyoyo.
Dr. Jane Goodall will be the guest of honor.