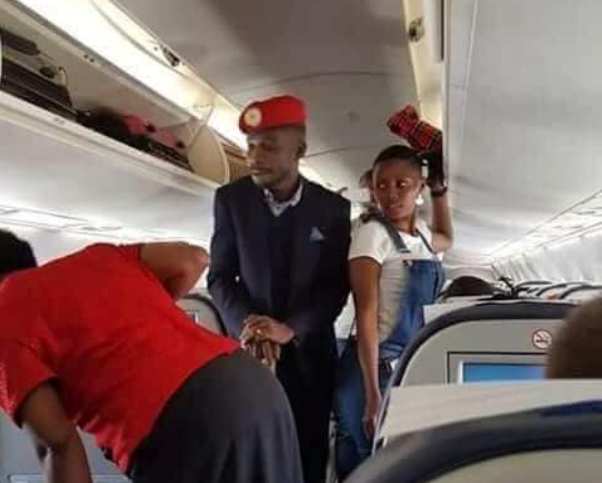 Assistant Superintendent of Police (ASP) Pamela Kentaro, attached to Police Counter Terrorism has denied spying on Kyadondo East MP Robert Kyagulanyi aka Bobi Wine as he returned to the country from the United States.
On Thursday, photos of Pamela on the same flight with Bobi Wine circulated on Social Media with many accusing her of spying on Kyadondo East MP for the government.
Bobi Wine touched down at Entebbe Airport at around 1:00PM on Thursday afternoon aboard Embraer aircraft number ERJ-190AR, from where was forced into a police vehicle by security operatives and driven to his home.
In a brief statement, ASP Kentaro revealed that she was travelling from Mombasa and only met Bobi Wine at Jomo Kenyatta Airport in Nairobi, contrary to allegations that she traveled with the legislator all the all way from USA.
"It's quite absurd that a lot of negativity is being spread about me having been planted as a spy on Hon Kyagulanyi," Kentaro said.
"Bobi and I have been friends from way back and he knows that I am a police officer. On Thursday I met him at JKIA (Jomo Kenyatta International Airport). I was from traveling from Mombasa and him from America. I didn't travel to the US as alleged," she added.
The police officer further revealed that "Bobi Wine was the first to see me at the cafeteria and asked me to join him at the table with his brother called Dax. We chatted for close to two hours while waiting for our flight to Entebbe. On the plane, he (Bobi) sat next to Hon Winnie Kizza and he asked that I sit across on the other side of the aisle near him."