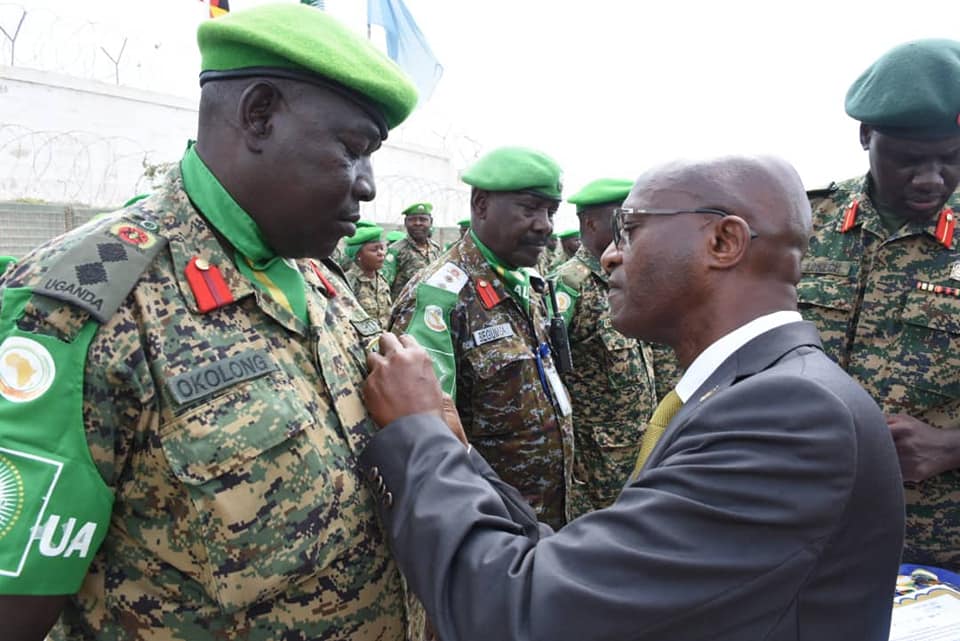 The Uganda Battle Group XXIII peacekeeping troops have been awarded medals and certificates at a colorful ceremony organized at the Uganda Contingent Headquarters in Mogadishu-Somalia.
The awarding ceremony followed Uganda Battle Group XXIII (BGXX111) end of one year tour of duty in Somalia since 01 JAN 2018 under the command of Col Eliazari Zake Okolong.
The Chief Guest, Uganda's Deputy Ambassador to Somalia, Maj Gen Nathan Mugisha congratulated BG XXIII for a job well done in degrading Alshabaab, maintaining peace and stability through securing Main Supply Routes, Protection of civilians and neutralizing Al-Shabaab amidst numerous challenges.
Maj Gen Mugisha thanked UGBGXXIII for the resilience and determination exhibited in the mission. "You have maintained the good image of UPDF by giving a "bloody nose" to Alshabaab when it attacked your defence in Bulomareer." Noted Ambassador Maj Gen Mugisha.
He also urged the incoming BGXXVI that is to relieve BGXXIII to work harder, maintain resilience and vigilance copying from BGXXIII that is rotating out from the mission area.
Ambassador Mugisha extended his utmost appreciation to UPDF, United Nation Support Office in Somalia (UNSOS), African Union Mission in Somalia (AMISOM) leadership for the logistics which have enabled troops to execute their tasks professionally and diligently.
Maj Gen Maurice Gateretse, the Deputy Force Commander in charge of Support and Logistics who represented AMISOM Force Commander Lt Gen Jim Oweyesigyire thanked BGXXIII troops for exhibiting high level expertise and good discipline during their one year stay in Somalia.
"AMISOM is showing appreciation to the gallant UPDF soldiers for all the success registered during the mission. I appreciate those gallant comrades that have paid the ultimate price to see our brothers and sisters in Somalia enjoy peace and stability". Said Maj Gen Maurice Gateretse.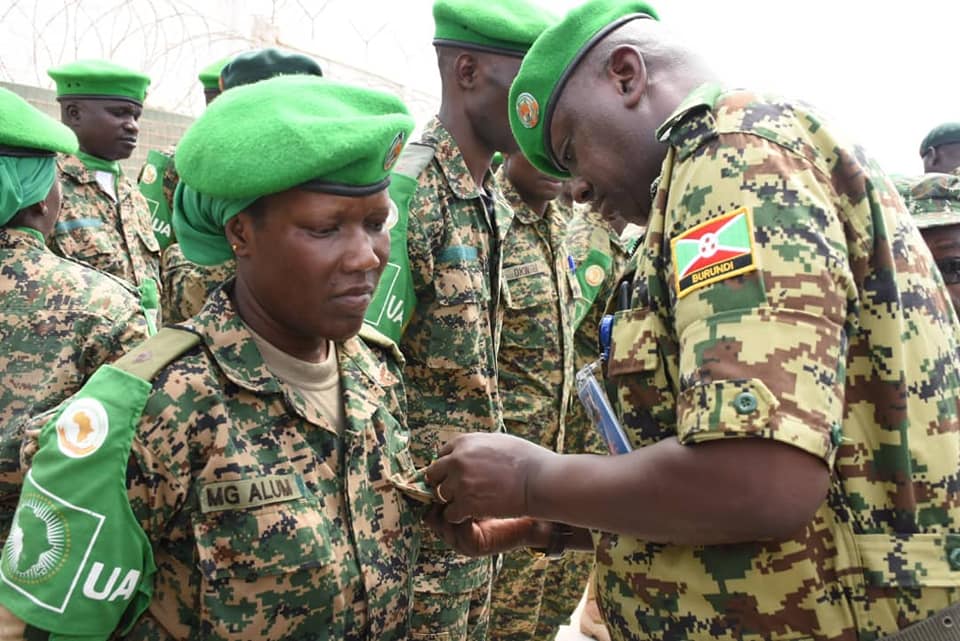 Brig Paul Lokech the outgoing Uganda Contingent Commander thanked the Battle Group Commander ColOkolong, Officers and men of BGXXIII for their resilience, determination and courage they exhibited on 1st April 2018 in Bulomareer and for the period spent in the mission area.
Brig Lokech noted that, "at first people doubted us when we came to Somalia, today its eleven years down the road supporting AMISOM" .He pointed out that due to Uganda's commitment and Pan African Spirit, UPDF is determined to ensure that Somalia regains its sovereignty.
As BGXXIII rotates out, Brig Lokech urged the soldiers to maintain maximum discipline in their upcoming assignments as one of the core values of UPDF.
The commander BG XXIII thanked the entire UPDF leadership for entrusting him with such a big appointment of Battle Group Commander. He also thanked Uganda Contingent Commander Brig Paul Lokech for his tireless efforts towards BGXXIII success in the mission area.
"I thank all partners for the support rendered to BGXXIII in execution of its mission. I also urge the incoming Battle Group to be ready for war because this is not peace keeping as many might think but a combat mission". Said Col Okolong.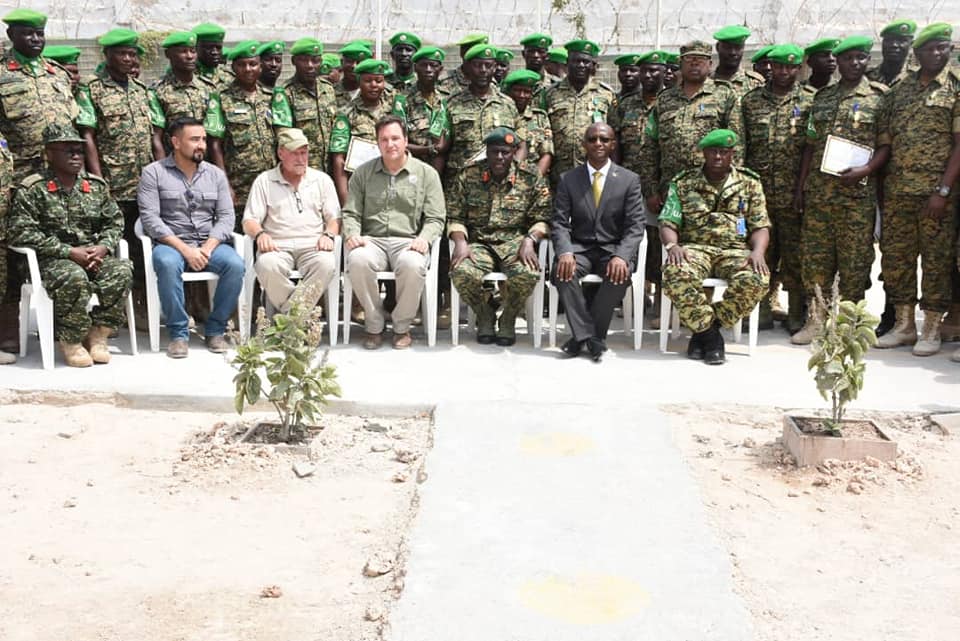 Present at the medal and certificate awarding ceremony were the Uganda Defence Attache to Somalia, Brig General Lucky Kidega, guests from partners (Bancroft Global Development , UN) and senior UPDF officers in Somalia.
Comments
comments