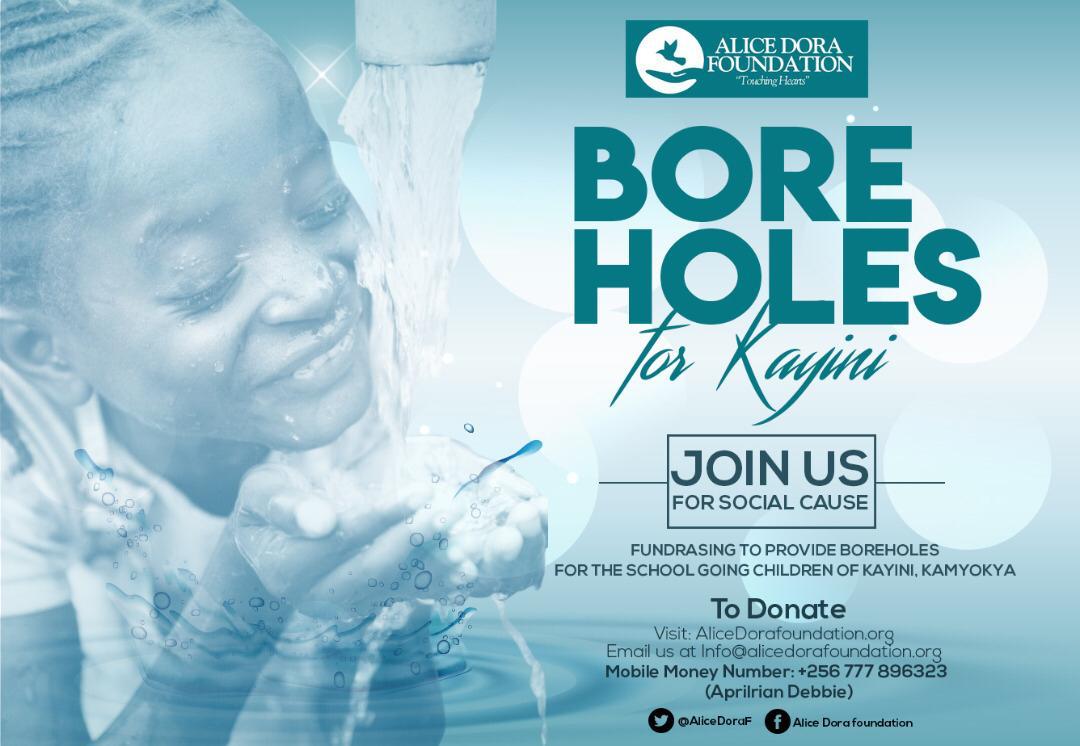 Tower Post Media will be partnering with nonprofit organization the Alice Dora Foundation (ADF) in a fundraising drive to provide boreholes to school going children of Kayini-Kamyoka in Mukono District.
The partnership was announced on Wednesday morning, just days to the commencement of the drive which is set for Saturday.
According to ADF officials, the fundraising campaign aims to raise funds to the tune of Shs. 10 million to construct two boreholes and facilitate a number of other activities that will change lives of the residents of Kayini.
The two boreholes will benefit students of Kayini Church of Uganda Primary School, inhabitants of the villages surrounding the school and Christians who pray from the church.
"Safe water is a National concern and ADF is working tirelessly to help developing communities establish water sources with the future goal of being able to purify water of parasites and dangerous waterborne illnesses," said Wamala Mark Keron the ADF Public Relations Officer.
"We believe that every underserved child and family should have the opportunity to drink safe water and to live free of water-borne diseases, and that anything less is a grave injustice. By supporting the work of ADF, you can provide more water to vulnerable children and families than you ever thought possible," Keron added.
Access to clean water remains a challenge in many rural areas in Uganda especially to school going children who often have to walk miles every day to find and carry water in very heavy cans back to their villages.
This takes them many hours and sometimes prevents children from going to school or from having energy to do their school homework, not forgetting the risk they stand, having to travel these long distances on dangerous roads.
By supporting this campaign, one would be giving these children hope not only to live a better life but to also have enough play time and time for their school work.
Commenting about the partnership, Tower Post Media Managing Editor Alex Alinda said; "we are privileged to be part of this noble cause. Alice Dora Foundation is playing a vital role in providing fresh water to communities and we are happy to be contributing to their efforts."
On Saturday, ADF members and well-wishers will dive into the village of kayini-kamyokya where they will interact with the community, hear them out to come up with solutions to better them.
To join and support the campaign, you can make a donation to the Alice Dora Foundation via Mobile Money number 0777896323 (@Aprilraain Debbie)
You can also reach out to the officials via info@alicedorafoundation.org or visit the website www.alicedorafoundation.org
About the Alice Dora Foundation
ADF is a non-profit organization established to touch hearts focusing on the vulnerable children and eldery.
It has been built on the legacy left behind by the original pioneer (Alice Dora Nankinga 1992-2018) who had a dream to provide education opportunities to children who are in need, better family well-being atlarge, provide basic needs for the elderly, empower the young to exploit their skills while putting a smile on their faces.
Its aim and steering goal is to better the wellbeing of the most vulnerable groups( young and elderly) , promote children-education, health and empower the youth.
Comments
comments