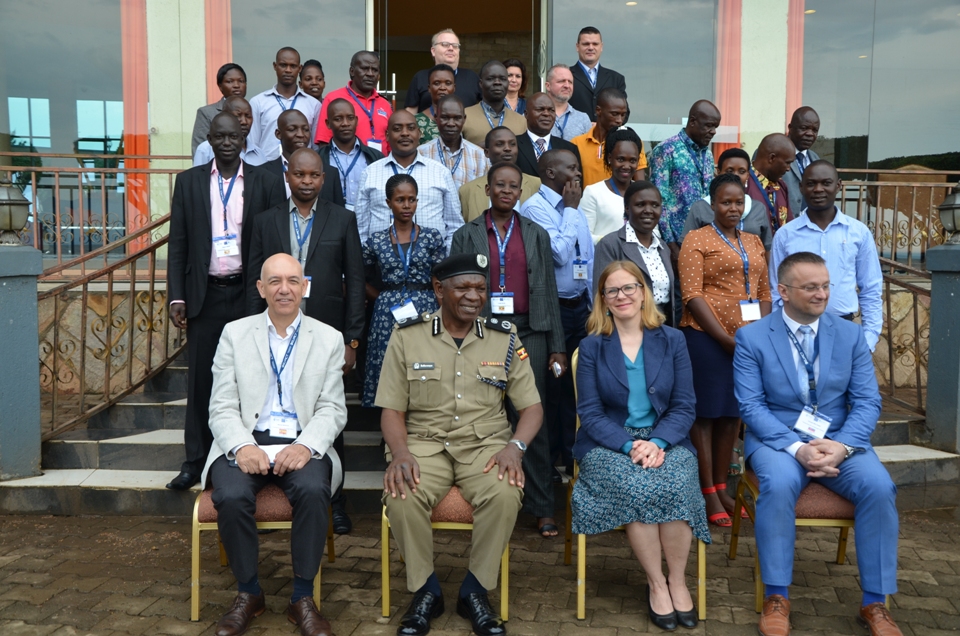 30 Police detectives attached to the Department of Anti-Narcotics are being empowered with skills to curb Transnational Organised Crime specifically in relation to the movement of narcotics across different countries and continents.
The training will focus closely on passenger profiling, identification of high risk travelers as well as phone mining and analysis.
While launching the four-day training this morning, Director Human Resource Administration, AIGP Hajji Balimoyo Moses who represented the Inspector General of Police (IGP) at Protea Hotel in Entebbe revealed that the training is being facilitated by the European Police [EURO-COP] under the European Africa response to Transnational Organized Crimes [EU-ACT] Project.
In his speech, the IGP J.M Okoth Ochola noted that the Uganda Police Force is privileged to be offered this training by the European Union.
He thanked the trainers for the offer extended to the Uganda Police Force and the anti-narcotics department in particular on skills enhancement in the fight against narcotics in Uganda and on the international scene.
"The Anti-Narcotics Department was established with the objective of ensuring that narcotics trafficking, growing and abuse in the country are checked. Though the department is still small, we are building its capacity through training and provision of investigative tools to carry out effective investigations. Trafficking in narcotics is a transnational –organized crime , committed by criminals that are highly organized , have all the money and are not limited by boarder , that is why there should be an effort to have drug trafficking fought," he said.
Statistics show that drug trafficking through Uganda's entry and exit points is on increase.
Uganda has slowly gained interest from drug traffickers using it as transit route for drugs destined for Europe and America.
For example, in 2018 sixteen (16) traffickers of different nationalities were intercepted at Entebbe international airport with drugs heading to Europe, Asia, or America.
Nine (9) cases of trafficking of narcotics via Currier companies to Europe were also registered last year.