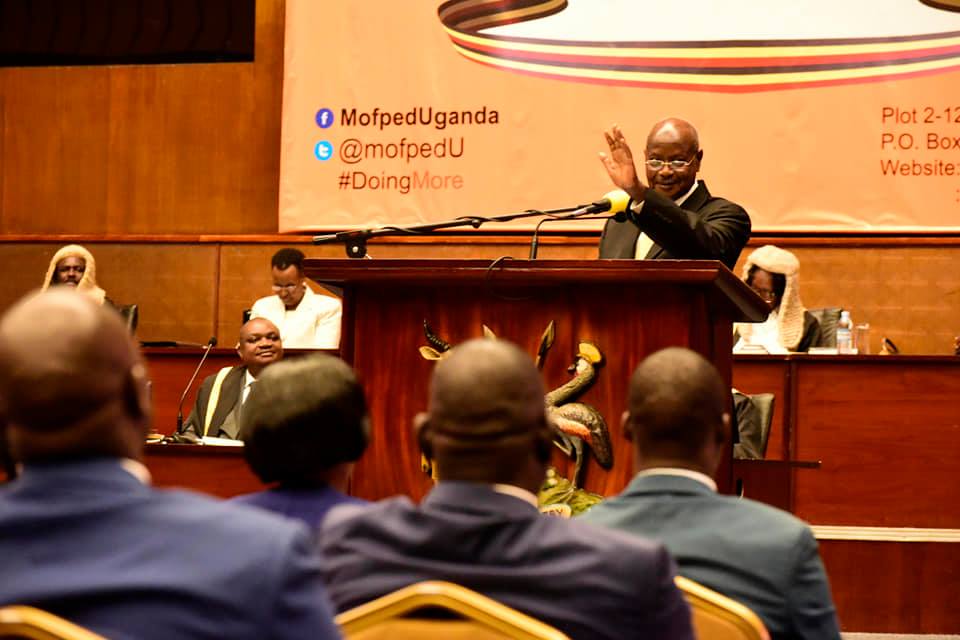 The President of Uganda, Yoweri Museveni has appealed to leaders around the country to preach the gospel of modernised farming and skilling for the country to realise socio-economic transformation.
The President, speaking after the finance minister had presented the 2019/2020 national budget at the Kampala Serena Conference Centre on Thursday, 13 June 2019, said that during his time in Political Opposition, he was trying to help people of North Ankole out of poverty.
He said that there is an issue of people sitting around trying to observe culture instead of working and urged the MPs to sensitise people about the fact that this is the modern world.
"Recently in a town called Bulova, while on my way to Kisozi Ranch, I found a group of 30 people with dogs, mallets and spears going to hunt an edible rat, something that would take the whole day and yield only five kilogrammes of meat," he said.
President Museveni noted that he had been trying to avoid this by waking up the Banyankole and others to get out of their tradition and catch up with the modern world.
In doing so, he said, people must embrace exogenous marriages, the Banyankole must boil milk before drinking it as opposed to their tradition and other such backward acts.
"I visited Mbarara Stock Farm when I was a teenager and I saw for the first time modern farming practices like cattle dipping and I took these ideas home. I transformed my family with mere words because of the modern farming practices I had seen," the President added, further noting that his journey of transforming his people and Uganda begun then.
The President said that before he came to power through the NRM he had kept working with the Democratic Party and a few positive elements of Uganda People's Congress (UPC) Party by holding a few meetings with locals trying to encourage them to transform from nomadism and subsistence farming to commercialised and stock farming.
He added that political parties should be a means to an end not an end itself and that should be to transform the people, the region, country and Africa.
"People should be transformed to join the four modern sectors; modern farming, industrialisation, service sector and ICT," the President added.
He said that even when UPC failed and Idi Amin came on board, he vowed never to use extreme violence even when fighting in the bush.
He said he engaged H.E. John Babiiha, the Vice President in the UPC government on the modernisation techniques of farming on making sure that the Ankole nomads adopt these techniques.
"NRM even during its liberation never destroyed or fought positive establishments that had been put in place by the governments in power to transform people socially and economically," he said.
President Museveni added that these days there are groups of people who want to burn Kampala which is unacceptable. "That is ideological bankruptcy," he noted.
For UPC, the President said then President Apollo Milton Obote had frustrated the EAC integration, however the UPC were building schools, hospitals and roads and were not violent.
"On the other hand, there are groups preaching disruption, support arson and do not use the opportunity they have to sensitive people to metamorphosis themselves economically yet they are drawing huge salaries from the Consolidated Fund," he said.
President Museveni noted that that is why he is critical of the Opposition.
The President said that in the pre-capitalist third world, it is a disaster and dangerous to have leaders who have not aided their communities in socio-economic metamorphosis.
"The people in the cattle corridor who I have transformed have been able to build permanent houses, water dams for their animals during the dry seasons and send their children to schools on private sponsorship," he noted.
The President advised that traditionalists should be aware of the advantages of the ways of rationalists that have yielded strong young states like the USA who have evolved over 400 years and are now a superpower; yet we have millennium old monarchs that not progressed much.
"What Africa needs is wealth creation not traditional cultures and airs that are retarding," he said.
"My point is," he added, "we can discuss the budget and its possible targets but we cannot progress when we still have 68 per cent of families still practicing subsistence agriculture."
He urged that with sensitization, these families can be brought into the money economy.
He added that he has created SACCOs for 13 specializations including taxis, welders, market vendors, youth leaders, produce dealers, tailors, mechanics and carpentry among others to be stationed in every district.
On the issue of vandalism of public assets especially road furniture and cars, the President said, "Now that we have cameras we shall arrest anybody seen vandalizing and they will pay".
Comments
comments