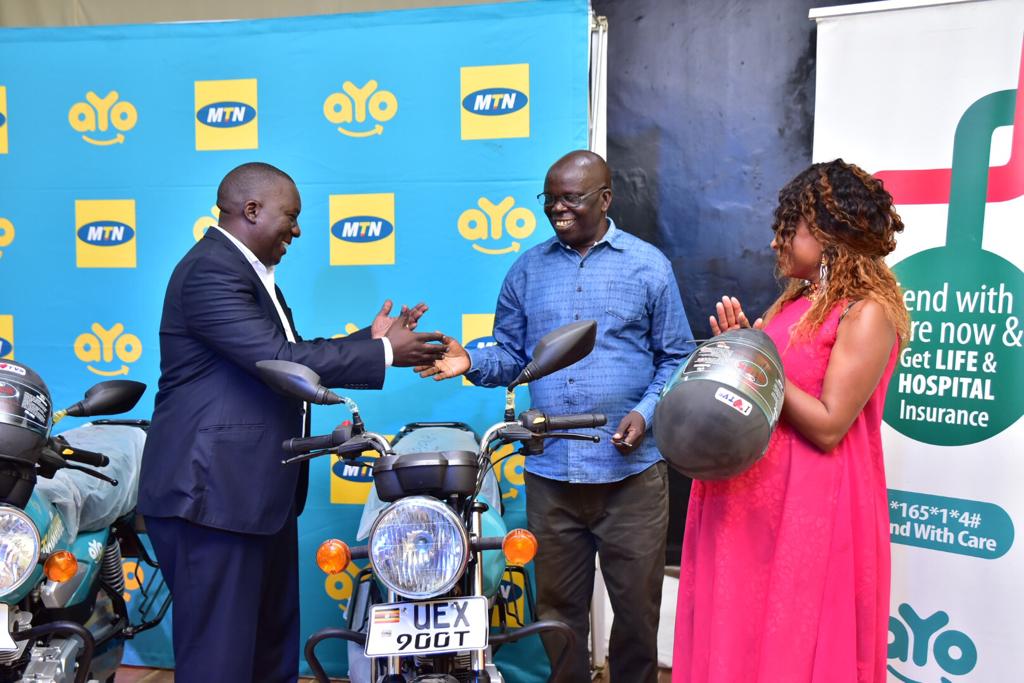 Following aYo Uganda's operation in the market since January 2017, the company on Wednesday (19th, June, 2019) handed over Boda Boda prizes to winners who have been taking part in the ongoing 'aYo Egabudde' promotion.
The promotion is giving aYo customers the chance to win instant MTN airtime and bonus, as well as giving out two Boda Boda's per month.
"we are here to once again reward many of our loyal customers," said Thomas Sekanwagi the Marketing Manager aYo Uganda.
"We continue to strive to change the lives of Ugandans through our micro Insurance products; aYo Send with Care and aYo Recharge with Care," Sekanwagi added.
aYo Uganda Limited has continued to provide financial inclusion solutions to Ugandan over the years, and improved their welfare through giving them affordable and easy access to insurance.
He added that all this has been made possible with immense support from MTN our partner and all Ugandans who have made us (aYo) Uganda's favourite insurer.
This has enabled aYo to serve over 2 million customers while paying out over 1 billion shillings worth of claims to those who need it.
The promotion which is running for eighty days is aimed at encouraging all existing aYo Uganda's customers to continue engaging with aYo to ensure they are always insured and get rewarded in the process.
New customers are also encouraged to take up aYo product offerings aYo Recharge with Care and aYo Send with Care to also benefit in this promotion. All you have to do is subscribe to Auto Boost to get INSTANT airtime worth UGX 500. You will also be entered into the draw to win a Boda Boda every month or send MTN Mobile Money worth UGX 20,000 or more using aYo Send with Care to win INSTANT airtime worth UGX 1,000 and enter the draw to take home a Boda Boda.
aYo Recharge with Care, offers MTN customers an easy way to get FREE My Hospital or My Life insurance cover. You simply Dial *296# to sign up once and enjoy insurance's benefits.
During sign up, you are prompted to opt for My Hospital cover to help you in the event of Hospitalisation for at least 1 night following an accident; or My Life cover which is money for your family in the event of your passing away.
After joining Recharge with Care, you will always have insurance cover equivalent to the amount of MTN airtime you have loaded in a period of 30 days (Airtime loaded is multiplied by 10 to give you My Hospital Cover or multiplied by 15 to give you My Life). Better still, on top of the free cover that you get each time you load airtime, you can get much more cover from your airtime by using the BOOST option.
This is done by using part of your airtime to buy more cover.
This can be done by setting up the Auto boost function to automatically buy extra cover using a selected amount of airtime each time you top up, or using the once off boost option to buy yourself more cover as of when you want to.
And the second product, aYo Send with Care that adds value to the MTN Mobile Money you send to take care of your commitments.
Each time you send MTN Mobile Money, the amount you send is tripled and given back to you as insurance cover valid for 120 days per transaction you make.
For example, if you send: UGX 100,000 – it will be tripled to give you UGX 300,000 worth of cover at a premium of just UGX 5,000 which is a 5% fixed cost of the amount you send to your Mobile Money recipient.