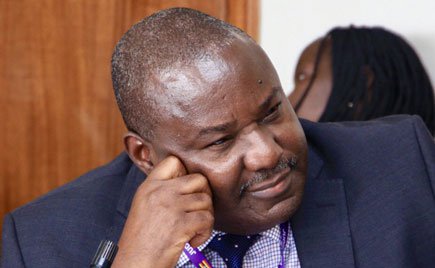 Parliament's Public Accounts Committee (PAC) on Wednesday morning handed over Judiciary the Permanent Secretary (PS) Kagole Kivumbi to Police CID for investigations over misappropriation of Shs 34 billion.
Kivumbi is accused of misappropriating the money for the year ended 2017/18.
Wednesday morning, PAC chaired by Budadiri West MP Nandala Mafabi tasked him to explain his cruel behavior in vain.
On Monday, PAC adjourned the committee sitting to Tuesday after Kivumbi failed to explain deposits of money remitted to staff personal accounts.
The committee had discovered that more than Shs 34b had been paid irregularly for the financial year ended 2017/2018.
Mafabi invited the CID Director, Grace Akullo, to come to the committee on Tuesday as Kivumbi would testify again.
However, Kivumbi did not show up.
"Members I do not see the accounting officer, I see people, who is leading this team?" Mafabi asked.
Esta Nambayo, the chief registrar, told the committee that no one was under instruction to head the delegation. She instead presented  Obed Mwebesa of Niwagaba & Mwebesa Advocates.
"We have a lawyer to the PS but I am not here on behalf of the accounting officer and none of my colleagues is representing the PS," Nambayo said.
"Why are you here," Mafabi demanded.
"We are here because we were requested to come yesterday. When we arrived, we got information that the PS ( Kivumbi) was not fine and the advocate is here to explain," Ms Nambayo answered.
The proceedings got heated on whether to proceed with the meeting or send the judiciary team away.
Other members proposed that the entire team be arrested to compel Kivumbi to show up, but the proposal failed.
The Committee was, however, adjourned with fresh summons to Kivumbi to appear today.
When he appeared, Mafabi asked police to take him for further questioning and record a statement.
Comments
comments