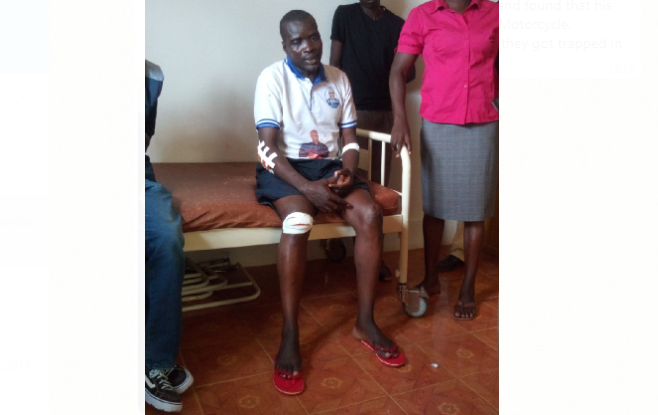 Soroti FDC Party Secretary Tom Julius Ekudo was on the wee hours on Wednesday Morning attacked by yet to be identified Panga Wielding men.
Ekudo who was also a parliamentary candidate for Soroti County MP seat in the February 2016 polls, was attacked by thugs at 03:00AM while on his way back to his home in Gweri Sub County Soroti District.
Narrating his ordeal on Wednesday Afternoon, Ekudo said he was travelling back from Kampala to Soroti and when he reached Soroti at 02:30AM he checked at Atooti Petrol Station where he had packed his vehicle and found that his car was covered by other vehicles prompting him to use Motorcycle.
Ekudo narrates that while on their way around Television they got trapped in the gang of the two men who were using pangas to attack them.
He added that the attackers wanted to kill him even though he says he doesn't know the motive of the attackers whether it was political or the thugs were interested in the motorcycle.
The thugs according to Ekudo went with the motorcycle they were using.
The official is currently receiving treatment at Doctor's Plaza Soroti and the boda-boda rider is also according to Ekudo getting treatment in private facility around Soroti Town.
The East Kyoga Police Spokesperson Michael Odongo confirmed the attack on the opposition figure saying it's a regrettable incident saying police are working tooth and nail to identify and the arrest the culprits.