Uganda's Halimah Nakaayi won the women's 800m title at the IAAF World Championships in Doha, Qatar on Friday evening.
24-year-old Nakaayi passed pre-race favoritte Ajee Wilson and sprinted clear to take gold in a finish time of 1:58.04.
Wilson finished third and won bronze, losing second to her training partner Raevyn Rogers.
Another Ugandan, Winnie Nanyondo came fourth in the race.
"Oh my God. At first I couldn't believe that at 700m I was still with her [Wilson]. But I saw her pace was a little bit declining and I was feeling strong. And I knew yes, God has made it for me. I like the crowd, they cheered so much. They gave me a lot of morale," a jubilant Nakaayi told BBC after the race.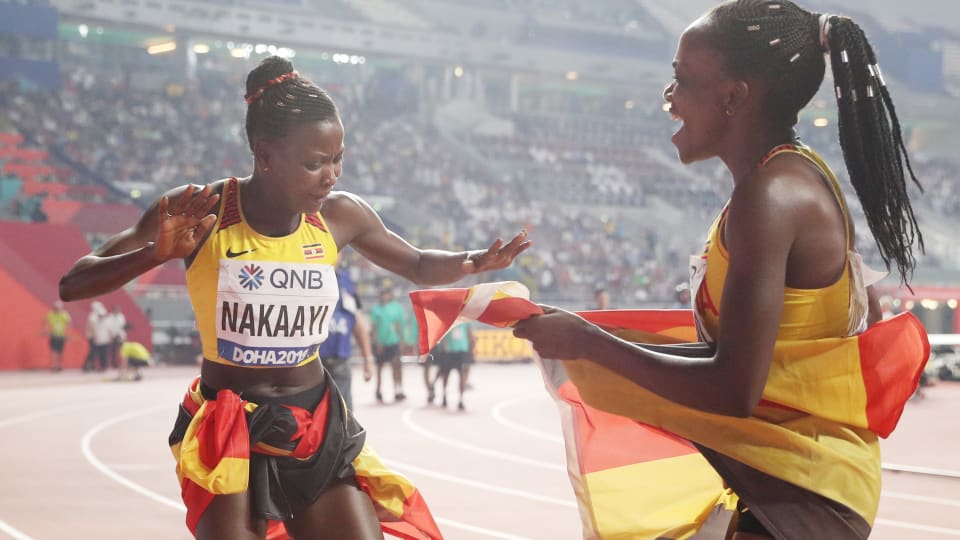 Halimah Nakaayi becomes the first Ugandan to win a medal at the first championships.
When asked by the BBC about her hopes for the Tokyo 2020 Olympic Games, Nakaayi said, "I know the future is bright. What I have to do is keep on with my training pattern. We are performing."
Women's 800m World Champions Winners
2019 Halimah Nakaayi (UGA) 1:58.04
2017 Caster Semenya (RSA) 1:55.16
2015 Maryna Arzamasava (BLR) 1:58.03
2013 Eunice Sum (KEN) 1:57.38
2011 Caster Semenya (RSA) 1:56.35
2009 Caster Semenya (RSA) 1:55.45
2007 Janeth Jepkosgei (KEN) 1:56.04
2005 Zuila Calatayud (CUB) 1:58.82
2003 Maria Mutola (MOZ) 1:59.89
2001 Maria Mutola (MOZ) 1:57.17
1999 Ludmila Formanova (CZE) 1:56.68
1997 Ana Quirot (CUB) 1:57.14
1995 Ana Quirot (CUB) 1:56.11
1993 Maria Mutola (MOZ) 1:55.43
1991 Liliya Nurutdinova (URS) 1:57.50
1987 Sigrun Wodars (GDR) 1:55.26
1983 Jarmila Kratochvilova (TCH) 1:54.68 CR
Comments
comments