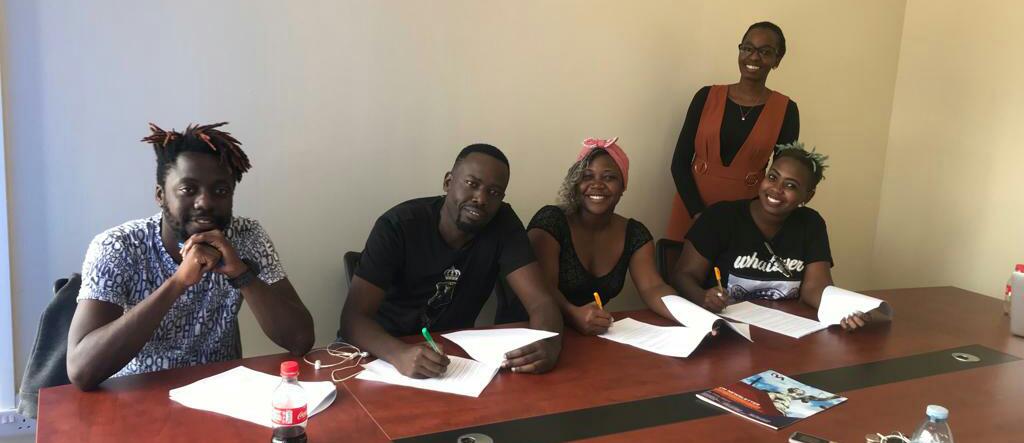 Rap sensation Edwin Ruyonga has Thursday penned a new record contract with talent management label JOSH SB 360, The Tower Post reports.
The label has also signed two rising pop icons MCKENZIE and STAR.
Josh SB 360 is a 360 entertainment Production company and talent management firm.
It is headed by music producer and audio visual artist Joshua Waiswa Timothy aka JOSH SB who is the creative director and C.E.O of the company.
He holds 5 years of experience producing music, videos, communications media and Live production. The Production house has been around for 3 years since 2016.
Josh has produced music and worked with a number of artistes over the years including The Mith, Byg Ben, Ruyonga, Mo Roots, Timothy Code, Cedric Babu (Tv show music score) among many others.
"We have mostly handled documentaries and short films so far, and we are now taking on music management as a full scale business," said Josh SB.
About the signed artistes
STAR
STAR is a 22-year-old hybrid rapper and vocalist, with a sound inspired by Lauryn Hill. She is still finalizing with her first single in studio and soon the world will listen to her music.
MCKENZIE
McKenzie is a pop sensation with a powerful voice. She is known for her low vocal registers and ability to adapt to many different styles of music.
She released her first single 'BADBOY' in February 2019 with a colorful video directed by Josh SB.
Watch video here https://www.youtube.com/watch?v=y3B4kwntr0U
Her second single 'DEEJAY' came out in May 2019 and according to her management, she's dropping the video soon.
RUYONGA
Ruyonga is without a doubt one the fastest and best rappers on the continent.
Having started out as Krukid in the United States, Ruyonga hit the Ugandan scene and took it by storm with a number of hits including Tutuuse, Muhuliire, Ride, God DNA (produced by Josh Sb) among others that have gone ahead to win local and international awards.
His sound is rebranding to something the world has not seen him do before.