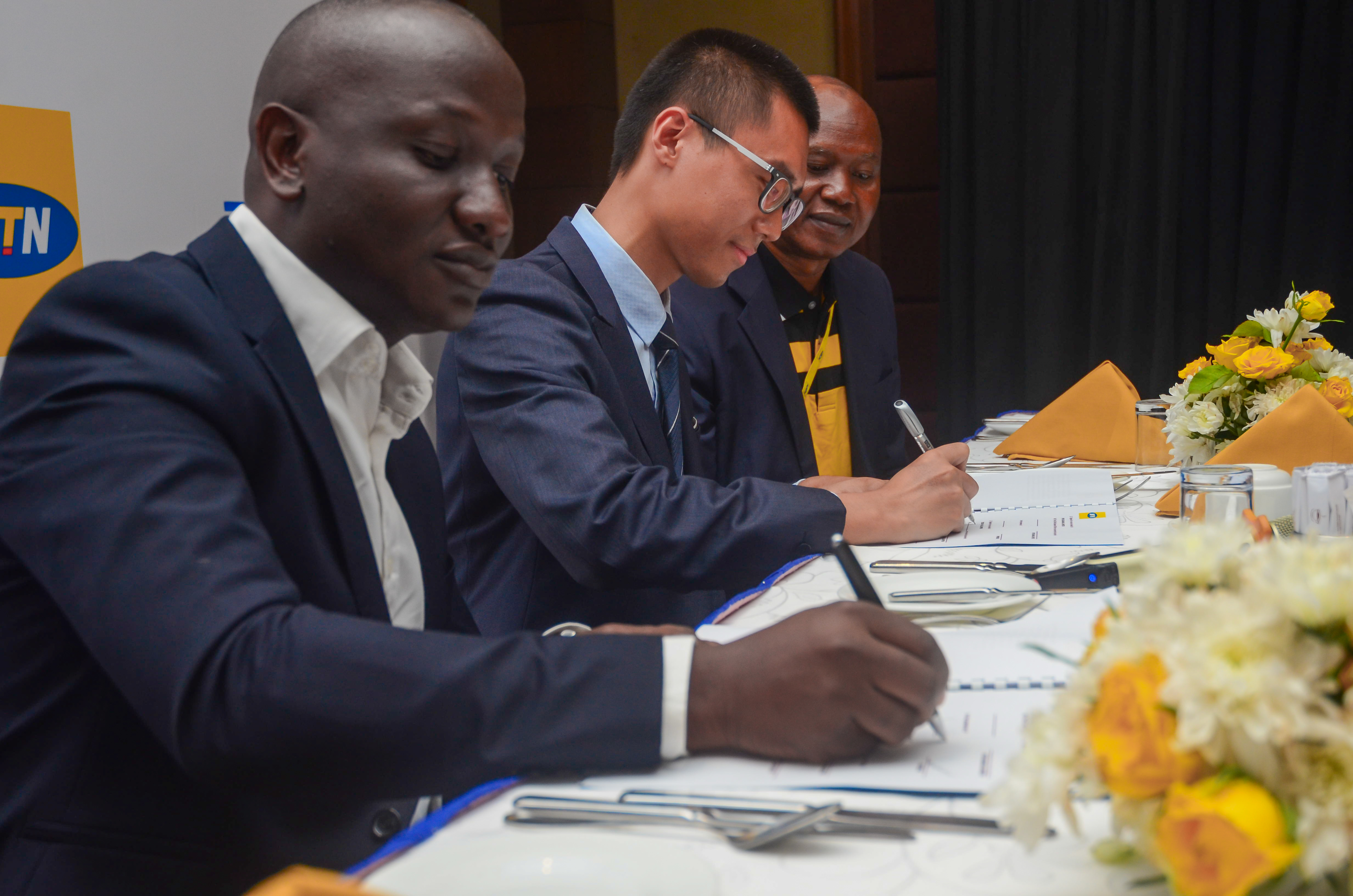 TECNO Mobile has partnered with MTN Uganda to launch two new upgraded Camera smartphones in the CAMON series and Spark series.
As one of the most remarkable camera devices, TECNO CAMON 12 comes back with 16MP+2MP+8MP AI Max Triple Rear Camera set up with its four outstanding shooting performances backed up with a 4000mAh battery. This is priced at RRP 569,000 UGX with storage of 64GB ROM+ 4GB RAM , and Spark 4 priced at RRP 429,000 UGX with 13+2+ VGA AI Triple rear Camera combined with a bigger battery of 4000mAh compared to its predecessor. Not only that, the storage has been increased to 32GB ROM + 2GB RAM and a bigger screen of 6.52" for both Camon 12 and Spark 4.
TECNO CAMON 12 is the upgraded camera smartphone from CAMON series, and is created for any angle photography. Ultra Clear Shot of 120° Super Wide Angle, 2cm Extreme Macro Photography, Remarkable Bokeh Effect all these offer the consumers the chance to seize wonderful moments from different angles to discover more beauty of the world and to see the world much clearer, closer, brighter and wider on the other hand, Spark 4 has also been upgraded compared to its counterparts Spark 3 that was early this year in May. Spark 4 comes with upgrades to give the spark customer not only a memorable photography experience but a whole new smartphone dynamic that will keep them glued to their phones.
The launch of the new devices comes with the birth of a TECNO Uganda and MTN Uganda partnership. The partnership will see the two big brands collaborate in many ways as they serve the customers in their different rights but with a primary goal to serve both the TECNO and MTN customers better.
This partnership being a customer centric partnership, customers will stand to get free internet data from MTN when they purchase on the selected TECNO models.
Shiva Zhong, the TECNO country director said: "At TECNO, we are excited about this new partnership between TECNO Uganda and MTN Uganda. We believe our customers shall enjoy a lot of benefits from this partnership. This partnership means a lot to us and it will start with the launch of our new upgraded devices; Camon 12 and Spark 4.
Camon 12 comes with 4 in 1 technology and mosaic algorithm that enable TECNO CAMON 12 stand out from its range with high pixel and clear camera lens. It comes true that by utilizing TECNO CAMON 120° Super Wide Angle or 2cm Extreme Macro Photography, the consumers will be able to take blockbusters photos with their phone. And you'll find that with TECNO CAMON 12, anybody can be a professional photographer.
Spark 4 has been upgraded to give our customers clear bright photos even in low light conditions and this has been combined with AI technology to give our customers a whole new dimension of photography experience meaning customers can now take professional photos using their phones. The worry of deleting photos and other files has been put into consideration by increasing the storage space to 32GB meaning the phone has enough space to keep up to 20,000 photos without affecting the performance of the phone." She explained.
Speaking at the launch of the partnership, MTN Uganda – General Manager, Sales & Distribution, Joseph Bogera said, "This partnership further demonstrates MTN's commitment to drive our vision of delivering a bold new digital world to our customers. We're partnering with Tecno to get more Ugandans online, because we believe that getting and staying connected is helping transform every sector of our society from entrepreneurship to education, and everything in between." The experience of customers using Tecno will now get even better when they connect with MTN", he added. The partnership promises to make access to the internet more affordable and exciting. Customers who purchase the any TECNO phone and connect with MTN, will get 100% bonus for every bundle they buy/activate in the first three months of using their MTN SIM card. Furthermore, all customers who purchase Camon 12, Spark 4, Pouvoir3, Pop 2 Plus and F1 will get free 5G MTN data valid for 30days. This partnership signals the first of many exciting MTN promotions that customers will be getting on other Tecno devices.
"We have released the CAMON 12 and SPARK 4 at the same time because we want our customers to have a uniform experience across our different target audiences. Each of these series attracts a particular target audience, therefore the need to satisfy both audiences simultaneously. This is also in preparation of the festive season that is coming soon, so this can be a gift to yourself or someone beloved to you. We know at the end of every year, customers are in search of gifts for themselves or their loved ones and I guarantee you that these a must have items on your gifting list because they are worth it. The CAMON 12 and SPARK 4 come at an opportune time where everyone needs to capture their memories in photos because its celebration time and we have put that in consideration by improving the cameras of the two series thus giving our customers perfect shoots both using the back camera or the selfie camera. The cameras have been imbedded with AI technology to give customers bright clear photos even in low light situations," concluded Mr. Shiva
Comments
comments