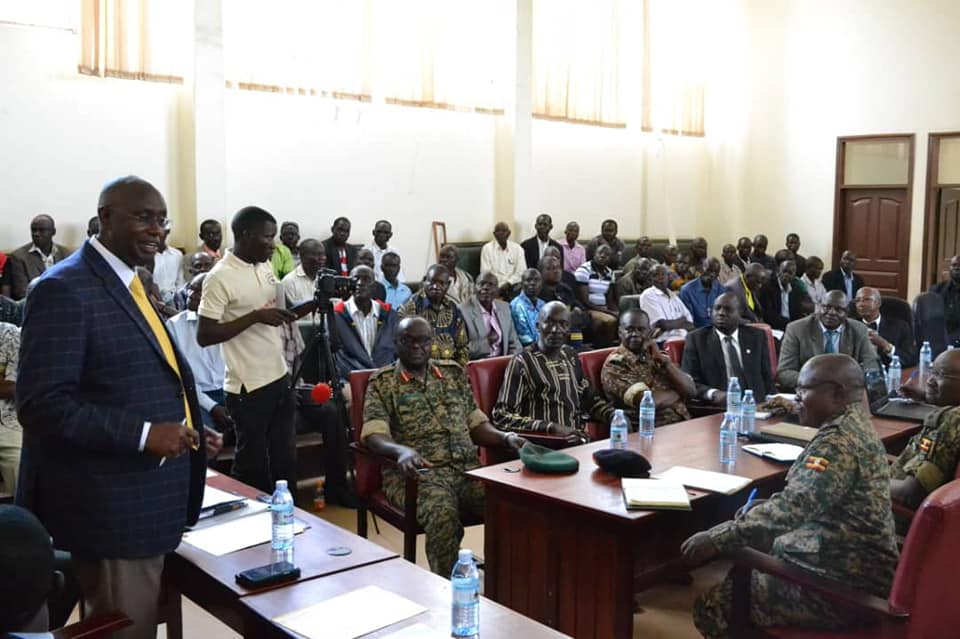 Lt Col (Rtd) Dr Bright Rwamirama, State Minister for Defence & Veteran Affairs, urged Eastern Region veterans to work together to fight poverty and generate income amongst themselves for their homes.
He made the call on Thursday during the veterans meeting in Tororo District to update veterans on what is being done to address their current challenges.

Officiating at the launch of Agururu Technical School for skilling widows, orphans and veterans in Agururur B Village in Tororo Municipality, Tororo District, the minister encouraged veterans and widows to continue working together in groups, which he said would give them an upper hand in benefiting from government programs"
The Minister urged the beneficiaries of the training school to take advantage of the opportunity availed by the government. He said resources from the government are availed to support well organized veteran groups and SACCOS.
"What has lagged most people behind is lack of skills. So, this skilling center is not for veterans alone it's for all of u and everybody who want to acquire skills," Rwamirama said.
The Minister donated 5 sowing machines towards the center and cash contribution of 2 million shillings to Tororo District SACCO.
He also visited 11 fish ponds for widows and pledged to fence the whole area around in order to secure the project from thieves and wild animals.
During the same tour, the minister encouraged Busia District Veterans to get organized and benefit from the district SACCO which he also contributed cash 2 million towards.
"I urge you to select able and competent leaders to uplift you in terms of development," Rwamirama Said.
The minister added that the veterans SACCO should include all reservists and widows in order to fight poverty.
At the end of the three-day tour in Eastern Region, the minister concluded with Bugiri District Veterans whom he met at Bugiri District Town hall.
He asked the veterans to be organized and benefit as veterans so as to become exemplary within their communities by working together to achieve development.
Rwamirama later donated seed capital of Shs 2 million towards Bugiri District SACCO.
Comments
comments