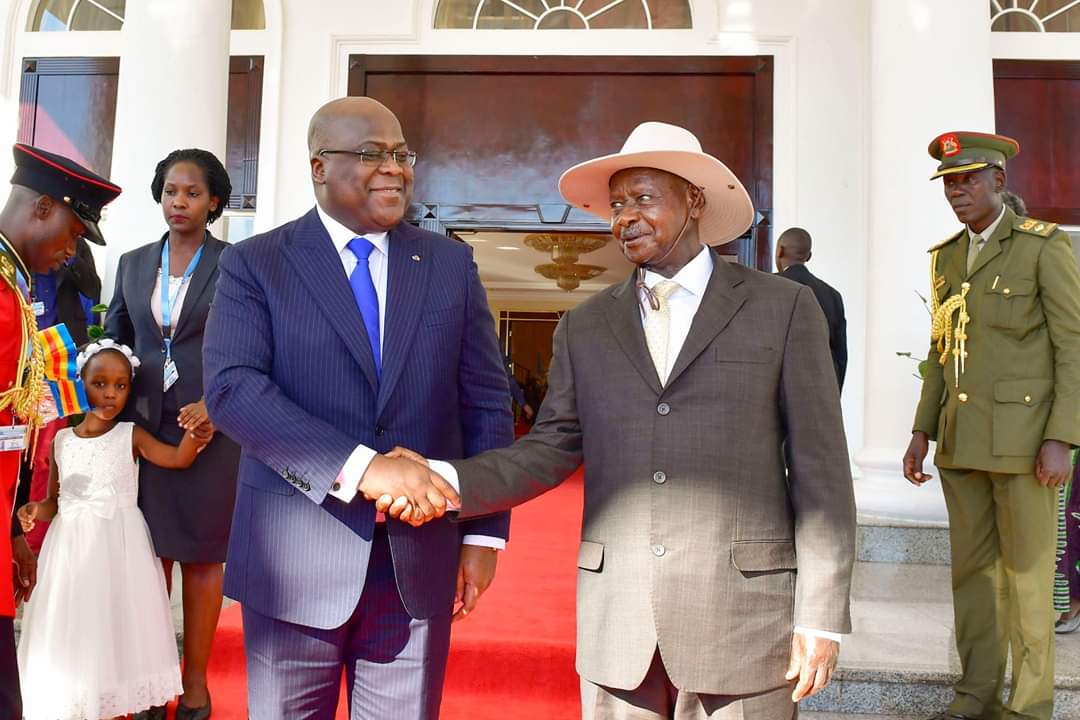 President Felix Antoine Tshisekedi Tshilombo of the Democratic Republic of Congo has arrived in Uganda on a two day state visit, telling his host President Yoweri Museveni in a tet-a-tet meeting that he is consulting elders in the region to see how his country can shift from a conflict zone to economic cooperation.
"I admire your knowledge on the history of this region. That is why I came to you and agreed with you that we must engage more in trade instead of conflicts. Am happy that the African Continental Free Trade Agreement (AfCFTA) is in place to promote trade and bring our countries together. I'am consulting elders in the region to see how we can shift from the conflict zone to economic cooperation. Unfortunately, some of the regions in my country are still in conflict," he said.
President Tshisekedi said he is also seeking consultation on eliminating the negative forces in the region through reconciliation and repatriation so that they can live peacefully as one people.
"We need your knowledge, wisdom and guidance to reach far that is why we are here," he said. He commended President Yoweri Museveni for the warm welcome and apologized for the delay on arrivals saying it was because of issues of 'protocol'.
"There was a change in protocol, when I came here before, I was in the opposition, now this is different…they played our real national anthem," he said.
President Yoweri Museveni welcomed his guest to Uganda and said he was happy that despite the colonial borders, they are slowly coming back together as Africans.
"The people of Uganda and DR Congo are the same. We have a long history with Congo and East Africa. Am happy that despite colonial borders, we are coming together slowly as Africans. They struggled to remove Lumumba and Nyerere..but here we are," he said.
President Museveni said for East Africa and Africa in general, prosperity comes from doing business with each other because this helps us to produce goods and services instead of importing.
"This means jobs for our peoples, taxes for our governments..this is how we survive he said.
The two leaders later held a closed-door meeting. They are due to issue a joint communiqué and address the media.
Comments
comments