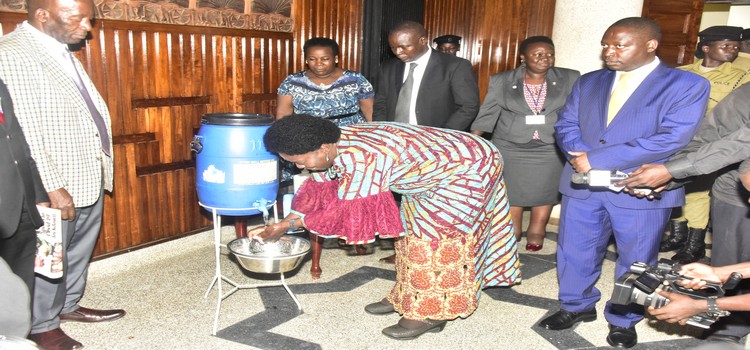 Parliament has rolled out a number of measures restricting and limiting access to the Building, and curtailing MPs' activities in the constituencies intended to stem the spread of Coronavirus (Covid-19).
In her communication, today, Thursday 19, March 2020 to Parliament, Speaker, Rebecca Kadaga, said that access to the precincts of Parliament and all activities within will be scaled down immediately as a precautionary measure towards fighting the disease.
The measures were issued following a Parliamentary Commission meeting held on Thursday 19 March 2020 and the President's speech giving countrywide measures to curb the virus.
Kadaga said that much as Parliament will proceed to carry out its responsibilities of processing the Budget for the financial year 2020/2021, there will be different measures taken to manage activities of Parliament going forward.
She also warned members against holding public gatherings including fundraisings and football matches in their constituencies during this period as
Covid-19 is accelerated by congestion.
In the new measures:
• Visits of schools and delegations to Parliament will be stopped in order to manage the numbers accessing the precincts of Parliament
• The Parliament gym will be closed, while the Canteen will be restricted to members and staff of Parliament
• Ministry officials meeting with House Committees will be limited to four, who will include Minister, the Permanent Secretary and two other key officials of the ministry
• Committee sittings will be limited, while Ministerial Policy Statements will be shared to members electronically so that they can send their comments to their Chairpersons and meetings be held only when necessary
• A team of legislators and staff of Parliament has been nominated to join the National Task Force on the Pandemic instituted by the President. Parliament's team includes: Commissioners, Arinaitwe Rwakajara and Francis Mwijukye; MPs, Bernard Atiku and Esther Anyakun; the Sergeant-at-Arms, Ahmed Kagoye and Parliament Doctor, Fred Bawulira Kapaata. These will be expected to furnish Parliament with daily updates about the pandemic and give advice where necessary
• Body temperatures of persons including members and staff accessing Parliament Building will be taken
• More hand sanitizers will be provided at all entry points, floors and elevators
• Interns, MPs' Personal Assistants and Parliamentary Forum staff will not access Parliament starting Friday, 20 March 2020
• Plenary sittings will be moved to the conference hall to observe a minimum of one metre between individuals
• Personal visitors to MPs and staff will not be permitted
• Packages or mail will be received at the main entrances
• Non critical staff are advised to operate from home