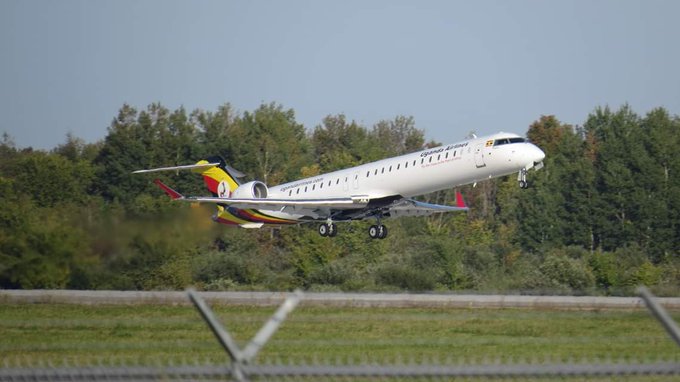 In the light of the novel Covid-19 pandemic, Uganda Airlines has moved to temporarily suspend her operations with effect from Monday 23rd March 2020. "Uganda Airlines will suspend all scheduled operations effective 23, March. This is in the interest of safety of our customers, staff and the public, compliance with the rapidly evolving travel restrictions, and the various national and international obligations in the global fight against COVID-19 pandemic."
This comes after the president of Uganda His Excellency Yoweri Kaguta Museveni issued more guidelines in addition to the previous ones issued on 18th March 2020 to fight the spread of Coronavirus. The president called all airports and borders in the country to be closed immediately.
"Consequently, we have decided to take the following measures: To prohibit all in-coming passengers whether by air, land or water. In order to actualize this, we have decided to prohibit all passenger-planes, coming from outside Uganda, from landing at any of the Airports of Uganda. Only cargo planes will be allowed to fly into and out of Uganda," President Museveni said.
He also added that domestic flights would continue for now. In conformity with International law, this prohibition of in-coming passenger-planes would come into force 24 hours from midnight tonight, the 21st of March, 2020.
Clients holding tickets for travel during this season have been advised to rebook and fly at a future date or ask for a refund.
Comments
comments