Lacor Hospital has released a statement suggesting that two patients who were admitted after presenting symptoms of Covid19 have died.
The two include a 59-year-old Kenyan truck driver who was admitted in isolation on Saturday. He was referred from Elelgu Border Post in Amuru district and an 18-year-old woman who was also admitted to the isolation ward on Saturday. She was referred to the hospital after being diagnosed with severe pneumonia.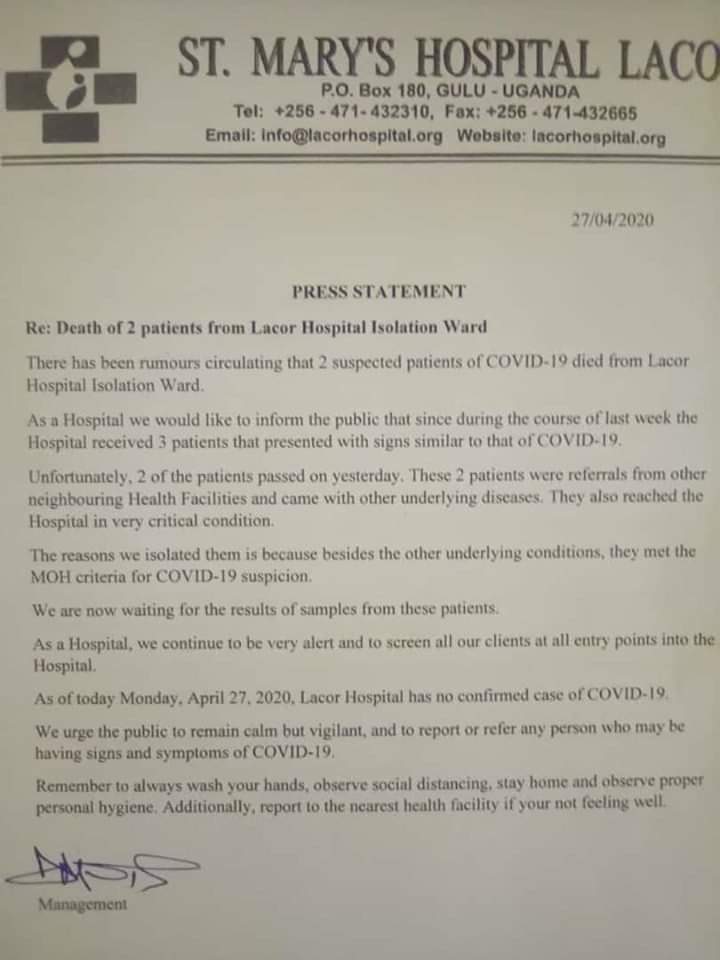 In a tweet on Tuesday, the Ministry of Health said, "We have noted a statement issued by Lacor Hospital on the death of 2 Covid19 patients. Samples have been taken to the Uganda Virus Research Institute (UVRI) for testing and we shall communicate the results shortly. We appeal to the population to remain calm and practise preventive measures."
Uganda has as of today (April 28) recorded 79 cases of coronavirus and 47 recoveries.
Many of the new Covid-19 cases registered in Uganda are of truck drivers who have come in from neighbouring countries. Yet there is a cry from the general public to stop these drivers from getting into the country, the government says it would not be a prudent decision to make since the truck drivers transport essential commodities. President Museveni will today evening address the public and offer solutions the government has laid out to flatten the curve, and perhaps wipe out coronavirus.
Comments
comments